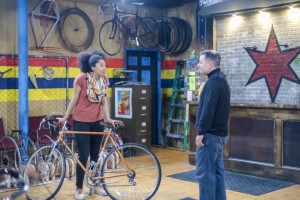 Reviewed by Tom Lawler
Set the scene: Under the Rug Theatre Company, a new company making its debut with RIDE, aims to "examine societal elements that might otherwise be swept under the rug." Under the Rug's maiden voyage is being staged in Wicker Park's The Den Theater, a buzzing five-theater space with two vintage bars and sprawling lounge areas filled with rotating art and homey living room touches. Combine this with Wicker Park's abundant dining and drinking options nearby and I'm not surprised why this has become my new favorite theatrical venue.
What's it all about: The employees of Uptown's Brennan's Bikes struggle to continue on when the owner of the store, Cal, is killed by a driver in a cycling accident. As Cal's estranged, high-powered siblings Danny (a soulful Todd Wojcik) and Molly (Annie Prichard) arrive at the store to take claim of it, they instantly antagonize the store's employees, Quill (Rose Freeman) and Riley (Alex Dauphin) and represent the face of urban gentrification itself. Danny, a successful architect, has unresolved feelings about losing touch with his deceased, bohemian brother. Consequently, he soon makes a bet with Quill to award her the store if he can't beat the previous quarter's total for bikes sold. (The fact that we are never told how many bikes were sold last quarter, nor see any bikes get purchased, let alone witness an actual customer enter the store ultimately belies the importance of this bet and plot device, however.)
Stand-out performance: The realistic, immersive set of RIDE is truly the star of the show. Director John Ross Wilson is also an accomplished scenic artist, having designed over 100 shows on Chicago stages. Before the play starts, give yourself time to appreciate the details of Wilson's fully realized Uptown bike shop complete with bikes, tools and assorted suspended cycle limbs, a colorful mural and most importantly, a patina of greasy smudge marks everywhere – including on a pile of crumbled PBR cans in the corner. It's a set with a back story that gets you thinking about the world you're about to enter and the characters you will soon meet. (As a long-time customer of Uptown Bikes, the obvious inspiration for this setting, I was blown away by the verisimilitude of these details and excited for the play to start.)
Also, check out: The showy role of RIDE is the hard-drinking, appropriately prickly Quill, and  Rose Freeman no doubt looks the part of an Uptown bike store manager. Her scratchy voice, offbeat comic timing and livewire presence are all put to good use to create a memorable character.
More of this, please: Often the bravest thing an actor can do is just "be" on stage and make themselves truly vulnerable to their stage partner. There's a beautiful moment in Act II between Wojcik's Danny and Alex Dauphin's Riley, when in an act of profound kindness, she reveals how often and fondly her late boss talked about his brother. Wojcik, perfectly still, takes this all in and we see this sadness and relief wash over him. Moments later, while turning downstage to answer the phone, he seems to wipe tears from his eyes with the smallest of gestures. It's a subtle, human moment of truth in an evening that is generally lacking them.
However: RIDE has many bumpy moments and dramatic dead-ends that can mostly be traced to the script by first-time playwright Neil Connelly. For starters, by giving RIDE such a specific Uptown setting and name-checking so many local attractions, the play is selling a gritty realism that it can't deliver beyond its terrific set. Just a few examples:
Quill, the long-time employee of an Uptown bike shop, can barely ride a bike. Not likely. Also unfortunate: We never see her pick up a tool, sell a bike to a customer, or display any specific bike knowledge. Beyond cracking open PBRs, her skill set seems vague and lacking for someone who works at a bike shop, let alone aspires to actually run one.
In the play's opening Us Vs Them moments, a character bemoans the lack of basic services in Uptown, including medical care. He seems unfamiliar with Weiss Hospital nearby at Wilson and Marine.
Quill recounts a visit to her alderman's office that sounds particularly dated and second-hand. ("They told me they didn't want to meet with nobody that nobody sent.")
While Wilson does bring us some fine, human moments in RIDE – particularly in the nuanced work of Wojcik – he compounds some of these problems with the script as well. I'm thinking of sequences with overlapping dialogue, awkward blocking that at times left a speaking actor with his or her back to the audience and extended scene transitions scored to Alternative Rock classics from the aughts. Since no scenery is moved during these transitions, they go on much too long and when Freeman's Quill is asked to vamp to song selections in Act II not once but twice, this kind of padding feels even more gratuitous for a play stretching past the two-hour mark.
It's confusing at times if the story belongs to Danny or Quill, but based on how the play begins and ends, RIDE is ultimately about Quill's journey. What should you then make of RIDE's muddy, profoundly bleak ending? Mainly, that we're being told it's all (Quill, Brennan's Bikes, Uptown) just a lost cause. And that's really not profound at all.
Do this first: Gourmet tacos, apps and beers? Try Antique Taco across the street – but get there early, since they pack them in most nights. Or: Have you ever tried the milky, decadent Tonkotsu (pork stock-based) ramen at nearby Oiistar?
Do this after: So many options nearby – or stay for another drink at one of The Den's bars. If the Emporium Arcade Bar across the street is too crowded (it will be), try a classic: Nick's.
Running Time: 135 minutes (including one 15-minute intermission)
At The Den Theater, 1333 N. Milwaukee
Playwright: Neil Connelly
Director, Scenic Designer: John Ross Wilson
Thursdays-Saturdays at 7:30pm
Sundays at 6pm
Thru April 3
Tickets: $25
Buy/Request Tickets at Under the Rug's Brown Paper Tickets site.
Photo by: Carlos Rodolfo Chinchilla El Cid