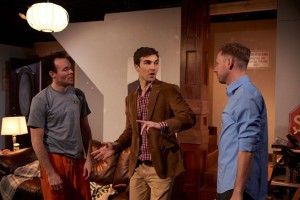 Cole Theatre presents the Chicago Premiere of THE BACHELORS.
I'm a long-time fan of both Shane Kenyon (Laurie) and Nicholas Bailey's (Kevlar) stage work.  I was also impressed by the caliber of Cole Theatre's inaugural production.  I was looking forward to seeing all that talent culminate into Cole's second production. Unfortunately, it didn't happen. THE BACHELORS was a huge disappointment.
THE BACHELORS is about three men played by Kenyon, Bailey and Boyd Harris (Henry).  They have graduated from college but not from their frat antics. Their house is trashed with liquor bottles, beer cans, and junk food wrappings. The neighbors' party can easily be heard through their walls. The setting is prime for a sophomoric romp about guys avoiding adult responsibility. And there is that but Playwright Caroline V. McGraw wants to delve deeper into the psyche of adolescent men. She tries to pen a dark comedy rooted in these fellas' disturbing interactions with women.
The problem is their individual stories don't make sense.  A drunken Bailey tells his tale of woe.  His five year girlfriend has broken up with him.  Danielle's reasons for dumping him seem implausible.  That he hasn't married her, I can buy that as an explanation. But McGraw layers on two more rationales for the break-up.  Individually, either of these also might be believable. Together, they are ridiculous. Although I'm trying not to ruin plot twists, I will just say, 'no one wants to have a lot of sex when they are sick!'
It's hard to believe this script was written by a woman. McGraw is even quoted in the press release saying the show has 'an unabashedly feminist perspective lurking under the surface.'  I didn't see or hear or feel any feminism rippling through this 'men suck' illustration. Kenyon and Harris' lady problems are about objectification of women.  They resent each other's recent sexual infraction. And they throw around repeated accusations that are never answered or resolved. 'Why do you have an empty suitcase?' 'She has all her limbs and arms.' Who are these guys?  I have no idea.  I believe they are supposed to be terrible guys.  I know they are guys with terrible backstories.
The big problem is it's not funny.  THE BACHELORS made me shake my head, raise my eyebrows, check my watch but it never made me laugh out loud. I can't recommend this show.
Running Time: Seventy-five minutes with no intermission
Greenhouse Upstairs Theater, 2257 N. Lincoln Ave.
A new play by Caroline V. McGraw
Directed by Erica Weiss
March 17-April 10
Tickets, $25 at www.coletheatre.org
Photo by Nathanael Filbert
For more information and reviews on Chicago theatre, visit Theater in Chicago.