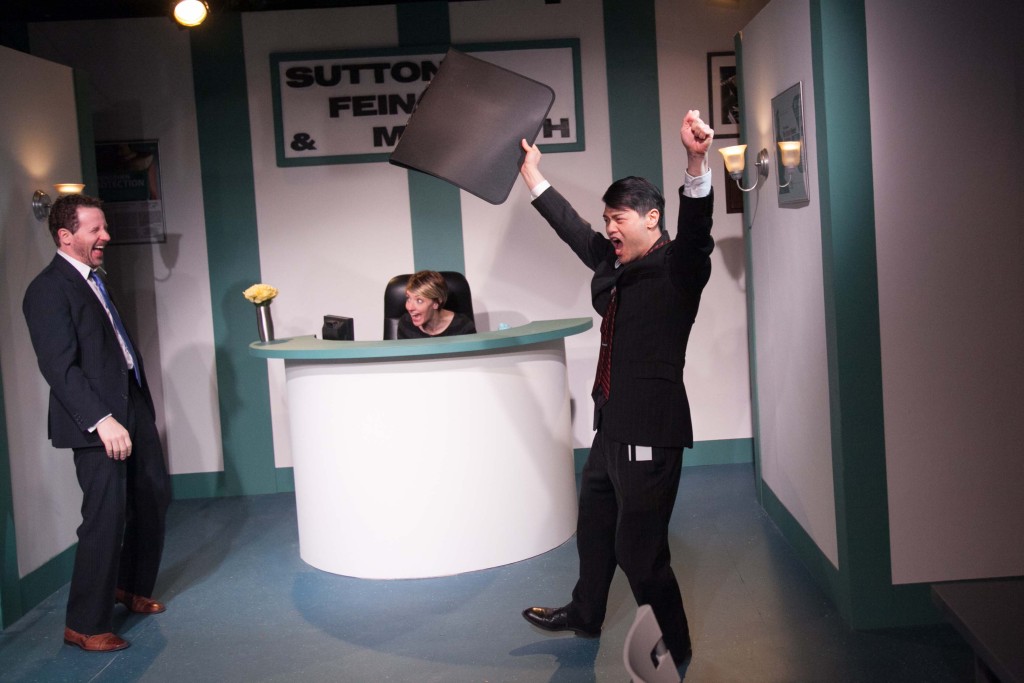 Signal Ensemble Theatre presents the Chicago Premiere of THE CONSULTANT.  This show is the final production for Signal Ensemble Theatre.
I'm always amused by college students that tell me their career focus is to be a consultant.  Being a seasoned professional, I'm baffled to what a twenty-something without job experience can bring into the workplace. Playwright Heidi Schreck imagines just that in her dark corporate comedy.
Schreck keeps it real with believable characters. A key staff person has been laid off. A  bored receptionist starts coming in late.  A fast-talking sales guy is distracted with family issues.  An awkward designer faces a crucial presentation. I know these people. I've worked with these people. The office environment isn't toxic but it's anxious. Although staff is scrambling to stabilize the workflow, there is this overall apathy that comes with layoffs.  The culture is shifting as employees balance desperation and detachment.  Who is going to be the next one gone?  This sh#t is real. Schreck captures genuine life at work. 
Into this Sutton, Feingold and McGrath world walks the perky Ariel Begley (Amelia).  Begley brings the innocence of youth. The mousy Begley has secured the consultant gig by accident.  Still, she is determined to succeed.  Her gumption is rooted in necessity and naivety.  She has  student loans but no work experience. She hilariously tackles improving Ben Chang's (Jun Suk) skills by unabashedly reading from a textbook. Her instructions and demonstrations are earnest and forced. Chang mimicking them adds to the humor. 
Begley's growing relationship with Courtney Jones (Tania) is some of the best parts of the show. Jones has lost interest in the job and faith in her employer. An office flirtation is an outlet for her unhappiness. At first, Jones ignores Begley.  That becomes increasingly hard because Begley's enthusiasm is infectious. She's like an adorable puppy that you want to take home.  When Jones makes an announcement, Begley squeals in delight and claps her hands. Begley's interest in another's success begins to melt Jones' icy corporate heart.
Director Ronan Marra navigates us through these office politics. The talented ensemble become this group of colleagues. My favorite scene is when the confident Maggie Cain (Barbara) bursts into the reception area. She dazzles Begley with her newfound independence.  The interaction is hysterical as Cain goads Begley to disclose an embarrassing childhood incident. Cain plays career guru perfectly.  When she gives Begley her card to come to a seminar, I want to go too.                         
THE CONSULTANT is a fun look at an office setting from both a burn out and a newbie's perspective. The hopelessness and hopefulness coexist in an honest way.     
Thank you for thirteen seasons, Signal Ensemble Theatre!  Best wishes for each of the ensemble in their next adventures on the journey.
Running Time: Ninety minutes with no intermission
At Signal Ensemble Theatre, 1802 W. Berenice
Written by Heidi Schreck
Directed by Ronan Marra
Thursdays, Fridays, Saturdays at 8pm
Sundays at 3pm
Thru February 22
Buy tickets at www.signalensemble.com
For more information and reviews on Chicago theatre, visit Theater in Chicago.