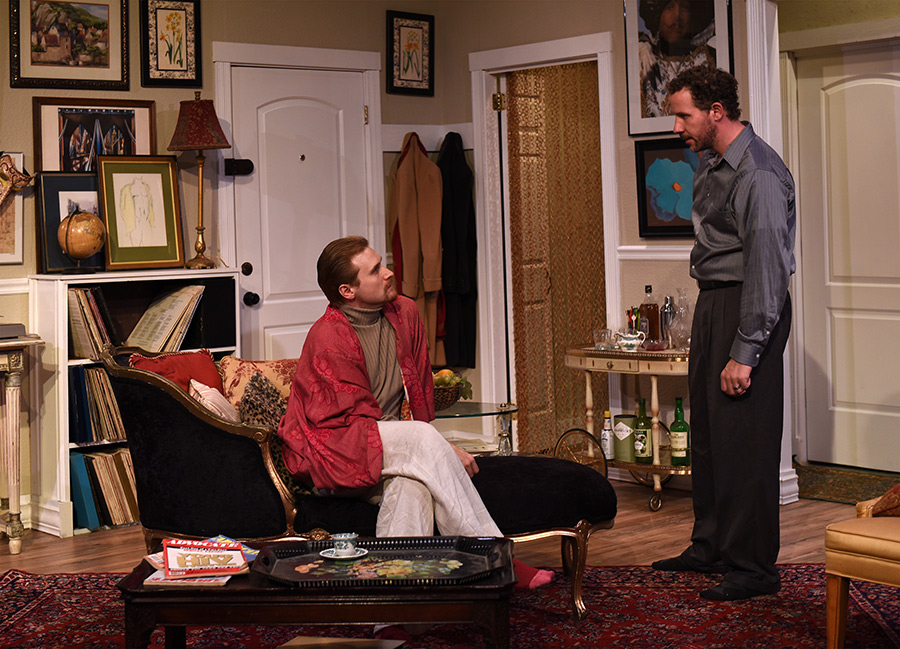 Eclipse Theatre presents THE LISBON TRAVIATA.
I loved this show. 
Playwright Terrence McNally composed an unsung opera. It has passion and music and obsession and tragedy.  It also has humor.  McNally drops us into the 1980s New York apartment of Mendy (played by the outstanding JP Pierson).  Pierson is playing his latest Maria Callas record acquisition for Joe McCauley (Stephen).  Their highbrow banter is this secret language around a shared fixation.  The opera aficionados are consumed in this surreal world of composers, singers and performances.  They exist for the music.
In the first act, Director Steve Scott effectively establishes the driving passions of Pierson and McCauley.  The over-the-top Pierson is the perfect diva.  The self-absorbed Pierson spirals into eloquent and regular fits of hysteria.  He reaches emotional absurdity with hilarious results.  Pierson also impressively sings aria snippets.  He amazingly crushes this role. In contrast, McCauley is even keel.  He plays it like an unaffected intellectual snob. McCauley delights in finding an error on an album cover. The duo challenge each other  in droll name-that-opera games.  And they even playfully reenact favorite death scenes.  The guys are opera geeks. When Pierson finds out McCauley has a better record, he wants it.  Through Pierson's crazed antics to go over to the apartment, we learn about McCauley's problems at home. 
At the core of McNally's story is a love triangle, McCauley, Joel Reitsma (Mike) and Luke Daigle (Paul).  The second act completely focuses on McCauley returning to the discomfort of home.  He leaves Mendy's fantasy world of known dramas for the uncertainty of the reality of his life.
Scenic Designer Kevin Hagan and Properties Designer Vanessa Thomas do a terrific job of contrasting the two homes.  Mendy's is packed with vivid art, a fainting couch and peacock feathers.  It is an inviting place for sophisticated sparring.  Steve and Mike's place is much more stark with metal and black leather furniture. Both places have a massive collection of records.  When McCauley enters his apartment, he is greeted by George Michael on the stereo and a red jock strap on the lamp.      
McCauley and Reitsma have shifted into an open relationship. They see other people. And Reitsma is seeing and sleeping with a hot young Diagle. Despite their understanding, McCauley arrives early to ruffle feathers in the lovers' nest.  McCauley's descent into torment is riveting.  Scott paces it painfully slow and agitated.  McCauley desperately tries a variety of ploys to unhinge Diagle and seduce Reitsma. His performance is emotionally exhausting. The operatic ending is disquieting.        
THE LISBON TRAVIATA is the trifecta; sublime writing, directing and acting.  I loved it!   
Running Time: Two hours and thirty minutes with an intermission
At Athenaeum Theatre, 2936 N. Southport
Written by Terrence McNally
Directed by Steve Scott
Thursdays, Fridays and Saturdays at 7:30pm
(no performance November 26th)
Sundays at 2pm
Thru December 13th
For tickets, visit www.eclipsetheatre.com 
Photo by Scott Dray.
For more reviews and information on Chicago theatre, visit Theatre in Chicago.