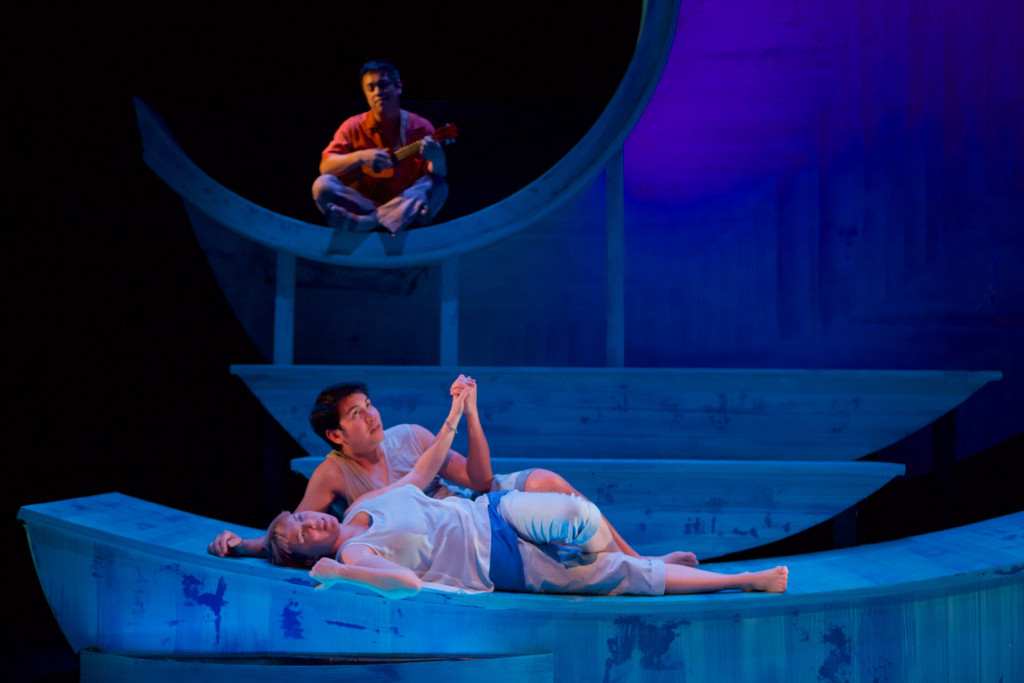 Sideshow Theatre presents a co-world premiere with Boise Contemporary Theatre, NO MORE SAD THINGS.
Playwright Hansol Jung debuts a quirky tale about escapism.  An Ohio woman, coping with her mother's debilitating cancer, is plagued with reoccurring frog nightmares.  Several states and an ocean away a guy, dealing with a father's career-altering accident, dreams of watching a woman drown.  Through a series of impulsive decisions, these two, played by Katy Carolina Collins and George Infantado, meet on a beach in Hawaii.
From the start, the fourth wall is basically non-existent. Jung primarily has her characters speak directly to the audience.  Collins and Infantado, along with Narciso Lobo, act as storytellers telling us what has happened in the distant and most recent past.  They even tell us what is happening in the moment it's happening.  During a roll in the sand, Collins pragmatically narrates what she is doing to prep for sex. I'm certain it's supposed to be funny, it isn't. A few people laugh, most shift in their seats.  The joke, like many before and after, falls awkwardly flat.
The play is riddled with humor but it gets buried and interrupted.  The piled on stories get confusing. The abrupt back and forth in time detaches the audience from the emotion of the moment.  Instead of connecting and caring about the characters, I'm puzzling over all the details. Infantado asks the same question frequently and Collins responds with, 'not yet'.  She's not ready to consider it.  I'm with her.  The question is baffling and without justification. It's one of many times I mentally scratch my head with a nonverbal, huh?
Jung's characters are interesting in a Wes Anderson oddity style.  Her notion of escaping from unpleasant realities to a fantastical Hawaii is relatable.  There is a big reveal fairly early in the show.  It gets the intended gasp from the audience.  And then, it gets side-barred.  It's the big elephant in the room that Jung has Collins poke with a stick but never effectively address.  The avoidance makes Collins an unlikable character.
NO MORE SAD THINGS has charming moments delivered by the versatile Lobo.  He playfully opens the show strumming the ukulele. He is billed as the 'guidebook' and often spews out touristy information.  Lobo also smoothly morphs into various characters like a geeky 15-year old and an airplane pilot with a drawl.  His light-hearted presence is a buoy in a sea of chaos.  Although NO MORE SAD THINGS tries hard to be fun and witty, it feels more-sad-things than anything else.
Running Time: Eighty minutes with no intermission
At Victory Gardens, 2433 N. Lincoln
Written by Hansol Jung
Directed by Elly Green
Thursdays, Fridays and Saturdays at 7:30pm
(no performance November 26th)
Sundays at 3pm
Thru December 20th
For tickets, visit http://victorygardens.org 
Photo by Jonathan L. Green.
For more reviews and information on Chicago theatre, visit Theatre in Chicago.