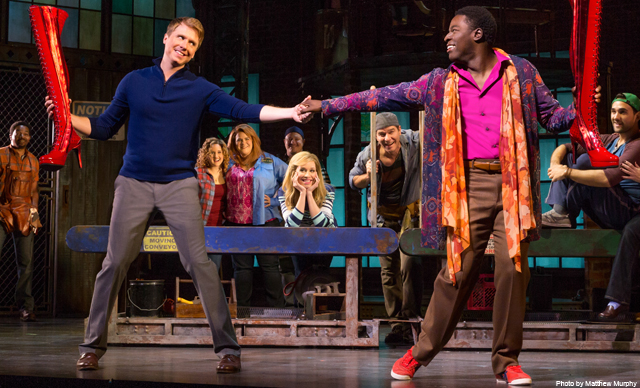 Broadway in Chicago presents the Tony Award-winning musical KINKY BOOTS.
Although this show has a bounty of sassy, bright-colored, long-zipping, pointy-toed, thigh-high, spiky-heeled boots, this play is really about two men searching for self-identity and reinvention.
Harvey Fierstein polishes the quirky film by Geoff Deane and Tim Firth into a shiny musical.  Fierstein keeps the boy-meets-drag-queen story tight. He doesn't lose the poignant essences.  Instead, he gives the relational drama a fine coating of gloss. The angst is nothing a well-placed song and dance can't cure.  Director and choreographer Jerry Mitchell adds his own pizazz.  He masterfully moves the talented ensemble from scene to scene.  Initially, we see our heroes as boys interacting with their fathers.  Nick Sullivan (Mr. Price) is helping Anthony Picarello (Young Charlie) learn the family shoe-making business.  On the other side of the stage, Jomil Elijah Robinson (young Lola) is expressing himself with a pair a snazzy red pumps until Horace V. Rogers (Simon Sr.) forces him to remove them.  The succinct scene gives us a firm grasp on these sons. They want to please their fathers. We understand their struggle quickly. And then Picarello walks behind a moving wall and out pops his adult self.  Charlie is now played by Steven Booth.  Fierstein and Mitchell's collaborative efforts ensure a flowing pace that keeps me captivated through the high-kicking finale.
At the core of the show is the chemistry between Booth and Kyle Taylor Parker (Lola). And these two actors have it.   As Booth and Parker turn the failing shoe factory into an enterprising boots factory catering to drag queens, we feel the respect, the frustration, the love.  When Parker arrives with his Angels (a crew of beautiful long-legged drag queens), Booth's factory workers must make room for change on the floor and in their hearts.  In particular, a brutish Joe Coots (Don) needs an attitude adjustment.  And the zesty score, by the Tony Award-winning composer Cyndi Lauper, provides the perfect soundtrack for acceptance conversion.
Lauper combines sultry and peppy to change anyone's tune.  Parker leads his Angels and the factory gals singing "Sex Is in the Heel."  The song is a seductive life lesson for the male co-workers.  Later, everyone is singing and dancing to the catchy "Everybody Say Yeah."  Mitchell cleverly uses the factory conveyor belt like a fashion runway.  The treadmill dancing is impressively coordinated and mesmerizing. Lauper doesn't just keep it bouncing.  She slows it down with heartfelt ballads.  Booth and Parker duet in a wistful "Not My Father's Son."  Then, they get powerful solos.  Booth contemplates his identity in "Soul of a Man." And Parker sings a stirring "Hold Me in Your Heart" that becomes even more touching knowing who he is singing too.
The show ends with what should be a universal anthem of acceptance in "Raise You Up/Just Be."  Lauper, known for her LGBTQ activism in her personal life, has composed a playful and meaningful score.  It's "Girls Just Want to Have Fun" meets "True Colors."  This is the best of Cyndi Lauper!  I thoroughly enjoyed myself at this musical spectacle.  And I left the theatre wishing all problems were resolved with a kinky pair of boots.  SIDENOTE: Find the young energetic Picarello in the curtain call.  His enthusiasm for his craft is infectious.
Running Time:  Two hours and thirty minutes includes an intermission
At Cadillac Theatre, 151 W. Randolph
Based on the Miramax motion picture "Kinky Boots" written by Geoff Deane and Tim Firth
Book by Harvey Fierstein
Music and lyrics by Cyndi Lauper
Directed and Choreographed by Jerry Mitchell
Thru July 26th
Buy Tickets at www.BroadwayinChicago.com
For more reviews and information on Chicago theatre, visit Theatre in Chicago.