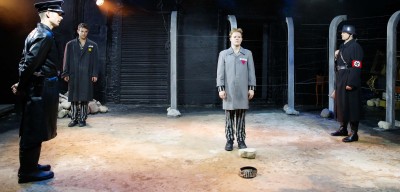 The Other Theatre Company presents BENT.
It's 1930s Germany.  Nik Kourtis (Max) wakes up hungover.  He can't remember what happened the night before.  An animated Will Von Vogt (Rudy) arrives with coffee.  As Kourtis tries to interrogate him, Von Vogt rattles on about his plants and his ankles from dancing on concrete floors.  Kourtis eventually pries the truth from Von Vogt.  We get a snapshot of their lives together.  Von Vogt is a dancer in a club in Berlin.  Kourtis frequents the club.  He drinks the booze, snorts the coke and hits on the help.  He often brings a stranger into their bed.  Von Vogt doesn't like it.  Kourtis never remembers it.  This is their life *before*.  When the Gestapo arrives on their doorstep, Kourtis' partying is no longer the focal issue.
Playwright Martin Sherman takes us on a riveting journey from hedonistic Berlin to devastating Dachau.  Sherman effectively gives a before and after glimpse of the lives of homosexuals at a horrific moment in history.  Under Hitler's command, homosexuals are being rounded up and sent to concentration camps.  Director Keira Fromm skillfully balances the cold, calculated savagery of the Nazis with unexpected moments of humor and tenderness.  Fromm builds the tension with unforgettable graphic violence (fight choreographer Barbara Charlene) and shocking vivid imagery.  And she also gives us light-hearted moments to chuckle and exhale.
This show is really about *after.*  After being arrested for 'being bent' (an interesting description for a 'non-straight' person), Kourtis begins his tumultuous fight for survival.  He meets Alex Weisman (Horst) on a train.  Weisman gives him life saving tips.  The play focuses on their relationship.  Within this horrific world of Nazi persecution, they find love.
On the train, Weisman is immediately engaging.  His presence is both vulnerable and guarded.  His vacant eyes have the hollowness of defeat.  And then he  puts himself in danger by helping Kourtis navigate through the Nazi mind games.  Weisman's backstory tethers us to him. He wears his pink triangle with heroic pride.  Kourtis, on the other hand, plays it like a charming bad boy.  His opportunistic tendencies make him untrustworthy.  As Weisman freely and unabashedly expresses love, Kourtis transforms. In this inhumane prison, their romance is this beautiful surprise.
After seeing this play, I wondered if it had emotional connectivity.  Despite some very evocative moments, I remained tear-free.  It made me think the many tedious scenes of Weisman and Kourtis carrying stones across the stage had watered down the dramatic impact.  Later, I realized I was emotionally impacted. BENT pissed me off!  The reason I didn't feel weepy is I was infuriated by the senseless atrocities.  So much so, I had trouble clapping for the actors playing Nazis.
BENT is an important story to be seen and understood as a painful reminder of what people are capable of doing to each other.
Running Time:  Two hours and thirty minutes includes an intermission
At Strawdog Theatre, 3829 N. Broadway
Written by Martin Sherman
Directed by Keira Fromm
Wednesdays and Fridays at 8pm (no show July 8th)
Saturdays at 4pm and 8pm
Sundays at 4pm
Thru July 26th
Buy Tickets at www.buzzonstage.com/theatres/other-theatre-company
For more reviews and information on Chicago theatre, visit Theatre in Chicago.