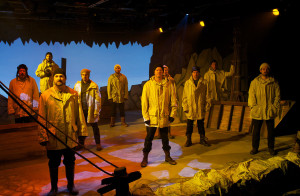 The Irish Theatre of Chicago, formerly known as Seanachai Theatre Company, presents the World Premiere of THE WHITE ROAD.
Playwright Karen Tarjan kicks off this historic expedition with personality.  Ernest Shackleton (played by Paul Dunckel) is interviewing for adventurers to cross Antarctica with him.  Dunckel plays to the explorer's eccentric nature.  He whimsically asks the prospective shipmates; 'how do you sleep at night?' or 'what do you dream about?' The unorthodox Q&A hint at a journey focused on the inner-workings of the ship, Endurance.
During her initial set-up, Tarjan implies that her story will give us an understanding about the pioneering character of the actual crew members.  It feels personal.  We are getting on board this vessel to hang out with a collection of misfits. Cracks are made about all the hired men named Frank. The camaraderie is apparent and inviting.  We observe Matthew Isler (Crean) quickly emerge as Shackleton's faithful sidekick. A steadfast Isler seems to balance Dunckle's spontaneity.  These dynamics are presented but never explored deeper.  During his interview, Nicholas Bailey (McIlroy) is scrutinized for wearing glasses.  It's the type of distinction that helps us identify him as an individual.  Dunckel even chooses an uppity Joseph Stearns (Orde-Lees) because the crew needs someone to pick on.  These introductions allow Director Robert Kauzlaric's ensemble a brief moment in the spotlight.
They then put on winter parkas to become the crew.  And as a collective group, they are mostly faceless vagabonds.  The story shifts into a history lesson about the expedition instead of an intimate dissection of the men that made history.  Tarjan's story relays the facts without the emotion. It becomes an interesting staged reenactment instead of a harrowing, perch-on-the-edge-of-my-seat experience.  At one point, Stearns is being chased by a leopard seal.  Despite the use of projections throughout the play, the leopard seal is never seen by the audience.  Because the action happened offstage, I conjure up in my head that Stearns is potentially being chased by a circus seal with a lacy collar.  Later, a picture posted in the lobby illustrates the massive size of a leopard seal.  And it's only then that I get how scary that moment could have been.
It's these missed-the-boat opportunities that keep THE WHITE ROAD fairly danger free.  The premise of men shipwrecked in the polar tundra is wrought for tension.  Helplessly stranded and isolated at the end of the world…that's kindling for explosive human interactions and heart-stirring heroism. Yet, this ROAD is narrow and feelings are frozen under a factual timeline.
Still, there are definitely scenes of emotional connectivity.  The end of Act 1 is this beautifully sung communion of souls.  The singing men stand united and staggered across the stage looking with hope toward the distant horizon.  Another memorable scene deals with the effects of frostbite.  The mechanics of it made me involuntarily squeeze my eyes shut in overwhelming queasiness.  Kauzlaric orchestrates poignant humanity in these specific illustrations of survival.  Yet, other scenes, especially in Act 2, water down the struggle.  In one particular instance, Dunckel and Kevin Theis (Worsley) are drinking champagne clad in tuxes.  I understand the politicking behind a rescue boat acquisition.  Still, I'm pissed at the lack of urgency exhibited by Dunckel and Theis.  Later, Dunckel reunites with his crew and greets them with a heartfelt, "I love you men!" I'm not buying it. I'm mad at him.  I want one of the guys to demand an explanation with, "what the hell took you so long?"  And I'd like it to be more accusatory than humorous.
Although the Endurance expedition is an amazing feat, THE WHITE ROAD is merely interesting.  It certainly peaked my curiosity to read more on the subject.  But mostly the show made me want to know more about the motivations and spirits of these pioneering men.  Who were these men before-during-and-after the shipwreck?  I got a glimpse inside the ship and I wanted to see more of it, up close and personal.
Running Time:  Two hours and thirty minutes includes an intermission
At The Den Theatre, 1333 N. Milwaukee
Written by Karen Tarjan
Directed by Robert Kauzlaric
Thursdays, Fridays, Saturdays at 7:30pm
Sundays at 3pm
Monday, June 8th only at 7:30pm
Thru June 17th
Buy Tickets at www.irishtheatreofchicago.org
Photo by Jackie Jasperson
For more reviews and information on Chicago theatre, visit Theatre in Chicago.