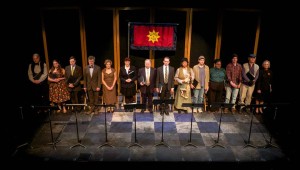 ShawChicago Theater Company presents MAJOR BARBARA.
In one of its larger public readings, ShawChicago utilizes 14 talented actors for a three hour performance.  The running time is daunting especially for a show that will not change scenery or make elaborate costume switches.  It's almost like a radio play with the audio supported by very expressive faces and only subtle movement.  Yet, this is what ShawChicago does… and very well.
Under Director Robert Scogin, the ensemble debate morality and salvation with zeal.  Playwright Bernard Shaw penned a story about the Undershafts, a family of pedigree on mom's side supported by money from dad's side.  Because of her husband's philandering, Lady Britomart (played by the formidable Mary Michell) has raised her children alone.  The play starts out with her hilariously undermining her son Stephen (played by the wonderfully reactive Matt Gall).  Michell nonchalantly reveals decades of deception.  Gall tirelessly responds to each reveal with emotional aghast. 
Michell has invited the prodigal father to the house to get more money for Stephen's sisters;  Sarah (played by Jhenai Mootz) and Barbara (played by Barbara Zahora). Mootz is engaged to marry Charles Lomax (played by Gary Alexander).  Michell believes Lomax to be worthless for a decade until he comes into his family's money.  Alexander deliciously lives up to Michell's description with ongoing foot-in-mouth hilarity.  Besides those upcoming nuptials, Michell is concerned for her other daughter who has found religion.  Zahora has become a leader for the Salvation Army.  She is zealously committed to saving souls.  And a smitten and penniless Doug MacKechnie (Adolphus) is committed to banging the drum for her cause.  Cue Jack Hickey…
Hickey (Undershaft) is the long lost dad.  Shaw's character is the maddening combination of scoundrel and humanitarian.  And Hickey perfectly delivers his controversial philosophies with tongue-and-cheek blatantness.  To his family's disgust, he's an arms dealer.  And he preaches the real salvation in life is money.  Over a hundred years later, Shaw's Undershaft is relatable as a Republican mouth with a socialist soul.  We may not like what he's saying but the essences are undeniably true. 
The play takes us from the Undershaft's home to the Salvation Army and then on a field trip to Undershaft's factory community.  Along the way, we meet many distinct characters.  The terrifying Christian Gray, the resigned Jacqueline Jones and the amicable Jonathan Nichols portray the seedier side of those seeking refuge or revenge at the mission.  And their needs are addressed by an eager-to-please Daneille Pinnock.  Throughout the show, Shaw continues to provoke thoughtful reflection on mission work.  Are the 'saved' really saved?  Or are they scamming for food?  Is it more important to save souls for the afterlife?  Or help them, by any means, to live a fuller life now?  Before the three hours are up, each of the characters will grapple with their own life choices. 
MAJOR BARBARA is provocative and witty.  There is plenty of ideologies to contemplate.  And although some of Shaw's soliloquies could definitely use a good trimming, the story is engaging on multiple levels and from multiple angles.                        
Running Time:  Three hours includes an intermission
At Ruth Page Center for the Arts,  1016 N. Dearborn
Written by Bernard Shaw
Directed by Robert Scogin
Saturdays and Sundays at 2pm
Mondays at 7pm 
Thru May 18th
Buy Tickets at www.shawchicago.org.
For more reviews and information on Chicago theatre, visit Theatre in Chicago.