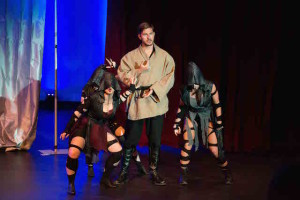 E.D.G.E Theatre presents the return of MACSITH.
I haven't thought of "Macbeth" and "Star Wars" together… ever.  The parallels between a story anchored in history and one in a futuristic galaxy far, far away aren't obvious.  On closer inspection, Macbeth was a man influenced by the dark side. Turns out they are both tales of man's struggle to lead by force.   
And so Orion Couling and Jarid McDaris adapted Macbeth by setting it in the Star Wars universe.  The play is described as a Star Wars/Shakespeare mash up.  Couling, also serving as director, kicks off his ambitious invention with fourteen witches writhing on the floor.  This number is staggering because the intimate theatre maybe holds two dozen audience members.  As the show goes on, it's apparent the cast outnumbers the audience.  Couling uses nearly forty actors in his sci-fi literary theatrics. 
This show is clever. I expected something more along the lines of the parody "Space Balls." Be aware, it's not funny.  It's often intense.  And despite using kids' light sabers to fight, the performers take the work seriously.  Some of the best moments are the fight scenes.  Movement Director Genevieve Lally facilitates big brawls with impressive precision.  Lally's battles use several performers duking it out on a small stage and in close proximity to the audience.  The movement has to be on target or someone, onstage or offstage could get hurt.   
The size of the show was my ongoing quandary.  So many people.  So little space. It feels chaotic. The spectacle start of wall-to-wall witches seems overwhelming and unnecessary.  The three main witches (Lisa Tosti, Janae Hohbein, and Sarah Wisterman) alone cast a poignant spell of intrigue and darkness.  With painted symbols on their faces, the trio effectively illuminate this otherworldly quality.  And although a sea of witches seems cool, especially when Lexi Saunders (Lady Monbeth) is swimming in it, the logistics of the space make it challenging. 
The super-sized cast is a lot to handle. Some of Couling's scenes have a bumpy transition because the blackout is prolonged to get a large number of people offstage.  And with so many people, identification is near impossible. I pride myself in having seen both "Macbeth" and "Stars Wars" dozens of times.  I'm secure in my knowledge of the storylines but not always my ability to identify characters.  During MACSITH, I compulsively tried to match characters to people not always successfully.  Saunders and Zack Meyer (MonBeth) as the power couple are the easiest to pick out of the crowd.  The rest is a bit of a crap shoot.
Character recognition continues to take my attention away from the actual performances.  Over at the Monduffs, while Sydney Ray (Lady Monduff) and -my best guess- Sara Yenter Briars (Learner) are having a meaningful conversation, I'm distracted by the addition of three kids in the scene. They don't seem to have any purpose.  Yes, they are a part of the pending raid on the House of Monduff but Chicago Shakes wouldn't even say they are essential to the scene.  Their presence is cute but clunky.
The finale is synced up like the actual Star Wars ending.  I recognize the music but not the characters.  The excitement I felt over the Princess-Luke-Hans triumph is missing.  I can't celebrate because I know don't the good guys from the bad guys. 
MACSITH is incredibly innovative.  In its current form, its more of an extravaganza of fighting and costume (Designer Ashley Ann Woods) pageantry.  For the story to truly unfold eloquently, it needs to slim down to a manageable number of characters to help the audience focus on the story.    
Running Time:  Seventy-five minutes with no intermission
At Pendulum Theatre Space, 1803 W. Byron
Based on William Shakespeare's MACBETH
Adapted by Orion Couling and Jarid McDaris
Directed by Orion Couling
Thursdays, Fridays, Saturdays at 8pm
Sundays at 3pm
EXTENDED Thru June 14th
Buy Tickets at www.EdgeofOrion.com
Photo by Jennifer Frankfurter
For more reviews and information on Chicago theatre, visit Theatre in Chicago.