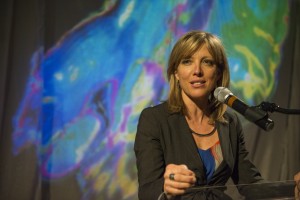 Reviewed by Tom Lawler
Profiles Theatre presents the Midwest premiere of THE OTHER PLACE.
The premise of The Other Place is quite simple. A brilliant neurologist begins to see her life unravel in front of her own eyes, though what she sees possibly can't be trusted. Because we see the world through her eyes though, we also can't quite be sure what's really happening, which makes for a compelling puzzle with multiple payoffs.
This production, now receiving its Midwest premiere in a sleek production helmed by Profiles Theatre's Artistic Director, Joe Jahraus, packs an evening of theatrical pleasures into a tight 80 minutes. We meet successful neurologist Juliana at her best, addressing a medical conference (in the Virgin Islands with a compelling lecture on her medical break-through. In front of a stark white backdrop and projections, the confidence and charisma of Lia D. Mortensen are apparent as she makes deliberate eye contact with many of us in the theater while leavening the medical jargon with well-timed witty asides. (I especially enjoyed the improv chops she showed as she fumbled to turn on her hand-held mike.)
The Other Place garnered a Tony nomination for Laurie Metcalf when played the lead role in 2011, though it's hard to see her performance outshining Mortensen's luminous, layered work here. Mortensen is supported by Steve Silver, intense and credible as Juliana's husband, particularly when their conflicts flare into battles.
As The Other Place begins switching back and forth between the medical conference, domestic scenes with her husband (who seems to be leaving her) and a visit with a new therapist as she begins reflecting on "the episode" at the medical conference, doubt begins to creep in as we stop trusting what Mortensen's Juliana tell us and even what we see.
Yes, her daughter eloped some years ago with a much older former colleague of Juliana's, but are they still in contact?  Then, just as we begin to deduce the reality of what what's really happening, Jurhaus literally drops the curtain on us and takes us in a new direction.
In a clever technical feat, the set suddenly changes and we're taken to the namesake "Other Place," which is both a vacation home that Juliana longs to return to and a period in time before things went horribly wrong for her and her family.
But once we finally solve the mystery of what's happening to Juliana and what's transpired to this point, it becomes poignantly clear that for this brilliant neurologist what's happening in the here and now is becoming less and less important.
Photo credit: Michael Brosilow
Running Time: 80 minutes with no intermission.
At Profiles Theatre, The Main Stage, 4139 N. Broadway Ave.
Written by Sharr White
Directed by Joe Jahraus
Thursdays-Fridays at 8:00pm; Saturdays at 5:00, 8:00pm
Sundays at 7:00pm
Through April 5, 2015
Buy tickets at http://www.profilestheatre.org or call 773.549.1815.
For more reviews and information on Chicago theatre, visit Theatre in Chicago.