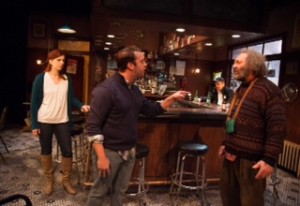 American Blues Theatre presents the Chicago Premiere of YANKEE TAVERN.
Grant Sabin (scenic design) has opened up a bar at Greenhouse Theatre.  It's not a swanky lounge.  It's an old-man-dive-bar. From the dirty tiled floor to the overflowing clutter spilling out of cubby holes, this tavern has character.  The worn and familiar façade suggests decades of boozy memories both big bawdy nights out and whiskey-soaked contemplation into the wee hours.  Hidden by smudged windows from the outside world, YANKEE TAVERN is the perfect place for storytelling.
And Playwright Steven Dietz has a delectable whopper of a story.  Dietz actually tells multiple stories in his riveting expose about 9/11.  Dietz uses a homeless barfly named Ray (played by Richard Cotovsky) to introduce mega conspiracy theories, including; the staged moon landing, the Starbucks evil empire and 9/11.  The bulk of Dietz's first act has Ray ranting a horde of monologues.  At the opening performance, Cotovsky was struggling with his lines.  When he hits it, Cotovsky delivers his drunken buffoonery with wit and disconcerting believability.  Other times, his broken speech feels less like the ramblings of a conspiracy enthusiast and more like an actor's memorization technique gone awry.
Despite these distracting moments, Cotovsky contrasts a surprising softer side to his crusty exterior.  He serves as a confidante and counsel in the relational woes of Ian Paul Custer (Adam) and Darci Nalepa (Janet).  Dietz's play starts out simple. Custer and Nalepa are planning a wedding.  They have playful banter over Custer's omissions on his guest list.  He is a graduate student and bartender.  She works for a foundation but took the morning off to address invitations at the Tavern.  They are a nice couple. Their problems appear to be dealing with pre-wedding jitters and tolerating Cotovsky's windbag ways.  Then, Dietz layers in complications that all coincidentally and eerily lead back to 9/11.
Under the skillful direction of Joanie Schultz, the pace is tight and the intrigue is high.   In Act 1, Cotovsky's rattling theories are continually dismissed by an amused Custer, an annoyed Nalepa and the skeptical audience.  When a mysterious stranger, Steve Key (Palmer), brings up a story of a hijacker's passport, the sh#t gets real.  I start questioning everything… and not just in the play. Custer passionately protests that conspiracy theorists are producing propaganda that keeps terrorism thriving.  So, I keep one foot still in his camp as I step squarely into this swirling 9/11 maze of weirdly connected happenstance.  At one point, an intense Key reveals information that effectively freaks Nalepa and me out.
I loved Dietz's story of stories.  I got sucked into all of them.  Dietz masterful spins his yarn with a wedding, juke box, ghost, graduate thesis, Rolling Rock beer, dad's coffee cup, ex-wife, backpack and a funeral suit.  These 9 elements have their own stand-alone fascination but put them in a blender on level 6 for 5 minutes and drinking that 9/11 combo will blow your mind.
Running Time:  One hour and forty-five minutes includes an intermission
At Greenhouse Theatre Center, 2257 N. Lincoln
Written by Steven Dietz
Directed by Joanie Schultz
Thursdays, Fridays, Saturdays at 7:30pm
Sundays at 2:30pm
Additional 3:30 matinees on March 14th & 21st
Thru Match 22nd
Buy Tickets at www.AmericanBluesTheater.com
Production photo by Johnny Knight
For more reviews and information on Chicago theatre, visit Theatre in Chicago.