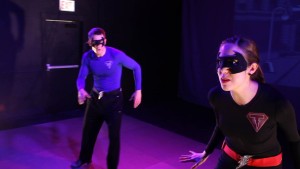 Tapman Productions presents THE ADVENTURES OF TAPMAN, the first show in their inaugural season.
Tap dancing gets a comic makeover in this superhero saga.  Inspired by his childhood love of comic books, Artistic Director Tristan Bruns has conceived his tap dancing showcase as a crime fighting adventure.  Bruns plays Tapman, a dancer dedicated to stopping the evil doings of his arch nemesis The Mad Tapper (played by Kelsey Schlabaugh).  During his crusade, Tapman falls in love with Modern Marvel (played by Kate O'Hanlon).  The story is simple enough for kids to follow.  The jokes are delivered in melodramatic buffoonery to the amusement of the adults.  And the dancing captivates everyone!  This tap dancing is seemingly effortless, synchronized movement of merriment.   
Bruns is a superhero. He's got the inflated ego but with just cause.  The man not only dances, he also sings.  And he does both splendidly and sometimes simultaneously.  Bruns is energetically tapping for most of the show. The only sign of the athletic stamina required is the drips of sweat on his face. Bruns makes it look easy!  Whether he is belting out a tune, plotting his revenge, or cracking jokes, Bruns is the ultimate showman.  His duels with Schlabaugh are these amazing fisticuffs sequence but with feet.  The foot to foot combat is frolicsome as well as impressively coordinated.  Bruns serves as choreographer, along with Zada Cheeks, and regularly mixes up the tempo.  He sweeps O'Hanlon into a flourishing Ginger-and-Fred-style number to "Night and Day."  He then has a solo face-off with sand at the prodding of an Egyptian sphinx (projection designs by Cat Wilson).  Later, the Madd Rhythms Jr. Squad come out to fire it up to Busta Rhymes.  The variety combo makes for an immersion experience into the tap dancing world.           
What is it about tap?  I find myself transfixed on the dancers' feet and mentally tapping my toes in rhythm.  It's almost a contagious impulse to click-clack along.   Catching this tap fever makes me want to join in the dance.  And don't worry I got the opportunity. Everyone is invited to get-their-tap-on for the curtain call.  Audience members are invited to dance with the performers.  I didn't physically participate but I delighted in the all age volunteer group.  There was this gaggle of little gals in snowboots making their adorable debut.  And there was also a father-son duo where the two year old small fry chose jumping as his dance interpretation.  I wish all crime dramas ended with a high-spirited shim sham.  THE ADVENTURES OF TAPMAN is a playful, joyful show for the entire family.   
Running Time:  Fifty minutes with no intermission
At the Athenaeum Theatre, 2936 N. Southport
Directed by Lauren Girard Forster
Choreographed by Tristan Bruns and Zada Cheeks
Fridays at 7:30pm
Saturdays at 2pm and 7:30pm
Sundays at 2pm
Thru February 8th   
Buy Tickets at www.athenaeumtheatre.org
Photo by Javier Villamil
For other reviews and information on Chicago theatre, visit Theatre in Chicago.