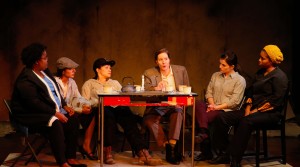 The Other Theatre Company makes its Chicago debut by presenting TWILIGHT:  LOS ANGELES, 1992 to launch its inaugural season.
In 1992, four police officers were acquitted from brutally beating Rodney King.  Los Angeles responded by inciting 6 days of rioting.  Playwright Anna Deavere Smith captures the history and the humanity of the catastrophe.  Smith interviewed various subjects in her "where were you during the LA riots?" retrospective.  Smith then pieces together the compilation in a provocative montage.  Her play doesn't just have the anticipated perspectives of the televised exploited civil rights activists, jurors, police officers and victims.  It also has the voices of the unknown stories of realtors, chefs, shopkeepers, and gang members.  At Smith's insistence, the stories are reenacted with all the actual pauses and stumbling over words of the recorded interviews.  The results provide a powerful revelation and realization of the past and present dangers of hatred.
Director Jason W. Gerace brilliantly chose an all-female and multi-ethnic cast.  His talented ensemble skillfully morph into a variety of different characters.  Their abilities to play male or female, black/white/latino or korean, and any age is not only impressive, it blurs the lines of prejudice.  Knowing any spirit could be in any body is a theatrical and philosophical mind blower. Toya Turner, a black actress, embodies LA police chief Daryl Gates, a white man.  The key jangling Turner explains how he (Gates) delayed his riot response because of a fundraising commitment.  The monologue has plenty of authentic lunacy as Gates tries to justify his actions.  Although Gates' interview could have been reduced to well-deserved buffoonery, Turner sensitively portrays Gates as a proud and arrogant man that made a mistake.
These snippets of life viewed in hindsight and a dozen years later are unforgettably disturbing.  The outstanding Danielle Pinnock plays multiple distinct parts with comedic and dramatic perfection.  Pinnock's most memorable role is an effervescent LA realtor who is oblivious to the conflict from her Beverly Hills perch.  All the actors continually make dramatic transformations.  Tanya Thai McBride goes from a flamboyant black man to an uptight talent agent.  One moment, Mary Winn Heider is a frightened juror and in the next she is a hardened revolutionary.  Carolyn Molloy plays both an affected artist  and an enthusiastic victim describing events with completely opposite deliveries.  Among her roles, a noteworthy Leena Kurishingal tells the story of a young pregnant woman.  From every angle, Gerace orchestrates honest storytelling from his sublime cast. 
I highly recommend everybody seeing TWILIGHT:  LOS ANGELES, 1992.  With the recent deaths of Michael Brown and Eric Garner, the act and response to racism continues to be violence. It's apparent that we, the human race, are not learning from our past mistakes.  We must continue to educate ourselves and see life from others' perspectives.                      
Running Time:  Two hours and thirty minutes includes an intermission
At Chopin Theatre, 1543 W. Division
Written by Anna Deavere Smith
Directed by Jason W. Gerace
Thursdays, Fridays, Saturdays at 7:30pm
Sundays at 4pm
Thru February 22nd
Buy Tickets at www.theothertheatrecompany.com
Photograph by Carin Silkaitis
For more information and reviews on Chicago theatre, visit Theatre in Chicago.