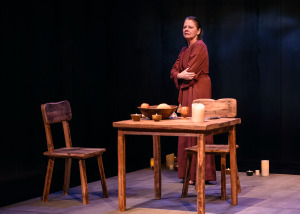 Victory Gardens presents the Midwest Premiere of THE TESTAMENT OF MARY.
I have fifteen and half years of Catholic education.  I've read and studied the bible.  I self-identify as a Christian.  I'm a believer.  I often consider WWJD?  Yet, I've never considered What Would Mary Do?
Playwright Colm Toibin answers that question with stories told from Mary's perspective.  THE TESTAMENT OF MARY was a 2013 Tony Award nominee for Best Play.  The concept is original.  And the execution is provocative.  In the one woman show, Linda Reiter (Mary) tells the familiar stories of the wedding at Cana, Lazarus' rising from the dead and the crucifixion but from a mother's perspective.  Not an apostle.  Not a disciple.  A mother!  And this mom is pissed.
Under the direction of Dennis Zacek, Reiter is mesmerizing.  The show starts with her rising from a submerged pool.  On the candlelit stage, the ambiance is mellow almost spa-like. Reiter dries off and robes herself.  The initial tranquility is shattered quickly as the angry Reiter tells of her loss, first a husband and then a son.  Her sorrow is transparent.  She explains an empty seat as a memorial.  And admits she is unable to refer to her son by name.  This isn't the statuesque Virgin Mary adorning a nook in a Cathedral.  This Mary is a human being in unimaginable agony. She believes her son was unnecessarily sacrificed for a cause that isn't necessarily hers.
Reiter humanizes a legendary figure.  Her superb storytelling skills put us in the moment.  She describes seeing her son in a room wearing robes that suggest royalty.  She questions why he has them on.  And suspiciously hints at where he got them.   It's like a mother of a celebrity superstar suggesting her kid isn't 'all that.'  At one point, she talks about quarreling with her son and not speaking to him through dinner.  WWJD?  Well, according to his mother, Jesus didn't always do what she thought he should.
This play broadened my vision.  Reiter describing the crucifixion is mentally scarring.  Yes, I've heard the stories.  I've seen the movies.  In all those portrayals, Jesus' human reaction is usually a plea to his heavenly father followed by acceptance.  Reiter tells the graphic details of pounding a spike into a wrist.  And she recounts how he resisted when they wanted to do his other one.  The imagery is heart-wrenching if told by a stranger.  Knowing this is his mother sharing her living nightmare makes it gut-wrenching too.
People will react to THE TESTAMENT OF MARY.   The story is not easily digested and certainly a conversation starter.  It may even ignite multiple debates.  The Gospel according to Toibin shoots holes in well-known parables.  He is shaking up Virgin Mary stereotypes and questioning the implausible.   Yet, I appreciated Toibin's care in leaving room for doubt and faith.  Mary is a cynic but she also admits she didn't know if the jugs had water or wine in them at Cana.  She voices a definite opinion but lets there be ambiguity too.  Conservatives may be shocked and offended at this depiction of Jesus' life.  They may insist 'this isn't the way it happened.'  And I would counter with, 'says who?'
Running Time:  Ninety minutes with no intermission
At Victory Gardens Theatre, 2433 N. Lincoln
Written by Colm Toibin
Directed by Dennis Zacek
Tuesdays, Wednesday, Thursdays, Fridays, Saturdays at 7:30pm
Sundays at 3pm
Thru December 14th
Buy Tickets at www.victory gardens.org
For more reviews and information on Chicago theatre, visit Theatre in Chicago.