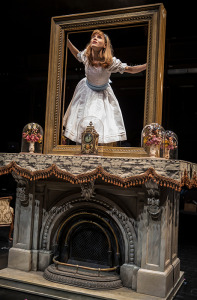 Lookingglass Theatre Company presents the return of the signature Lookingglass production LOOKINGGLASS ALICE. 
For the 150th anniversary of Lewis Carroll's publication, Lookingglass is rolling out its hallmark show.  LOOKINGGLASS ALICE is also celebrating a milestone.  It's the 10th anniversary of the first production.  Returning to the title role is the originator Lauren Hirte.  And sharing the tremendous physicality of performing as the Girl Wonder is another Alice veteran, Lindsay Noel Whiting.  For our Saturday afternoon performance, Whiting fell down the hole and took us with her. 
The show starts out cozy and moves into zany.  Whiting is home reading to her cat. And then with a stunning flourish, she's floating through the air and down a hole.  She lands on an oversized chessboard.  Her objective is to move forward and become queen. Well, before she is crowned, she'll have to take on a variety of crazy characters in this one-of-kind-theatre-meets-circus show.          
Adapter and director David Catlin masterfully uses his five talented ensemble members to perform all the marveling feats.  The cast (Whiting, Molly Brennan, Kevin Douglas, Anthony Fleming III, Samuel Taylor) boast impressive stamina and comedic timing.  The hilarious Brennan (Red Queen) starts out towering over the production in a two-story gown.  By the end of the show, she is afloat in a blue silk sea as a tiny version of the queen.  It's these kinds of illusions that Catlin, the ensemble and a cracker-jack design team churn out in the never-a-dull-moment spectacle. 
At one point, people climb out of a normal size picnic basket.  And as if that's not astonishing enough, folding chairs shoot out of the same basket and are expertly caught by Douglas and Fleming.  This sequence also features Douglas, Fleming and Brennan in weird synchronized tea party mode.  Their repeated movements is bizarre buffoonery delivered with razor-sharp precision.  All of the stunts showcase whimsy but are truly a test of athletic ability.  Whiting, in particular, is on stage the entire time.  She looks every bit the precocious 7 1/2 year old she is playing but her expert movements illustrate a seasoned pro.
Taylor brings a bumbling to the super fit fantasy.  He enters and exits with a bang much to the delight of the audience.  Taylor plays Dodgeson, the knight and white king.  His interactions with Whiting turn the awe into ah moments.  In all Taylor's personas, the twosome have a tender connection in this Mad Hatter land. 
LOOKINGGLASS ALICE is a wondrous fairytale for kids to grandparents.              
Following the production, my eight year old great niece Grace said, "I don't get it."
I responded with, "Nobody really gets 'Alice in Wonderland.'"
Yet, that doesn't stop us from thoroughly enjoying IT.  Grace was completely transfixed by all the antics of this high-energy, talented ensemble.  She followed their every movement. She laughed.  She applauded.  She voiced concern.  When Douglas fell off the ladder, she was first on her feet to see into the dark hole on the stage. 
She asked me in a bit of a panic, "Was that supposed to happen?"    
I responded with, "He was Humpty Dumpty and he fell off the wall."
She repeated what I said to herself in reassurance and a learning type of moment.  And then begin to giggle…hard. 
'The yarn was above her.' The LOOKINGGLASS ALICE isn't by the book ordinary.  It's by the imagination extraordinary. Grace, my parents and I thoroughly enjoyed Catlin's free flowing Cirque Wonderland.   
Running Time:  Ninety minutes with no intermission
At Lookingglass Theatre, 821 N. Michigan
Adapted from the works of Lewis Carroll
Adapted and directed by David Catlin
Wednesdays, Thursdays, Fridays, Saturdays at 7:30pm (except Nov 27, Dec 25, Jan 1)
Saturdays, Sundays at 3pm
Additional performances…
At 3pm Nov 26, 28 Dec 4, 11, 18, 23, 26, 31, Jan 2, 15, 29
At 7:30pm Nov 25, Dec 7, 14, 21, 23, 30, Jan 11, 25, Feb 8, 15
EXTENDED Thru February 22nd 
Buy Tickets at www.lookingglasstheatre.org
Production photo by Liz Lauren
For more reviews and reviews on Chicago theatre, visit Theatre in Chicago.