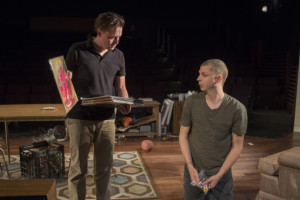 Steppenwolf Theatre presents the pre-Broadway run of THIS IS OUR YOUTH.  The play, produced on Broadway by Scott Rudin, opens at the Cort Theatre on September 11th.
I was excited about this play solely based on the star power.  I'm a huge fan of Arrested Development and Michael Cera.  I also have enjoyed performances by indie film actor Kieran Culkin.  My high expectations were based on these fine actors' established careers.  I anticipated loving every moment of this show.  I didn't.
Playwright Kenneth Lonergan's story is set in New York 1982.  It's about three teenagers.  I know this from reading the press release after the show.  During the show, the only indication of an earlier time period was a dated telephone.  There were vinyl records and a turntable but they could easily be indicative of a modern-day hipster. So, the year wasn't apparent but more importantly the age of the characters wasn't apparent.  I know the title has 'YOUTH' in it still I saw these characters as twentysomethings.  These actors don't look or act like teens. Even when Tavi Gevison (Jessica) mentioned 'not driving yet' and 'living with her mom,' I still thought we were dealing with millennials struggling to thrive in their adulthood.
The story reminded me of HBO's Girls. Sex, drugs and entitlement.  Warren is thrown out of his father's house so he steals $15,000 on his way out.  He takes his baggage to Dennis' apartment.  Cera (Warren) is lackadaisical.  Culkin (Dennis) is livid.  At the core of the show is Cera and Culkin's friendship. Their interactions have genuineness.  Cera is unflappable as Culkin sputters up a storm.  Immediately, we understand their established ritual, Cera screws up and Culkin fixes it.   Both Cera's flat affect and Culkin's emotional outbursts get laughs.  Cera, especially, has perfect comedic timing.  He has a way of extending a pause just a smidge longer that adds to his one liner comeback.  The comedy is there.  It's the drama that is missing.  And without that significant piece in place, some of the humor goes unrealized.
Director Anna D. Shapiro navigates this nonchalantly.  Every tense scenario gets a casual response.
I stole money.      Okay.
Let's sell drugs.   Okay.
Want to have sex?   Okay.
This isn't the scripted dialogue but it certainly is the underlying attitude.  Without the tension, the show  is lackluster.  I'm not invested in the characters' problems because the actors aren't.  No one seems to be concerned about potential danger in their risky behavior.  The absence of edginess makes for a bland theatrical experience.
Oh, George Michael and Igby, THIS IS OUR YOUTH?  I don't think so.
Running Time: Two hours and thirty minutes with one intermission
At Steppenwolf Theatre, 1650 N. Halsted
Written by Kenneth Lonergan
Directed by Anna D. Shapiro
Tuesdays, Wednesdays, Thursdays, Fridays, Saturdays, Sundays at 7:30pm
Saturdays and Sundays at 3pm
Thru July 27th
Buy Tickets at www.steppenwolf.org
Production photo by Michael Brosilow
For more information and reviews on Chicago theatre, visit Theatre in Chicago .