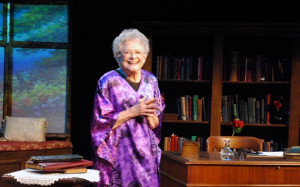 ShPIel-Performing Identity presents the World Premiere of THE PASSIONS OF EMMA GOLDMAN.
The opening night of Roslyn Alexander's (Emma) one woman show started 25 minutes late.  The curtain was held for a handful of people who had the wrong curtain time.  That decision stretched a 90 minute show to two hours.  The prolonged captivity definitely influenced my experience. A two hour monologue is a lulling feat.     
Alexander, writer and performer, makes her appearance on the stage like a grand dame of theatre.  She sidebars to a pretend person off stage that she hopes the press aren't here because she doesn't like the press.  The joke falls flat at the press opening since the press have waited for her entrance for 25 minutes.  It's this moment among others that we see Alexander more as a diva than an anarchist.  Her mere presence suggests this well-preserved beauty from the Golden Age of Hollywood.  She doesn't look like the gritty woman who incited riots and championed human rights.  She is more glamorous than gutsy.
Alexander chronicles Emma's life from lover to lover.  Her reflections glaze over the political duress to get to the good stuff, her true passion, love.  She charmingly returns with affection to musings about a lifelong relationship with Sasha, an imprisoned comrade. One of the devices Alexander uses to tell Emma's story is a box of questions.  Alexander infrequently selects a card, reads the question and then tells a related story.  A box of questions feels more realistic as a great actress' fan mail.  I don't imagine an anarchist having groupies wondering about her life choices. True followers of Emma Goldman wouldn't be questioning her past.  They would be spring-boarding on it to make a brighter future.              
Roslyn Alexander is a charming storyteller.  The twinkle in her eye engages the audience in an almost conspiratorial way.  I want to listen to her stories from the past.  I just never believe Alexander is an anarchist but I do believe she is a fine actress.     
Running Time:  Ninety minutes with no intermission.  Opening night had a 25 minute delayed start
At Stage 773, 1225 W. Belmont
Written and performed by Roslyn Alexander
Directed by Dennis Zacek
Thursdays, Fridays at 7:30pm
Saturdays at 8pm 
Sundays at 3pm
Thru June 1st 
Buy Tickets at www.stage773.com
At The Skokie Theatre, 7924 N. Lincoln in Skokie
Wednesdays, Thursdays at 7:30pm
Saturdays at 8pm 
Sundays at 3pm
June 4th through 22nd 
Buy Tickets at www.shpieltheatre.com  
For listings and reviews of all Chicago theatre happenings, visit Theatre in Chicago.