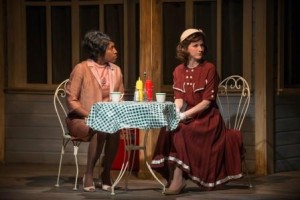 Next Theatre Company presents the Midwest Premiere of LUCK OF THE IRISH.
Obie Award-winning Playwright Kirsten Greenidge tackles entitlement in a multi-layered, multi-generational tale about a house.  At the heart of Greenidge's story is a 1950s arrangement between a black couple and a white couple.  Dr. and Mrs. Taylor want a better life for their daughters.  They pay the struggling Donovans to 'ghost buy' a house in an affluent, white neighborhood.  Fast-forward 50 years, Mrs. Donovan wants 'her' house back from the Taylors' granddaughters.  Entitlement faces actual title complications in this well-built, heart-felt homestead.
Greenidge engages as a storyteller.  She looks at racial prejudice from external and internal biases.  Her characters continually debate what they are entitled to, based on culture, gender, economics, nature and inheritance.  Greenidge's characters are complex.  A button collection has a deeper meaning.  An incident with a box of crayons maybe doesn't.  Greenidge unravels all her familial knots with humor and sensibility.  This is not a heavy-handed lesson in discrimination. It's a thought-provoking charmer. For example, the threat of blacks being 'sent back where they belong' prompts the amicable Austin Talley (Rich) to exclaim, "Great, because my family is from Barbados."
Director Damon Kiely paces this perfectly.  The back and forth from 1950s to contemporary times is smooth.  At times, he has the past and present brush past each other for a tingly moment of nostalgia.  My favorite scene is between the proud Mildred Marie Langford (Lucy) and the demanding Cora Vander Broek (Patty Anne).  Langford and Vander Broek have a tense diner exchange.  Their controlled banter says it all, often without verbalizing.  These ladies are both outstanding in portraying their 1950s societal designated roles.  In another scene, a wistful Chris Rickett (Joe) draws empathy and respect as a dreamer.  In the present, Lily Mojekwu (Hannah) and Lucy Sandy (Nessa) display a strong sisterly bond while joking and fighting.  Under Kiely's care, Greenidge's characters pull us in to this homespun gentrification.
The only thing I didn't like about this play was the name, LUCK OF THE IRISH.  Although the play reveals the hidden meaning, it just feels misleading.  It's not about gambling or drinking or O'Neill styled drama.  LUCK OF THE IRISH might be better called "Titled" or "Lucy's House?"  That's my personal prejudice based on my family roots.  Still, LUCK OF THE IRISH by any other name would smell as sweet.
Running Time:  Two hours and fifteen minutes includes an intermission
At Noyes Cultural Arts Center, 927 Noyes Street, Evanston
Written by Kirsten Greenidge
Directed by Damon Kiely
Thursdays, Fridays, Saturdays at 8pm
Sundays at 2pm
Thru February 23rd
Buy Tickets at www.nexttheatre.org