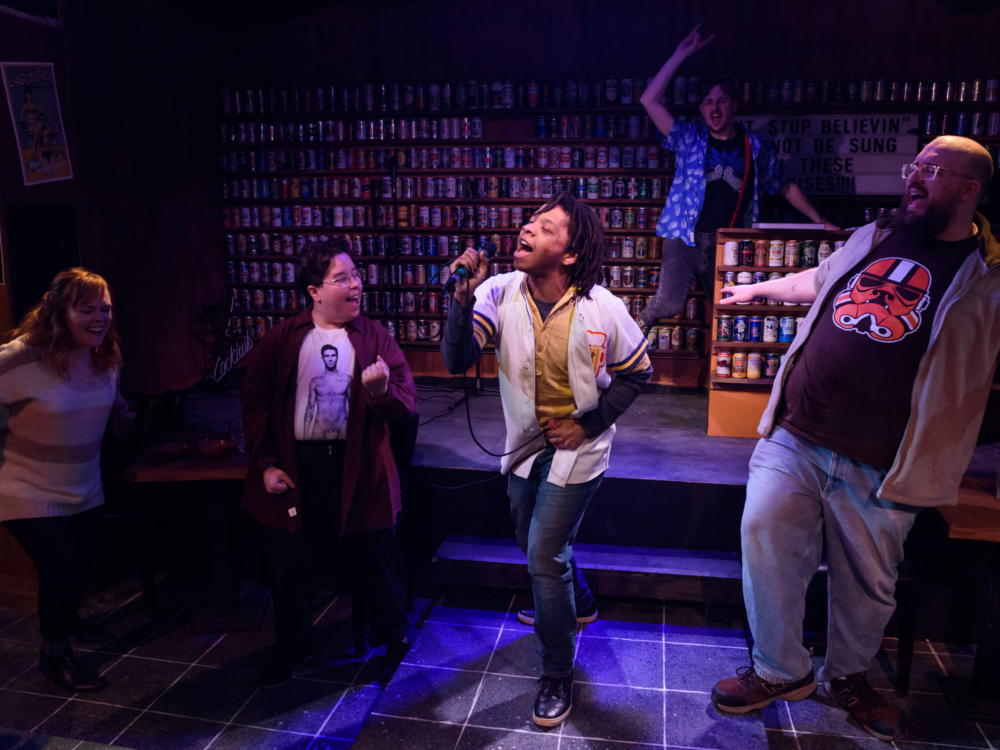 The Factory Theater presents the World Premiere of LAST NIGHT IN KARAOKE TOWN.
Upon arrival, stepping into the theatre is like stepping into a dive bar. The look is legit! The paneled walls covered with signs. The rows and rows of beer cans on display. The bar littered with bottles of liquor and framed by two wooden columns adorned with random photographs. The amazing design team of Wyatt Kent (props designer), Manuel Ortiz (set designer), Maya Jain (scenic charge) create the familiar, comfortable old-man-bar-vibe.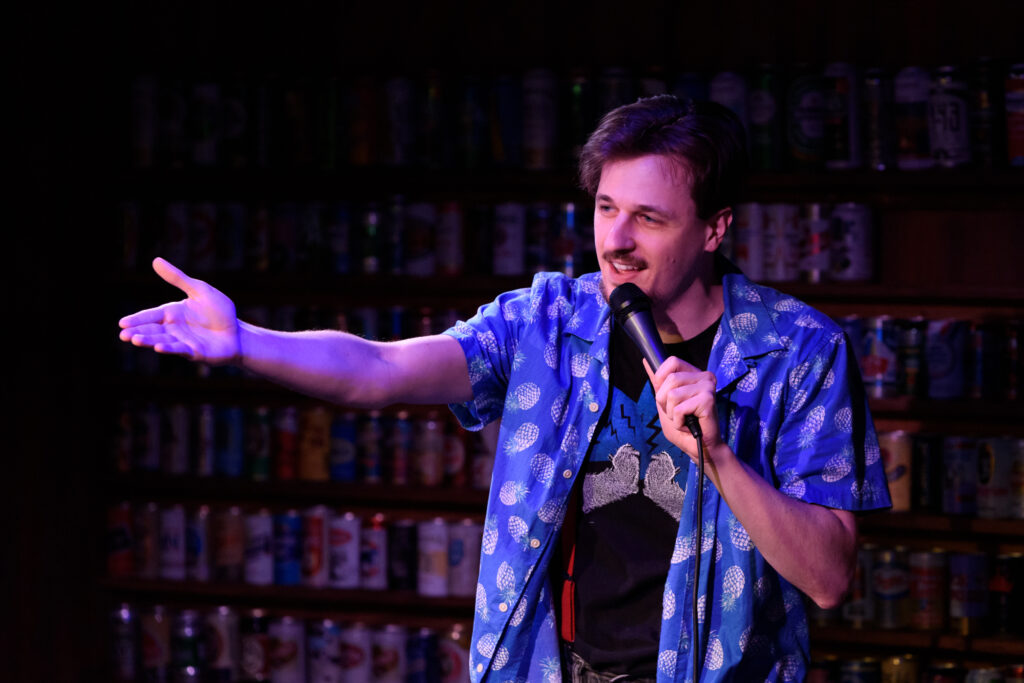 Am I in a theatre? Am I in a bar!? The visual illusion is aided by the crackerjack ensemble already in action. Michael Jones (Ted), Philip Zimmermann (Miles), Genna Ellis (Audrey), and Abbie Warhus (Fran) are already drinking shots and arguing over karaoke songs. The commanding Ashley Yates (Shannon) is holding court as the hard-ass bartender. And a sweet anxious Chase Wheaton-Werle (Kenny) is getting the room pumped to sing.
Playwrights Mike Beyer and Kirk Pynchon penned a loving tribute to Cleveland bar regulars. They tell the tale of a misfit crew tethered together by their love of karaoke and a neighborhood pub staple. Although the main plot is about the bar being sold, it's the bar regulars that steal focus in this nightly ritual of song, drink and fellowship.   
Beyer and Pynchon flesh out a myriad of unexpected and interesting characters. Under the skillful direction of Kim Boler, these talented actors become passionate, hilarious Clevelanders. They each exude ordinariness and individuality. Jones is a man woke in the #metoo era. Zimmermann is a guy mourning the departure of LeBron James. Ellis and Samantha Porter (Lilly) are obsessing over who has the right to sing "Torn." A San Diego transplant, Conor Clark (Brad) struggles to understand his fiancee's (Kirby Gibson) fascination with Cleveland and karaoke. A steadfast Diana (Wendy Hayne) holds tight to her father's legacy as outsider Ethan (Tommy Bullington) pours cider and recites poetry.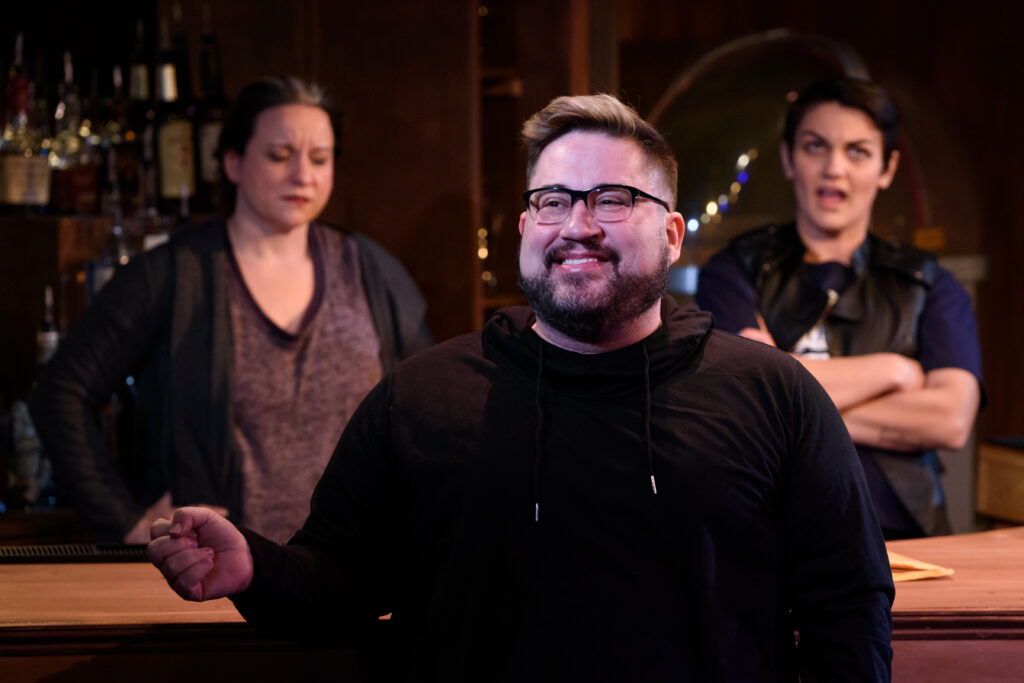 Within the wit and drama, there is plenty of singing. Zimmermann and Jones perform a rowdy "Love Shack". Gibson and Clark have an awkward and amusing duet in "Next Time I Fall." And yes, Ellis and Porter finally belt out an emotive and funny "Torn." The playful song-list add plenty of flavor and color to this Cheers-meets-American-Idol experience. The final number is unforgettably delivered by a beautifully tear-soaked Hayne in a moment of pure epiphany.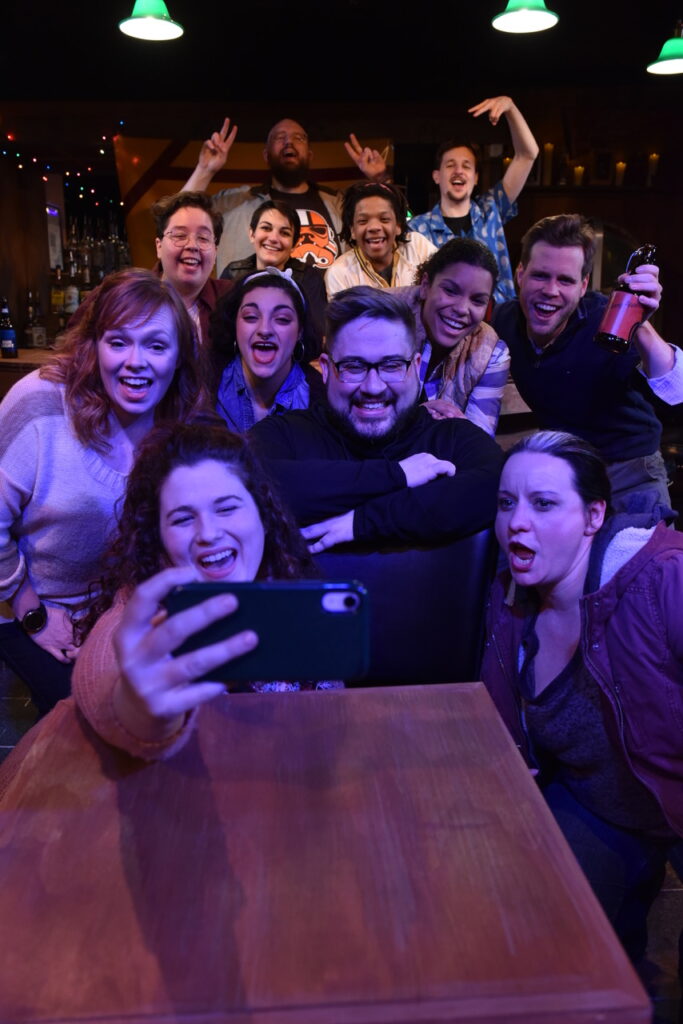 You don't have to travel 6+ hours. Factory Theatre has brought Cleveland to you! And LAST NIGHT IN KARAOKE TOWN is the perfect opportunity to experience the locals in their natural habitat. As a barfly at Karaoke Korner, you get to observe all the impressive singing, drunken buffoonery, diehard familial ties without having to pick up a mic. It's a fun evening Cleveland-style! 
Running Time: Ninety minutes with no intermission
Factory Theater, 1623 W. Howard
Written by Mike Beyer and Kirk Pynchon
Directed by Kim Boler
Fridays and Saturdays at 8pm
Sundays at 3pm
Production photos by Michael Courier
For more Chicago theatre information and reviews, please visit Theatre in Chicago