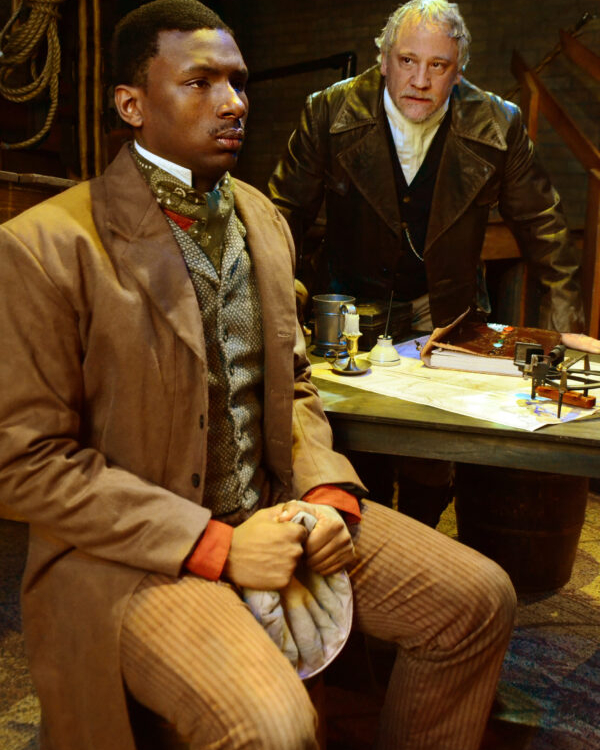 Lifeline Theatre presents MIDDLE PASSAGE.
In 1830s New Orleans, a young black man is running from debt and an arranged marriage. He escapes by boat only to find out he is now a stow away on a slave ship. Ilesa Duncan and David Barr III adapted Dr. Charles Johnson's riveting tale of a man challenged with confronting his identity, integrity and community. Duncan and Barr create this epic journey to self discovery. Rutherford Calhoun (played by an impressive Michael Morrow) deals with a series of tribulations  from internal and external forces. Rutherford must choose between the life he wants and the one he is living.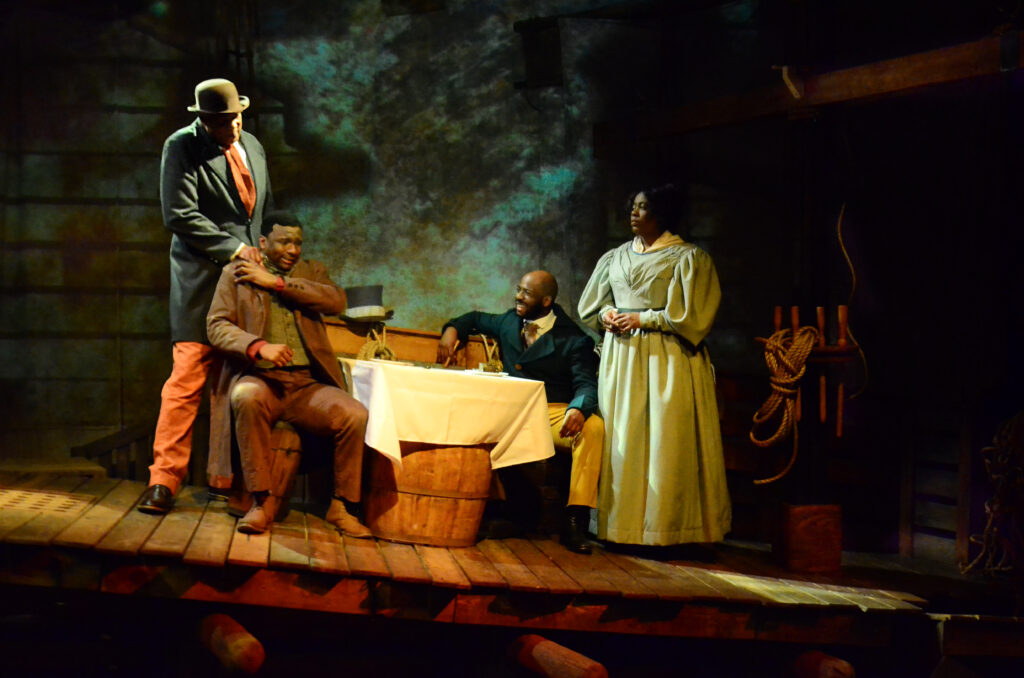 The show is part musical (Shawn Wallace Composer/Music Director), part adventure, part romance, part history lesson… it's a lot of parts! And it's longer than the publicized two hours. Duncan, co-adapter and director, could have tightened the journey and the experience with some editing. Still, her ensemble is terrific. The charismatic Morrow charms everyone, the proper Shelby Lynn Bias, the crusty Patrick Blashill, the earnest Andrés Enriquez, and basically the entire audience. Morrow tirelessly transforms from amicable scoundrel to empathetic bystander to worldly savant. His metamorphosis is the heart and soul of this voyage.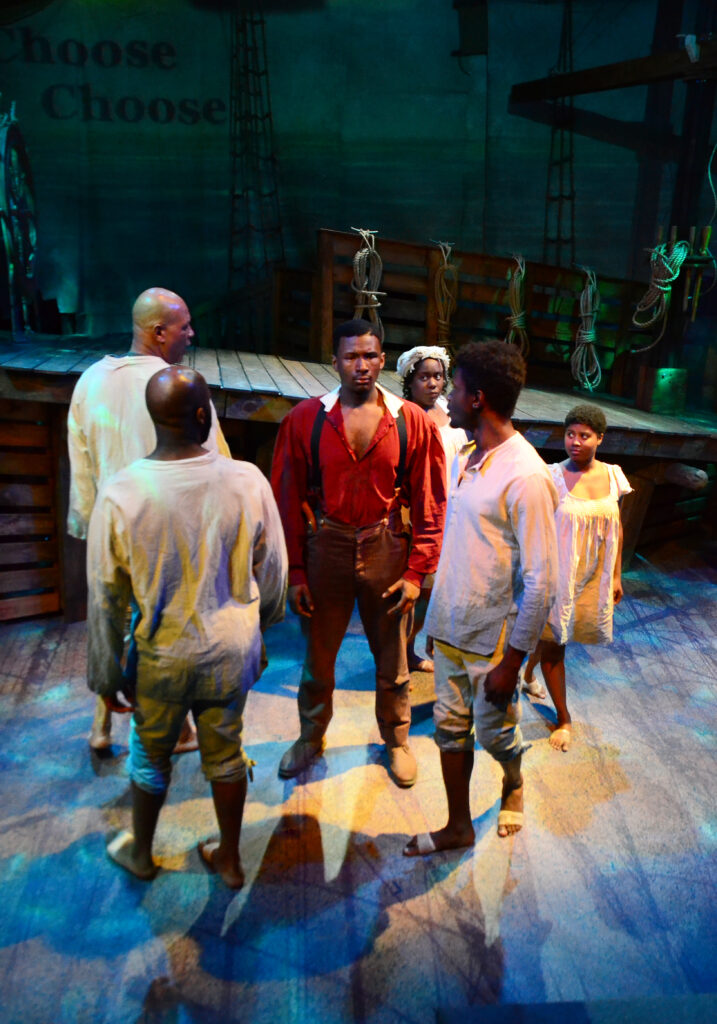 Morrow is joined by a boat-load of characters aiding the robust storytelling. Many of the ensemble play multiple characters with distinction. A noteworthy Jill Oliver morphs between two sailors, one adorably cute and the other super creepy. David Stobbe is imposing as a malicious sailor and then almost cherubic-like as a chorus singer. Both Bryan Carter and LaQuin Groves are threatening thugs on land and terrified slaves by sea. And bringing the humor, the formidable Christopher Hainsworth (Josiah Squibb) uses his signature comedy timing and deadpan delivery to continually zing the one liners.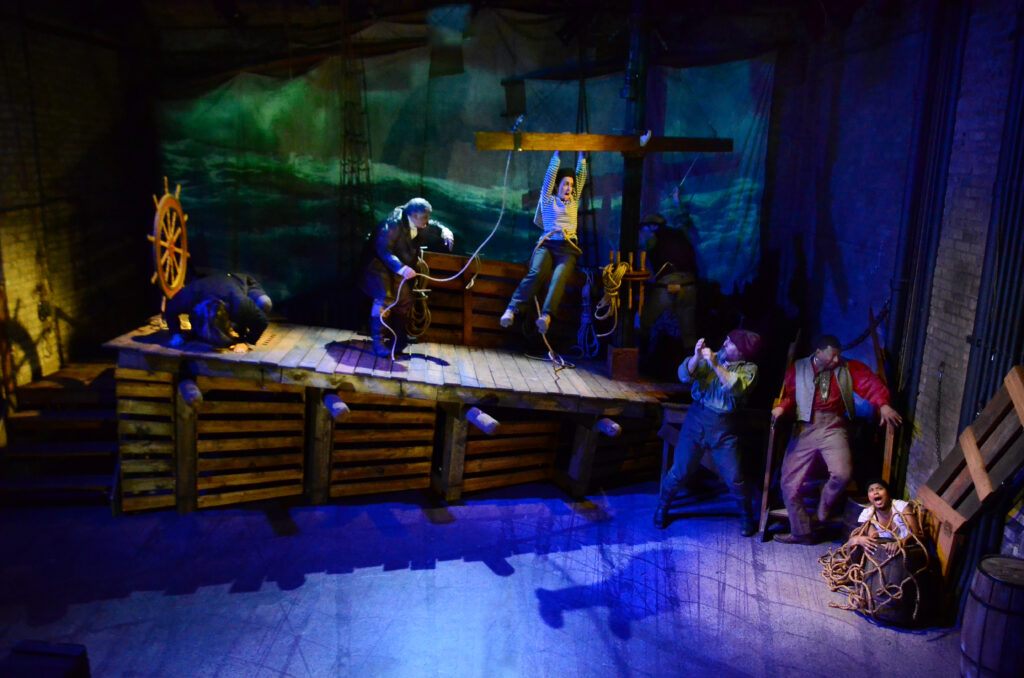 The design team (Alan Donahue – scenic, Barry Bennett – sound, Simean Carpenter – lighting, Paul Deziel and Alex J. Gendal – projections, Anna Wooden – costumes, R&D Choreography – violence) transport the audience to the high seas. Donahue's wooden vessel is center stage rigged with mast and sails. Deziel and Gendal's projections of the lulling waves are visible port side. The creativity is especially notable during squalls. The ensemble, the projections and the boom are moving in orchestrated chaos. Special nod out to Bennett's sound design that startled me every time a turbulent storm was brewing.   
Set sail for MIDDLE PASSAGE!  The timely quest takes us on a thought-provoking ride to understanding.
Running Time: Two and half hours includes an intermission
Lifeline Theatre, 6912 N. Glenwood
Based on the book by Dr. Charles Johnson
Co-adapted by Ilesa Duncan and David Barr III
Directed by Ilesa Duncan
Thursdays and Fridays at 7:30
Saturdays at 4pm and 8pm
Sundays at 4pm
Production photos by Suzanne Plunkett
For more Chicago theatre information and reviews, please visit Theatre in Chicago