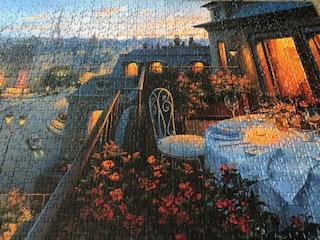 March 1st
Winter might be the best season to acclimate to a new job. I'm figuring out multiple moving parts. I'm navigating the schedule, the commute, and the ton of information. It's exhausting. Since the weather is cold, dark and wet, going home to relax is even more appealing. In the last two months, I've put together seven puzzles. I've puzzled through the impeachment trials, democratic debates and town halls. Since my newbie employment status doesn't lend itself to feeling regular accomplishments, the puzzles also serve as a moment to bask in completion.
I also did this…
Job: I hit the 90 day marker on my new job. I'm still loving and learning it. The health arena is a new dynamic sector for me. As part of my professional development, I toured a community health center and attended Chicago's Leading for Good 2020 summit. I'm participating in meetings, webinars and reading everything I can to get my brain up to speed.       
Community: Not working a second job has freed up a lot of time for me. In gratitude, I've tried to find ways to support others. To help Josh's rehearsal schedule, I babysat his children, Greta (6) and Jonah (4) nine times. To give my niece Megan a break, I brought her two kids, Grace (13) and Carson (6) to Chicago for a weekend. I love kids, their imaginations and their unexpected responses to life. The more time I spend with them on my own makes me appreciate the selfless dedication of parents. Promoting my community spirit, I also donated blood and money to help others.   
Workout with Josh =  16 times! Mostly, leaving the serving life has revved up my workouts. I'm lunging and lifting without concerns of conserving my knees and feet for a double. I'm not having to ice, elevate and relax my limbs. The beginning of February I was even back to getting 10K daily steps. I did have a minor setback. The office elevator was out of order sporadically and then for a whole week. I work on the fourth floor of a loft building. The Friday after a week of up and down on the staircase, I was seriously limping. I bounced back after ice, Advil and Josh rolling me out. I think climbing stairs is a good idea but in moderation and by choice. I'm also hoping to get more steps in as the weather breaks into Spring!     
Yoga =  12 classes! I'm pleased with my yoga efforts. The body stretching, mind mellowing and soul balancing is essential for me especially in a new work world. 
Life Learner: Even with all the learning on the new job, I still want to work on my personal development. I recently took an online course and exam to secure my boating safety certificate. I'm getting summer-lake-house-ready. I also read the following books…        
Lilac Girls by Martha Hall Kelly The story is about the holocaust from three women's perspectives an American socialite, a concentration camp doctor and a Polish girl imprisoned in the camp. It told the real life stories of prisoners operated on for German experiments. The details were graphic and gasp-worthy. It was hard to listen but important to understand how horrible people can be. This doctor justified her actions in post-war trials and showed absolutely no remorse. Shocking! The novel also weaves in the real-life philanthropic efforts of Caroline Ferriday in helping these young women recover from their medical torture. Powerful story!
The Murmur of Bees by Sofia Segovia (translated by Simon Bruni) This novel was a beautiful tapestry of a Mexican family over multiple generations. A disfigured, abandoned baby with an affinity for bees is adopted by the family. He has an almost enchanting impact on the family. Segovia's storytelling is complex as she goes back and forth through time and knits together all these people and their life transformations. Gorgeous storytelling.    
Inside Out by Demi Moore My friend Sue James recommended this one to me. We grew up with Demi… not literally. But I remember her on General Hospital. "St. Elmo's Fire" and "About Last Night" were cult classics to me and my friends. I'm almost done with the book. I'm listening to Demi narrate her own story. It's very intimate as she describes her unstable childhood, alcoholic and neglectful parents and being raped by her mom's friend. She also goes into her own addictions of alcohol, drugs and exercise. She describes how obsessed she was over looking thinner. It's raw and courageous plus it's fun to hear about her celeb friends.   
Theatre Reviews = 10 reviews! I saw "Bunny's Book Club" (Lifeline Theatre), "The Adult in the Room"(Nancy Pelosi play), "Top Girls" (Remy Bumppo), "Duke Ellington's Sophisticated Ladies" (Porchlight Music Theatre), "Verboten" (House Theatre), "Sheepdog" (Shattered Globe Theatre), "Emma" (Chicago Shakes), "The Boys in the Band" (Windy City Playhouse), "Middle Passage" (Lifeline Theatre", "Last Night in Karaoke Town" (Factory Theatre) and I also saw Josh's new show "Layover" (The Comrades).
Playing = YES! I went to the Boat Show with Jenny. I watched the Super Bowl with Bill, Roger and Scubi. I saw all but two Oscar nominated movies (major categories). At the theatres, I saw "Knives Out", "1917" with Bill and James, "Parasite" with Bill, and "Bombshell" with James. Then, my friends and I bet on the Oscar winners…Rich won! I had brunch with Jen B-B, drinks with Collin/Tommy, Becky and Rick. I had dinner with Bill (4), Bilger (2), Bill/James, Ellen, Ellen/James, Collin, and Tom (2). I traveled to Elkhart three times. And I celebrated Prez Day going to New Buffalo and having lunch with Sue C-F and Bill S.
Although it's in the fifties today, I know I have a few more puzzles to complete before spring arrives for good. I'm ready to be outside playing but I'll embrace every day with whatever weather Chicago throws at me.