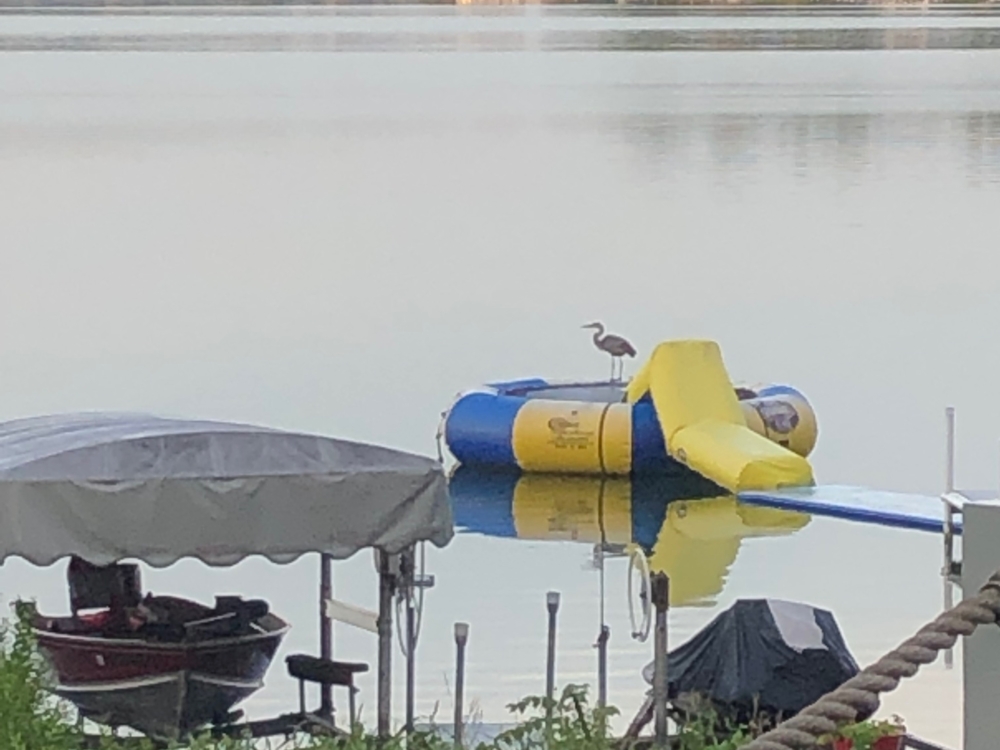 September 2nd
Happy Labor Day!
I took this picture at sister Jenny's lake house on Friday morning. During my Wednesday and Thursday visit, it was very windy and the lake was choppy. Since wind is my favorite weather element, I loved it. When I woke up on Friday, the winds had subsided. The lake was still and clear. This crane stood majestically. She seemed deep in thought as if contemplating what direction she should take to keep going. I totally related as I packed up the car to return to Chicago.     
It's a two month check-in. July and August have been  incredibly busy! I took a three day marketing bootcamp at University of Chicago. And I made three trips to my sister's house at Diamond Lake for solace retreats. Plus, all this…
Serving =  36 shifts! I continue to be grateful to the restaurant, my resilient body and the lucrative nature of serving. In the past month, this source of revenue came under attack. The chef and some of the kitchen staff walked out on a Tuesday. Wood had to close its doors. Its future was uncertain. I was devastated as I waited for resolution. Wood reopened six days later with a new chef. Although that guy didn't last more than four days, the restaurant stayed open and wobbled thru some stressful shifts. For the last couple of weeks, a new chef has taken the reins. He is re-doing the menu, restoring the kitchen crew and positioning the restaurant for success. I'm cautiously optimistic and not taking my shifts for granted.   
Job Search =  29 applications, interviews, and my consulting gig! August, in particular, seemed a little slower with job postings. I feel like the collective world takes a summer break right before the back-to-school frenzy. I also have noticed I'm applying for positions that I applied for in 2018. I've restrained myself from saying in the cover letter…  'looks like you made a bad hire decision last year, how about giving me a try…' I did have a couple promising interviews. Mostly, I'm grateful and proud that I continue to do consulting work for Children's Home & Aid. Not only is supporting their mission rewarding, I'm tapping into my decades of experience in communications and fundraising and working that intellectual muscle.   
Workout with Josh = 15 times! In between my bootcamp and lake trips and Josh's vacation, we got in 15 sessions. I'm grateful for his expertise in strengthening my stamina for my role as a server. He also has me targeting the muscles supporting my knees and my right foot. I am stronger physically and emotionally for the long haul, a joyful warrior.
Yoga =  6 classes! My body is also benefitting from yoga. In particular, in a couple classes we used tennis balls to stretch tight calf and foot muscles. It brought plenty of relief. In addition, I treated myself to a Thai foot and neck massage. It was lovely. My body felt re-energized and my mind was super chill.
Life Learner
Besides the three day bootcamp on new marketing directions, I pursued other outlets to broaden my knowledge. I watched the documentary "The Great Hack" on Netflix. It tells the seedy side of data mining from social media platforms by Cambridge Analytica. I also watched the six episode HBO series "Years and Years." It imagines the global aftermath of a Trump two term presidency and Brexit. Both shows were eye-popping alarming.       
*5 books! 
For fun, I listened to "A Well-Behaved Woman: A Novel of the Vanderbilts" by Theresa Anne Fowler. The historic fiction chronicles the life of Alva Vanderbilt Belmont. Alma establishes herself and her in-laws as leaders in New York society in the late 1800s and early 1900s. She goes on to live an unconventional life for a woman of the time period. She designs homes, champions women's rights and divorces her first husband while securing $10 million in alimony. I enjoyed her story.
Tom, a regular at Wood, has joined the Iowa Book Club. He gave me two books to read; Elizabeth Warren's "This Fight is Our Fight" and Kamala Harris' "The Truths We Hold." Both were interesting and inspirational reads.
Liz's book is an enlightened American narration from depression to recession. Although Warren's family calls her 'Betsy' and the campaign refers to her as 'Elizabeth', the way the book spoke to me was more like a 'Liz.' She regularly describes things like big bank bailouts with emotional statements with 'so mad I could spit.' Liz talks about her humble and poverty beginnings in Oklahoma. She talks about how her family didn't have the interest or the money for her to go to college. Liz had to overcome family and financial pressures to eventually become a Harvard professor and leading expert in economics. She is my first pick for President. She is brilliant, empathetic, relatable, humble, prepared and a little boring!
I've been intrigued with Kamala since she announced her campaign slogan: 'Kamala Harris for the People.' It was a clever branding strategy to connect her with her prosecutor roots. Her book is a tribute to her mother's influence in helping her fight for the people. Her mother was an Indian immigrant who worked tirelessly for breast cancer research while raising two daughters. Kamala's parents divorced early in her life. Her father was from Jamaica. Kamala describes her years as a San Francisco prosecutor and then California's Attorney General. She gives multiple examples of change she and her team pursued for the better good. She describes herself as a 'joyful warrior". I love that! Kamala would also be a great President (or Attorney General or VP). She is smart, eloquent, passionate, outspoken and a little cheeky.
Scubi gave me the unique and wacky "Eleanor Olpihant is Completely Fine" by Gail Honeyman. The novel is about an eccentric, young woman with a mysterious past. Eleanor controls every aspect of her life to avoid people and emotion. When a co-worker starts to break through her aloof and weird persona, Eleanor has to begin to deal with her current and past lives. This novel is so entertaining. Honeyman gives Eleanor such a distinct voice. It also reminded me we don't know what people are dealing with in their personal lives. I need to be less judgmental and more compassionate.
Becky recommended "The Color of Water" by James McBride. It's a tribute by a black son to his white mother. McBride alternates telling the story in his own voice and his mother's recollection. I listened to the book on Audible so the effect is even stronger with a male and female narrator. Ruth McBride Jordan ran away from home as a teenager. She married twice and primarily raised 12 children as a poor widow. James credits his mommy's maternal influence in he and his siblings becoming lawyers, doctors, authors and other successful professionals. It's a powerful reflection given the controversial time period for his mom (1921-2010) as a Jewish mother of a dozen multi-racial children.             
Theatre Reviews = 7 reviews! "The Music Man" (Goodman Theatre), "True West" (Steppenwolf Theatre), "Head Over Heels" (Kokandy Productions), "The Wizard of Oz" (Chicago Shakespeare Theater), "Roast" (The Comrades), "Love, Chaos & Dinner" (Teatro ZinZanni), and "Into the Woods" (Writers Theatre).
Journaling = 16 entries! I continue to chronicle this journey in my third book, "Unexpected Changes."
Playing = YES!  At the beginning of July, I realized I had yet to use my rooftop or my garden. So, I hosted a rooftop soiree with Jen & company during her NYC visit. And I hosted two bbq dinners, one just because and the other for Steve and Mike's Palm Springs departure. I also hosted my niece Grace for a Chicago overnight of theatre and fun. I made a quick trip to Indy for lunch with my Carter kids and a tour of Casa de Simon (Joey and Kylie's new place). I played BINGO with James, Ellen & Scubi. I attended a BBQ at Scubi's.  I had lunch with Bill (4), Steve, Scubi, Josh and Joel & his squad. I had dinners with Ellen, Josh (2), Bill, Bill/Roger/Ellen, Bill/Roger/James and Bill/Roger/James/Scubi/Billy. I had drinks with James, Collin & Kevin and Tom. Plus, Steve and I had coffee chat on the roof. I babysat Greta and Jonah…twice. And with all my lake trips, I had many meals with the parents and Jenny.
With summer winding down, I'm hoping my job search is winding up. Still, I'm so grateful for a summer learning, loving and laughing… a lot! This crane is ready to take off for the next adventure.