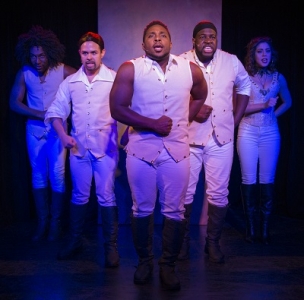 I saw "Hamilton" this past Fall.  I fell in love…hard.  I want to see it again and again and again. Since tickets are scarce and expensive, I pacify myself with listening to the complete cast recording at least weekly. For people like me salivating for another slice of Ham, I suggest a hunk of Spam.  SPAMILTON is a perfect spoof for "Hamilton" fans.
John Freedson, David Zippel, Gerard Alessandrini, Margaret Cotter and Liberty Theatricals, in association with JAM Theatricals, presents the Chicago run of the critically acclaimed parody of "Hamilton", SPAMILTON.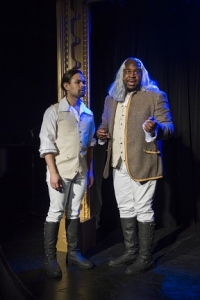 Gerard Alessandrini (creator, writer, director) delivers a brilliant lampoon on the hugely successful musical "Hamilton." Alessandrini anchors his show with real Hamilton songs that have alternative lyrics. The infamous 'I'm not throwing away my shot' becomes 'I won't let Broadway rot' and later 'they won't take away my pot.' 'I want to be in the room where it happens' turns into 'I want to be in the film when it happens.' The clever songs are part of this tribute to Lin Manuel Miranda. Miranda, who created, and played the title role, Hamilton, is playfully roasted for his lengthy rhymes, troublesome mechanics and passionate attack on the musical establishment. Alessandrini perfectly parallels Hamilton and Miranda for their tireless zealot-like climb from obscurity to legend. The amazing Yando Lopez embodies the cocky fire of Miranda/Hamilton.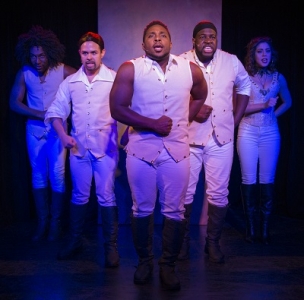 This show may be a goof on "Hamilton" but the talent on the stage is seriously great.  Lopez, Donterrio Johnson, Adam LaSalle (piano and King), Michelle Lauto, Eric Andrew Lewis, David Robbins beautifully mimic their Tony-award winning  counterparts. Lewis commands the stage as Burr. Johnson does Daveed Diggs' hair and rapping justice.  And LaSalle has a standout number as the King singing about the straight take-over in theatre.  This ensemble is sublime!  The versatile Lauto is the entire female cast.  She kicks ass playing Angelica and Eliza but also J-Lo, Beyonce, Liza Minnelli, Babs, Bernadette Peters, and Gloria Estefan.  Lauto is several talented ladies! And Robbins has an unforgettable appearance as Lauto sings about the orphanage. I dare you not to laugh. Robbins is hysterical! This crew… WOW!  They sing. They dance. They zing the funny. They certainly don't throw away their shot.
SPAMILTON is the best! Alessandrini is so fricking clever. I highly recommend this show as a palate cleanser after you see Hamilton for the first time and before you see it a second time.
Running Time: Eighty minutes with no intermission
At Royal George Theatre, 1641 N. Halsted
Created, written and directed by Gerard Alessandrini
Choreography by Gerry McIntyre
Music direction by Fred Barton
Musical arrangements by Richard Danley and Fred Barton
Tuesdays through Fridays at 7:30 p.m.
Saturdays at 5 p.m. and 8 p.m.
Sundays at 2 p.m. and 5 p.m.
For additional details, visit Ticketmaster.com or TheRoyalGeorgeTheatre.com.
For more information and reviews on Chicago theatre, visit Theater in Chicago.