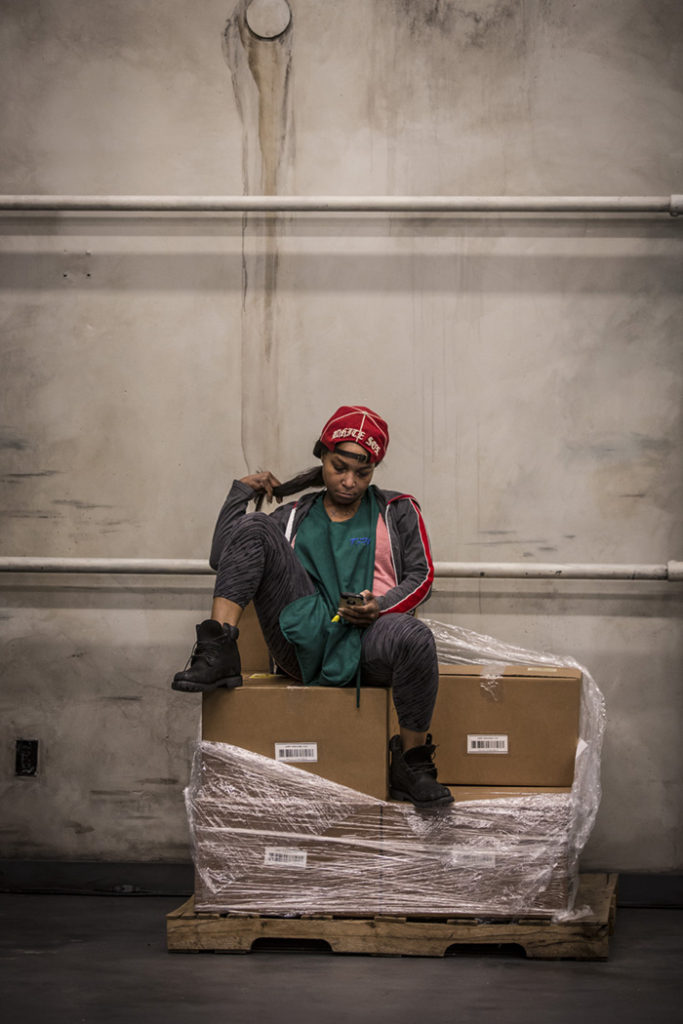 Lookingglass Theatre Company, in association with Dark Harbor Stories, presents the U.S. premiere of BEYOND CARING.
This show is uncomfortably and heartbreakingly real. It's the working poor up close and personal. Playwright and director Alexander Zeldin forces us to experience the lives of four temps on the third shift of a meat-packing company. He immediately spills us into this authentic world. Entering the theatre is like entering the bowels of a factory. We pass through a doorway curtained with a sheet of hard plastic. We step into a well-worn industrial setting.  The walls are cluttered with peeling signage. Folding chairs are scattered around a table heaped with discarded food wrappers and newspapers. Harsh fluorescent lights buzz and flicker overhead. Designers Daniel Ostling (scenic and lighting) and Amanda Hermann (props) have perfectly created this grim and dingy existence. The audience is perched on three sides.  We are looking down into the manufactured simulation of economic despair.  We are observing the opposite of pursuing the American dream. We see people trying to wake-up from a nightmare.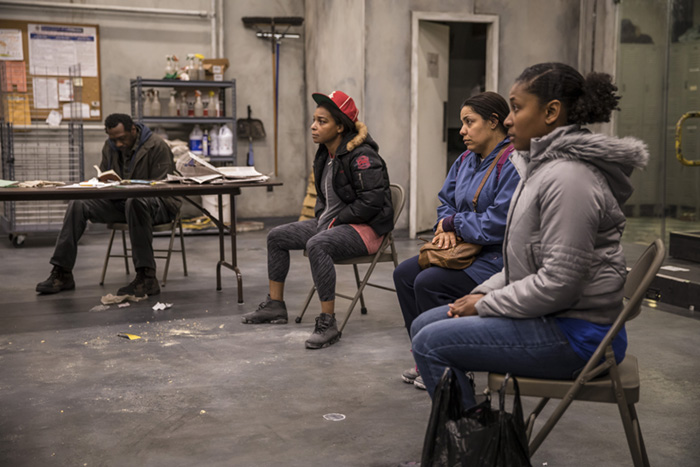 Zeldin doesn't so much start the show as begin the shift. Edwin Lee Gibson (Phil) walks into the room.  He pulls out a book and reads.  After a while, he disappears into the washroom. The ordinariness is palpable. Zeldin's clock-watcher pace has the minutes and the tedium pass by slowly. It's all too real. The new temps; Caren Blackmore (Ebony-Grace), J. Nicole Brooks (Tracy), Wendy Mateo (Sonia), arrive for their orientation.  The supervisor, Keith D. Gallagher (Ian), makes copies of their identifications and gives them minimal instructions. Zeldin continually feeds us bite-size morsels of who these people are.  Throughout the shifts, we get glimpses of real people with real problems. Brooks loses it over her pay being postponed.  A desperate Mateo is told to be 'more fun.' Blackmore's aching joints force her to beg for help. Although Zeldin works in dark humor and bouts of humanity, his world is about vulnerable people stuck in the cycle of poverty.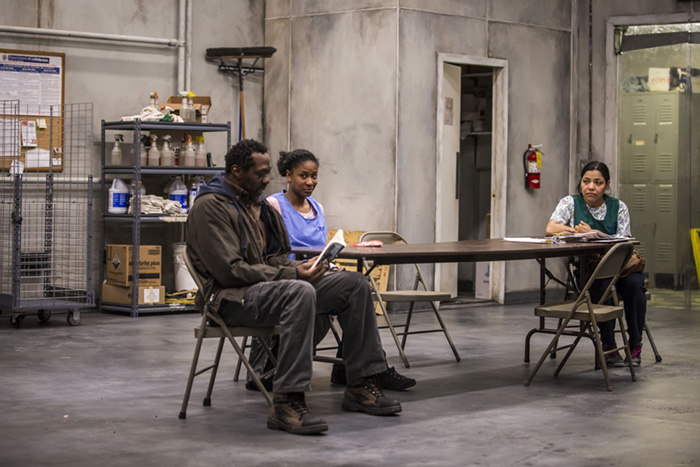 This hard-working ensemble is impressive.  Not only does the talented crew embody the distinct personalities of his/her character, they are also constantly scrubbing and cleaning.  This has to be some of the least glamorous acting roles ever.  Zeldin is going for the authentic.  At one point, soiled meat machinery is rolled in to be cleaned. They're even hosed down and we see bits of meat and bloody water everywhere. The sublime ensemble glove up and get dirty to illustrate the seedy side of non-union shops taking advantage of desperate people.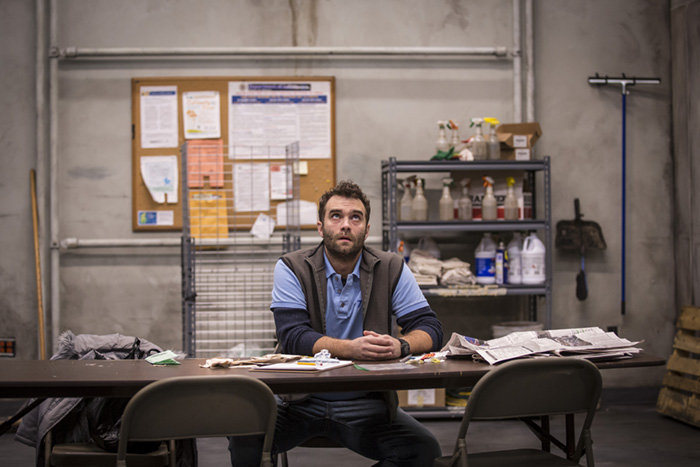 This show is a 'must see' not for its theatrical storytelling but for its clear depiction of the working poor. Zeldin captures the cycle of poverty in his superb storytelling. People need to experience that working people are starving, homeless and going without medication because they can't afford to live. This is an especially critical comprehension in the current political climate where the country is led by the wealthy. We, the people, need to compassionately speak out for marginalized populations that are suffering.
Running Time:  Ninety minutes with no intermission
At Lookingglass Theatre, 821 N. Michigan
Written and directed by Alexander Zeldin
Wednesdays, Thursdays, Fridays, Saturdays, Sundays at 7:30pm
Thursdays, Saturdays, Sundays at 2pm
Thru May 7th
Buy Tickets at www.lookingglasstheatre.org 
For more information and reviews on Chicago theatre, visit Theater in Chicago.