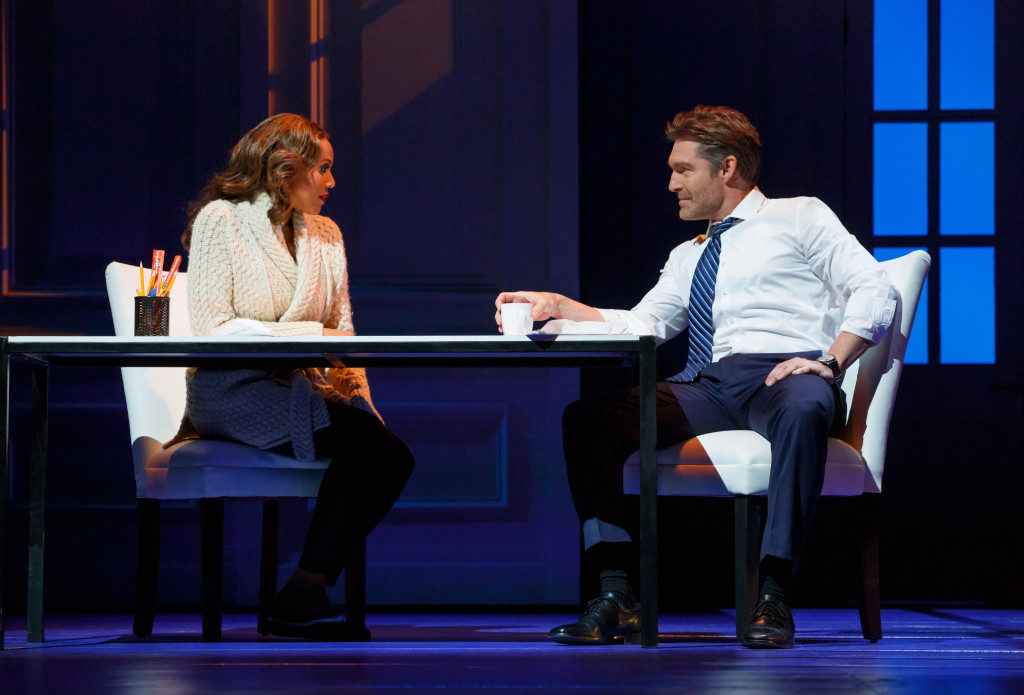 Reviewed by Tom Lawler
Who should this see this: Fans of Whitney Houston, Deborah Cox and "So You Think You Can Dance."
What's it all about: Based on the 1992 romantic thriller of the same title starring Kevin Costner and the late Whitney Houston, The Bodyguard Musical hews closely to the original screenplay about a famous, strong-willed singer Rachel Marron (Canadian R&B star Deborah Cox) and the equally stubborn bodyguard, Frank Farmer (TV veteran Judson Mills) who reluctantly takes the gig to protect her. Much of The Bodyguard's appeal at the box office (it earned more than $400 million worldwide) was attributed to a naturalistic screen debut from the R&B singer and a monster soundtrack featuring a heavy dose of Houston tracks – topped, of course, by her jubilant cover of Dolly Parton's power ballad "I Will Always Love You." The producers of  The Bodyguard Musical have double downed on this Houston music – not only does this Bodyguard feature all of the songs Houston sang in the movie, but they've also received the rights to most of her other hits as well. If this is starting to sound like a Whitney Houston jukebox musical, not quite, but you're not far off.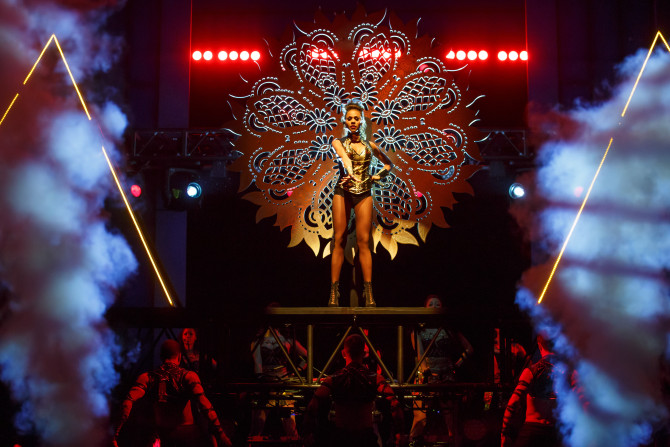 Stand-out performance: As Rachel, Deborah Cox makes an eye-popping entrance fronting an all-out performance of "Queen of the Night" featuring a young ensemble of 10 extremely energetic and attractive back-up dancers who never seem to stop sliding, gyrating and coupling in her orbit. State-of-the-art lighting and set design convince us we're watching a lavishly-produced performance at an awards show, but Cox's steely confidence and obvious performance chops close the deal that we're genuinely experiencing an R&B superstar in the flesh (In addition to starring in 2004's Aida on Broadway, Cox is an established recoding artist with 12 #1 songs on Billboard Hot Dance Club Play Chart.).
Also, check out:  Jasmin Richardson as Nicki, Rachel's resentful older sister. Although the story paints Nicki as a jealous, less talented singer, Richardson is given a couple of her own songs to sing (including "Saving All My Love") and her strong, vibrato-heavy voice was full of passionate expression that at times surprisingly summoned memories of Houston's legendary voice. More than that, despite the limitation's of Bodyguard's schematic script, Richardson makes us feel her character's hurts. Based on the applause at the end of the show, this young actress was nearly as popular with the audience as Cox.
More of this, please: I appreciated the humor and creativity The Bodyguard Musical creators applied when squeezing in their 16 songs. We see Whitney Houston songs performed as an off-hand rehearsal, badly in a karaoke bar and most interestingly, as if they're being performed for the first time when we see Deborah Cox play "The Greatest Love of All" while accompanying herself on piano and struggling over its bridge. When the creative team does pull out all the production stops though for a number, the stagecraft can be stunning. Example: a post-coital "All the Man That I Need" that begins as an understated performance by Cox before blossoming into something much larger as the live orchestration swells and the modular set changes over mid-song to transport us to a full recording studio as Cox's Rachel turns this inspiration into a hit song. [If "All the Man That I Need" is the emotional highpoint of Bodyguard, it's also arguably one of the few truly "happy" love songs in Houston's discography; Despite the exuberance of her voice, most of her hits find her either searching for love ("How Will I Know" "I Want to Dance With Somebody") or sharing it ("Saving All My Love").]
However: The Bodyguard Musical may not be a great show, but it's undoubtedly a lot of show. Aside from the huge number of Whitney Houston songs, many of them sturdy '80s classics rendered with a huge ensemble of back-up dancers, the consistently dazzling lighting, costumes sound and set design reflect the superior skill set of this entire creative team. Aside from being just a starring vehicle for Deborah Cox and a showcase for the Whitney Houston canon, however, The Bodyguard Musical team also strains to show fidelity to a central plot about a stalker who's trying to kill the singer. Director Thea Sharrock brings style (and some real scares) to this exercise, but this dark, disturbing plot element never really computes and despite a couple of ribald one-liners and some broad characterizations (in particular Broadway vet Jonathan Hadley channeling Paul Lynde as oily publicist Sy Spector), this stalker plotline prevents Bodyguard from being the campy musical it wants to be at times. Most critically, the central love story between Rachel and Frank is just as unconvincing on the stage as it was on the screen.  
Key surprises: It was the same with Mama Mia, so I probably shouldn't surprised that my favorite part of The Bodyguard Musical was an encore performance with the entire cast and ensemble delivering an exuberant "I Want to Dance With Somebody" to a standing, bopping audience.  Finally unshackled by the book, these talented performers could just lose themselves in the song as each cast member took a turn with a verse. Seeing the stalker (Jorge Paniagua) come out again and croon to Cox before embracing her was certainly odd, but the audience seemed to enjoy it.
In summary: Deborah Cox shines in this bittersweet tribute to Whitney Houston's musical legacy that's lavishly produced with state-of-the art stagecraft by director Thea Sharrock and her creative team.  
Do this after: If you've never seen The Bodyguard film, you're actually not missing much save this wonderful scene with almost no dialogue. Although it's remembered mainly as a Whitney Houston showcase, the influence of her co-star should not be overlooked. As one of the film's producers, Kevin Costner not only fought to get Houston cast in the role, but he's also the one who suggested her covering "I Will Always Love You" as the central love song. Although it didn't necessarily translate on-screen, Costner's heartfelt tribute to his late co-star at the Houston memorial should leave little doubt about the bond they shared.
Running Time: 2 hours, 20 minutes (including one 15-minute intermission)
At the Oriental Theater,  24. W. Randolph
Book: Alexander Dinelaris
Director: Thea Sharrock
Thru February 12
Tickets: $42-$200
Buy/Request Tickets at  Broadway in Chicago's site
Photo by:  Joan Marcus
For more information and reviews on Chicago theatre, visit Theater in Chicago.