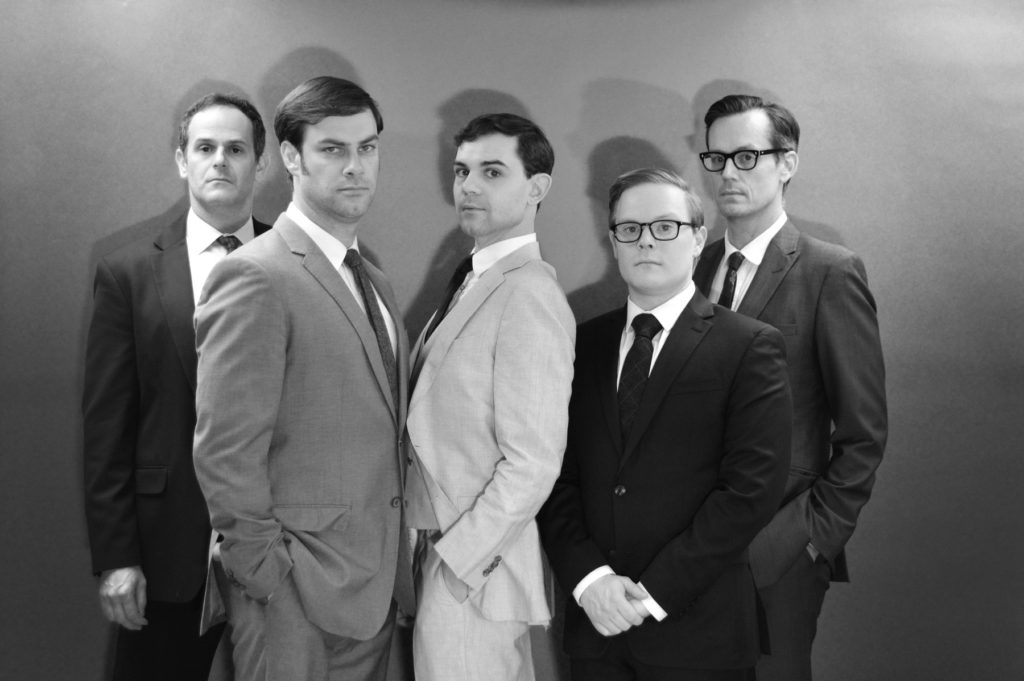 About Face Theatre presents the Chicago premiere of THE TEMPERAMENTALS.
This show is classy. The "Mad Men" meets "Queer as Folk" play chronicles the birth of the gay movement. Playwright John Marans chronicles the origin story of  the Mattachine Society in 1950s Los Angeles. Marans' script is smart. He skillfully navigates this revolution rippled with sexual tension during both private and public moments.  Initially, Kyle Hatley (Harry) is feeling out Lane Anthony Flores (Rudi) with a game of footsie. What should be a playful frolic is tainted by societal mores. Hatley and Flores are pursuing a 'forbidden love' for the time period. Their nervous glances and body language reinforce the high stakes around being discovered. Their decision to continue down the steamy path of rebellion adds a thriller level to this dramedy.
Under the masterful direction of Andrew Volkoff, the pace is fluid.  Movable scenic panels aid the sleek mid century look. They not only transition scenes from different locations, the panels also serve as a makeshift 'closet' for dalliances. The behind-closed-doors trysts layer in the intrigue. Volkoff makes this history lesson personal. The talented ensemble, Hatley, Flores, Paul Fagen, Rob Lindley, Alex Weisman, pull us into their lives. We observe the evolution of societal thought from an individual's covert flirtation to a secret society to a sexual liberation. We experience the birth of a resistance. Despite the potential repercussions of career, family, society, these gentlemen speak up for their sexual minority.  The  timing is ideal as our nation struggles with establishing resistance against Trump. In THE TEMPERAMENTALS, we see, firsthand, how one person's passionate manifesto becomes the declaration of sexual independence for others. Change happens.
Volkoff drives the drama peppered with plenty of comedy. Hatley's blowhard delivery is often lovingly snipped by Flores. Their personality contrasts is delightfully amusing.  The sophisticated Flores transforms the hot-headed Hatley from lion to kitten in one deliciously astute observation.  Weisman plays the lovable swinger. He adds a salacious zinger to any discussion.  His hilarious antics are only topped by a droll Lindley. Looming in the background, Lindley delivers unexpected snarky sidebars at his ex's (Weisman) expense. This ensemble is tight. As they unite over an incident involving Fagen, their camaraderie is inspiring and up-lifting. There is a strong sense of 'together we can do anything.' During the play, the gentlemen even burst out in song.  Their beautiful harmony reinforces them as a collective force.  This 'random' group of guys started a revolution.
I didn't know this was a true story until the epilogue.  Marans pays homage to these LGBTQ pioneers by revealing their bittersweet fates.  Since we are fully invested in these fellas through this ensemble, the ending is even more unforgettable.  I highly recommend THE TEMPERAMENTALS.  Although I would have enjoyed it during the Obama administration, its even more poignant in these dark days of Trump.
Running Time:  Two hours and fifteen minutes includes an intermission
At Theater Wit, 1229 W. Belmont
Written by Jon Marans
Directed by Andrew Volkoff
Wednesdays, Thursdays, Fridays, Saturdays at 7:30pm
Sundays at 3pm
Thru February 18th
Buy Tickets at www.aboutfacetheatre.com 
For more information and reviews on Chicago theatre, visit Theater in Chicago.
Photo by Margo Joy Hawk.