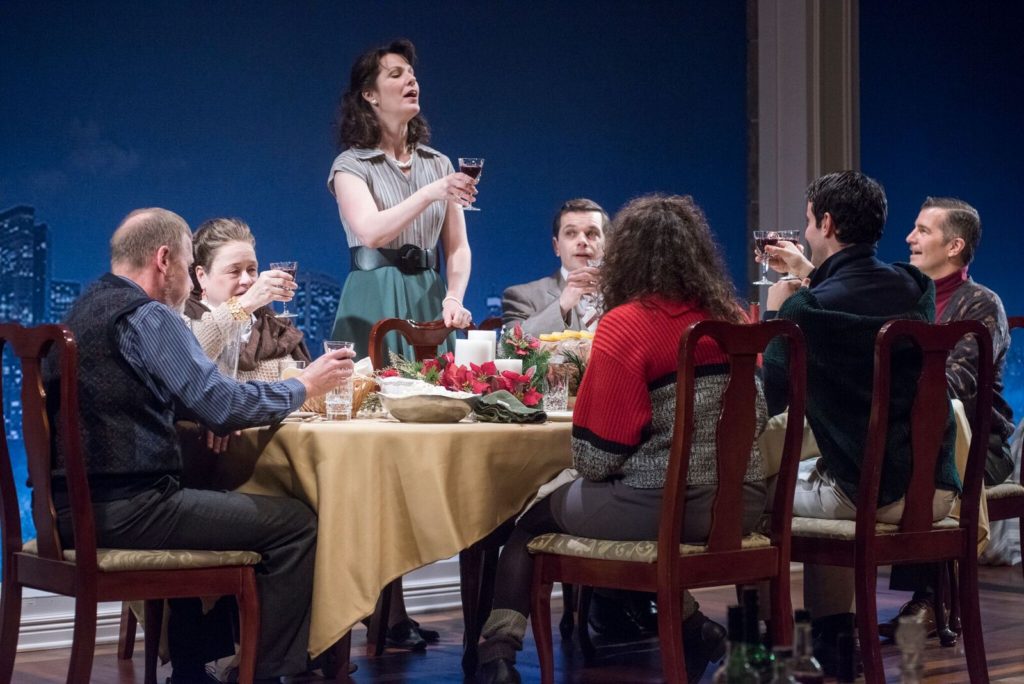 Raven Theatre presents the Chicago premiere of THE ASSEMBLED PARTIES.
Playwright Richard Greenberg chronicles two Christmas Days for one family.  Greenberg tells the (holi)day-in-the-life of a Jewish family in 1980 and 2000.  We meet the family in their plush New York apartment overlooking Central Park.  Scenic Designer Jeffrey D. Kmiec effectively showcases the multiple room dwelling.  His layout of several rooms without walls allows characters private conversations within a few feet of other family members.  Greenberg uses the first act to spill us into these lives affected by first world problems.  Our house is too big.  Who gets the ruby necklace? I'm no longer a movie star.  Some of their issues aren't relatable.  Others like sullen offspring, sibling rivalry, secret love affairs are more connectable.  Greenberg's script is bursting with personalities and sometimes rambling conversations.  Although his dialogue is peppered with witty one liners, his wordiness gets in the way of sustaining tension.  The houseful of people and their woes haven't fully captured our interest and empathy.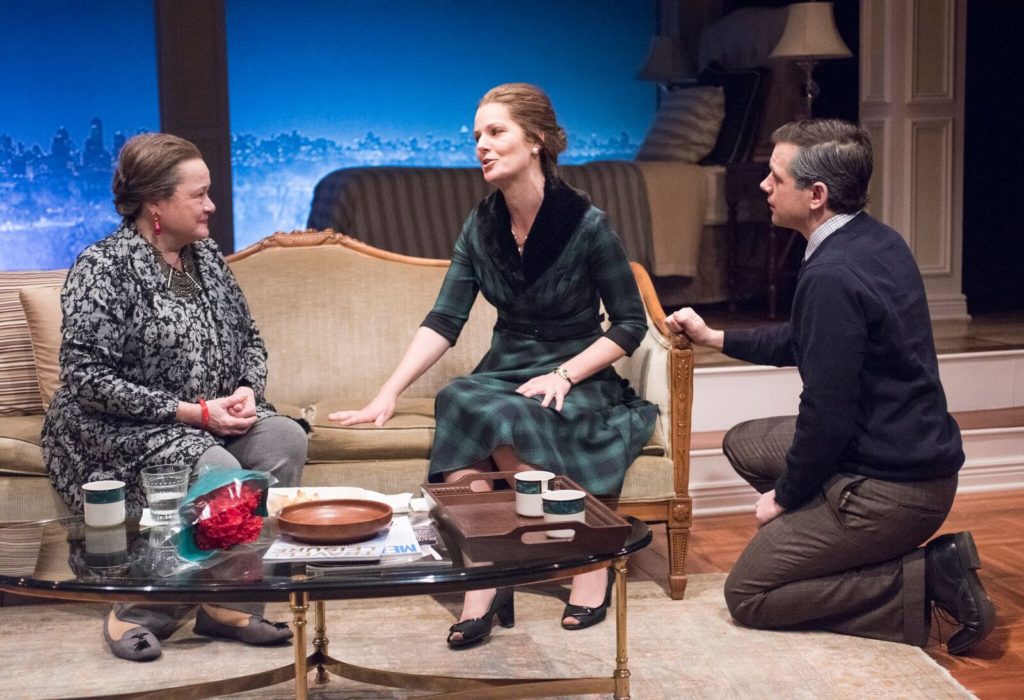 Fast-forward 20 years and Director Cody Estle brings it home.  Life has changed significantly. Family members are gone.  Alliances have shifted. What is left is a group of misfits that care about each other.  Estle masterfully packs Act 2 with beautiful emotional entanglements and unexpected hilarity.  Act 2 starts with JoAnn Montemurro (Faye) hilariously lamenting about the new President-elect.  Although it's 2000 and she's describing Bush as a train wreck, it's even funnier in 2017 in comparison to our current political climate. Montemurro delivers comedy timing perfection.  Her exchanges with the reserved Christopher Peltier (Jeff) are priceless. The fast-talking Montemurro draws him and the audience into her story by dramatically shifting and pausing during the many twists. Montemurro and Peltier are concerned about the lovely Loretta Rezos (Julie).  Rezos maintains a positive facade by not dealing with reality. Dressed in vintage finery (Theresa Ham, costume designer), Rezos maintains a wistful romanticism to simpler times. Her sons, Niko Kourtis (Scotty/Tim), have inherited her gift for pretend.  Nod out to Kourtis who goes from gregarious preppy to tragic hipster playing dual roles.  As the younger son Tim, Kourtis is hilariously abrupt in his interactions with the family. He has a secret that he reveals through a series of 'alternative facts.'  Although he acts dark and mysterious, Kourtis charms with unanticipated sweetness.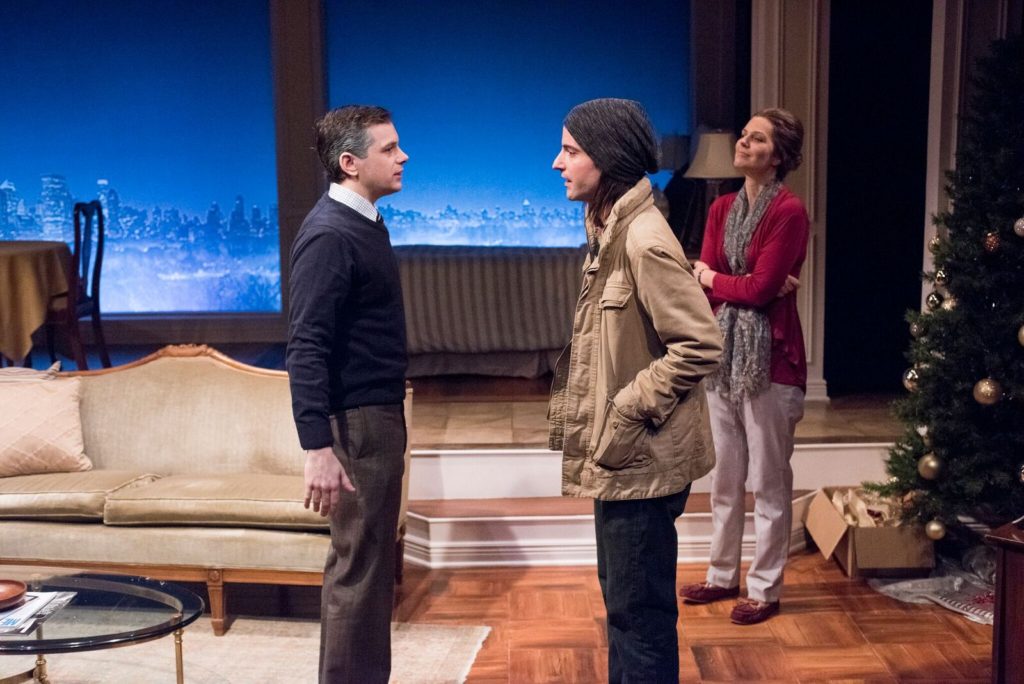 THE ASSEMBLED PARTIES is a two toned piece.  Initially, it's this chaotic, dysfunctional, whiny family struggling in unhappiness.  Twenty years changes everything and everyone. The return visit to this family on Christmas Day 2000 is much more poignant and satisfying.  They still have problems but they also have each other.  The underlying compassion between this makeshift family extends out to the audience.  It takes a second visit to this home to make us care. I wasn't able to invest in the 80s but I was all in for the 2000 family.
Running Time: Two hours and thirty minutes includes an intermission
Raven Theatre, 6157 N. Clark
Written by Richard Greenberg
Directed by Cody Estle
Thursdays, Fridays, Saturdays at 7:30pm
Sundays at 3pm
Thru March 25th
Buy Tickets at Raven Theatre 
For more information and reviews on Chicago theatre, visit Theater in Chicago.