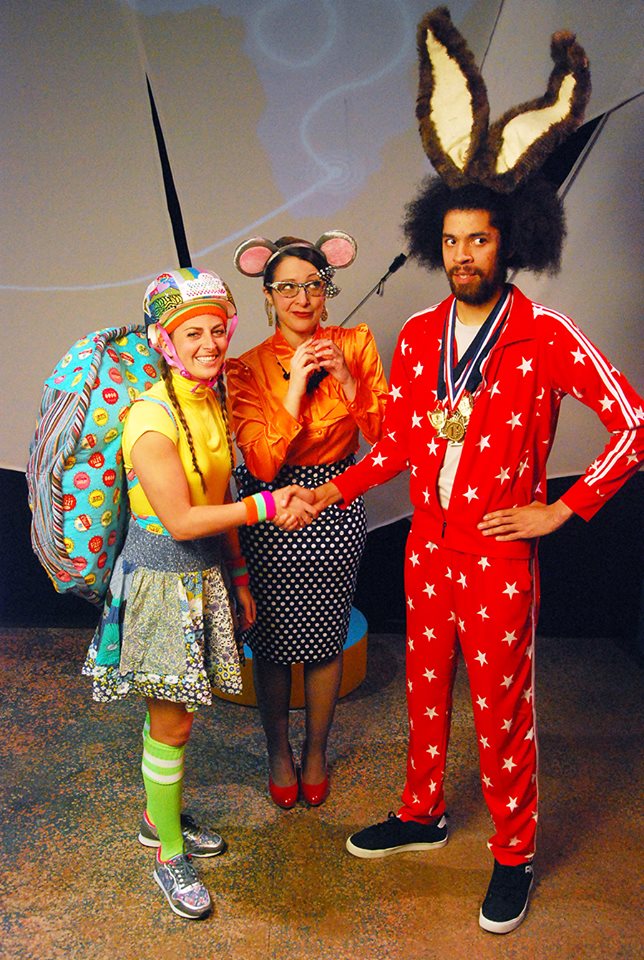 Lifeline Theatre KidSeries presents the world premiere of FABLE-OUS!
Lifeline's current show reminds me a lot of "Toy Story."  While the colorful shenanigans is kid-appealing, the sharp wit throughout amuses the adults.  Playwright Chris Hainsworth tells the inside story of the legendary race between tortoise and hare. The tale is told in reflection by Mollie Rehner (tortoise).  The adorable Rehner chronicles the encounter of meeting her athletic hero, Michael Angelo Smith (hare).  Smith is a champion runner.  His celebrity status puts him in the spotlight. His awe-struck fans like Brian Tochterman Jr. (fox) and Christopher Causer (lion/wolf) want selfies with him.  The less tech-savvy Rehner simply wants his handwritten autograph in her book. A devious Krista D'Agostino (mouse) sees the clash between the unpretentious Rehner and flashy Smith and sets up the competition.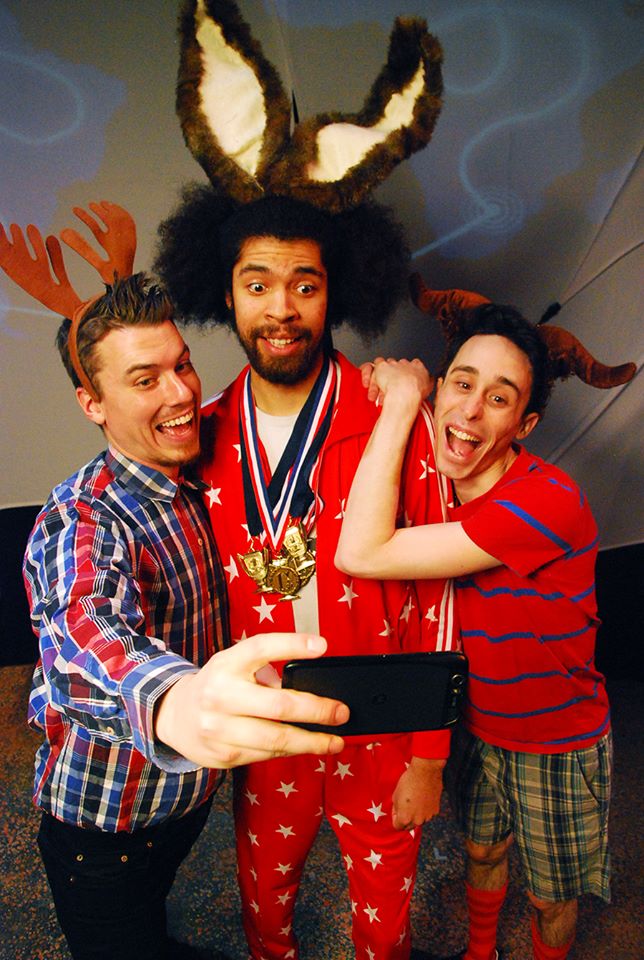 Some of the best parts of this show is Hainsworth's word play.  Smith insists he'll win the race.  Rehner agrees that 'probably' he will.  Smith unravels over her continual use of 'probably.'  Although their banter is hilarious, Rehner also delivers the life nugget of 'you don't know until you try.' FABLE-OUS is chocked full of uplifting messages for kids and adults about the importance of friendship, honesty and kindness.  Rehner's infectious desire to enjoy their experience together melts Smith's competitive nature. Their transformation from rivals to pals is delightfully engaging.  Unexpectedly, I also learned the real difference between a turtle and a tortoise and a rabbit and a hare.  All these wonderful life lessons are delivered during a high-spirited race to the finishline.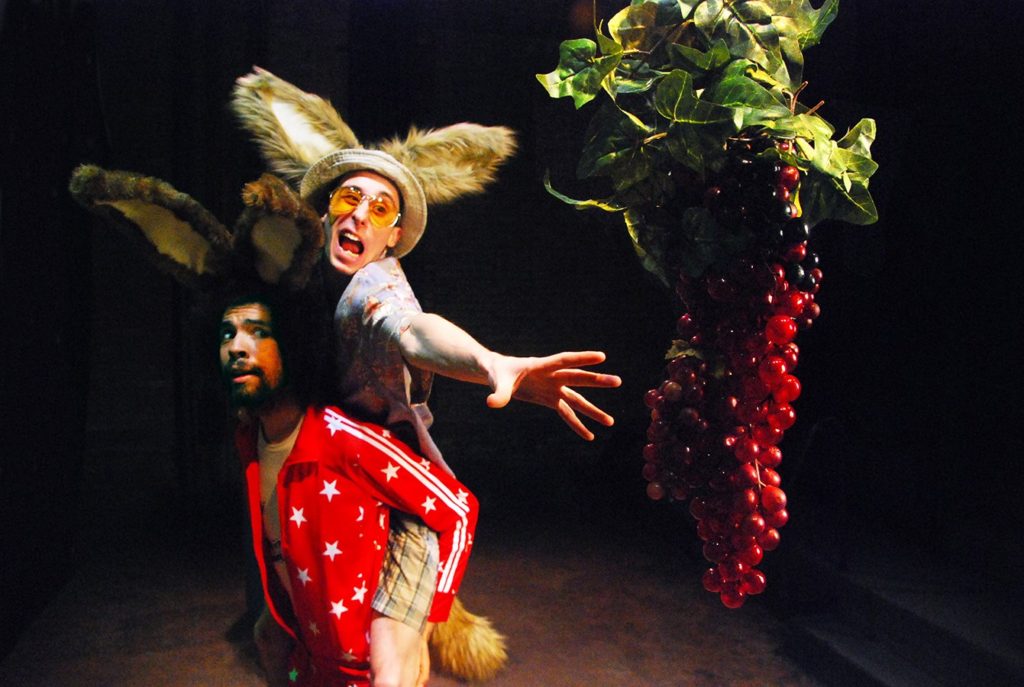 Director Heather Currie orchestrates a playful adventure.  From Rehner's tiny steps to Smith's long-legged hops, her ensemble energetically tackle the animal kingdom.   Besides the central story, Hainsworth skillfully weaves in other Aesop's fables. As an elegantly-dressed, tea-sipping wolf, Causer listens to D'Agostino's revenge plan.  During their conversation, offstage a boy keeps yelling 'wolf' and giggling. Eventually, Causer positions himself to pounce.  The subtle reference to 'the boy that cried wolf' is incredibly clever.  Later, Causer, now as a lion resembling Sammie Hagar, has a thorn pulled out by D'Agostino.  It's the layering of fables and morals that keep the show entertaining especially for the adults. Even sour grapes gets a mention in Hainsworth's tribute to all things Aesop.
Special nod out to Costume Designer Aly Renee Amidei for dressing all the characters in unique personalities.  Tochterman's fox costume is a salute to icon Hunter S. Thompson.  His outfit adds hilarity to his crazy antics as a fox.
FABLE-OUS is fabulous!  It's a family-friendly, fun-loving, heart-warming adventure.
Running Time:  One hour with no intermission
At Lifeline Theatre, 6912 N. Glenwood
Based on Aesop's fables
Written by Chris Hainsworth
Directed by Heather Currie
Saturdays and Sundays at 11am and 1pm
Thru February 19th
Buy Tickets at Lifeline Theatre  
Photos by Suzanne Plunkett
For more information and reviews on Chicago theatre, visit Theater in Chicago.