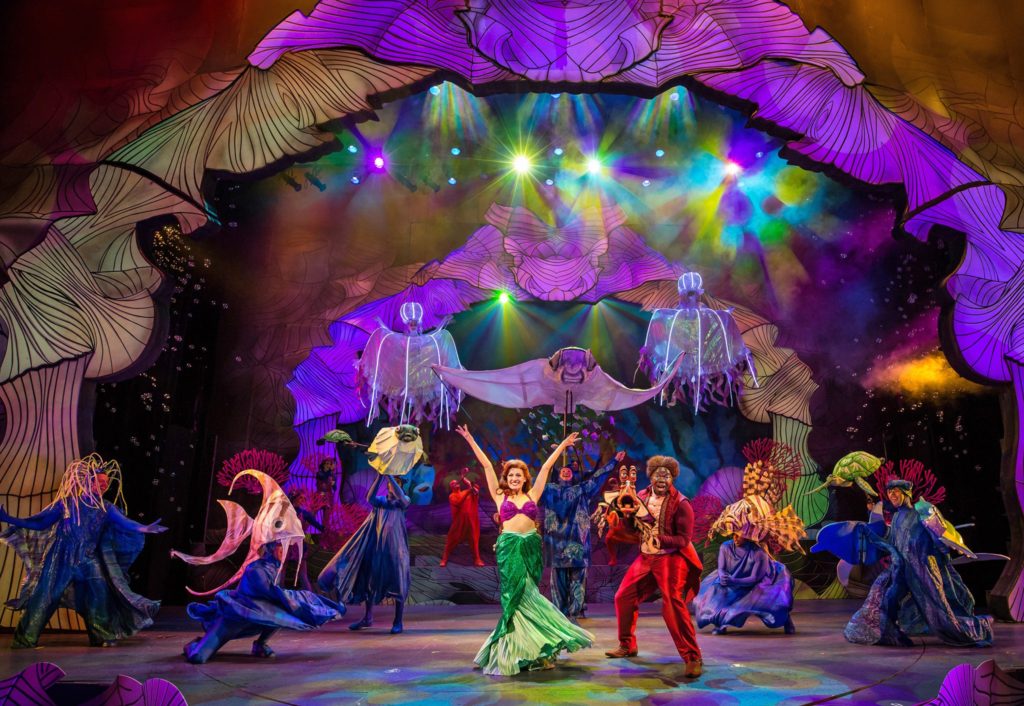 I had my first Paramount Theatre experience on Saturday.  I live in Chicago and usually don't have a car. Saturday, I had my mom's car and made  my way to Aurora, Illinois.  The travel time (an hour and fifteen minutes there, one hour home) was worth it. My ten year old niece Grace and I loved this production for the romance, the comedy, and the razzle-dazzle spectacle. Unfortunately, it was the final performance of "Disney's Little Mermaid."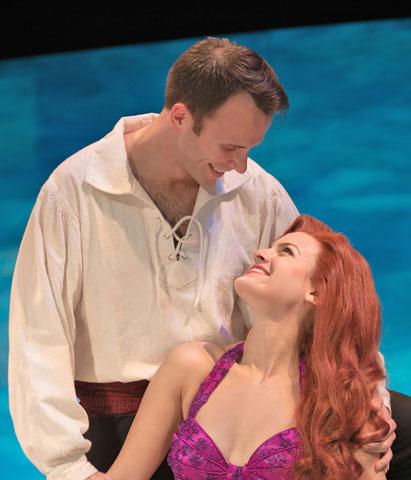 At the heart of the musical fairy tale was Kari Yancy (Ariel) and Devin DeSantis (Prince Eric).  The effervescent Yancy and dashing DeSantis swept each other and the audience off their feet and into their love story.  Yancy sang beautifully Ariel's signature "Part of Your World." She was equally engaging silently dancing with DeSantis' wonderful solo, "One Step Closer." As the chorus serenaded them with "Kiss the Girl," the flirting was palpable. The twosome also brought depth to the whimsical romance.  They each questioned their destiny and showed true grit in forging their own path.
DISNEY'S LITTLE MERMAID has the old favorites from the animated film along with new songs.  Lyricist Howard Ashman transitions the story from cartoon to stage.  Ashman collaborated originally with John Musker and Ron Clements for the film. For the two hours and thirty minute musical, he teams up with Alan Menken (music), Glenn Slater (lyrics) and Doug Wright (book). The additions added backstory and impressive musical numbers.  "Fathoms Below" and "The Storm" were robust sailors' chanties of the good and bad aspects of life on a ship. "Beyond My Wildest Dreams" illustrated the reaction to Ariel's presence in the palace.  And "Les Poissons" was the Chef's comical preparation of a seafood buffet for the mermaid in disguise.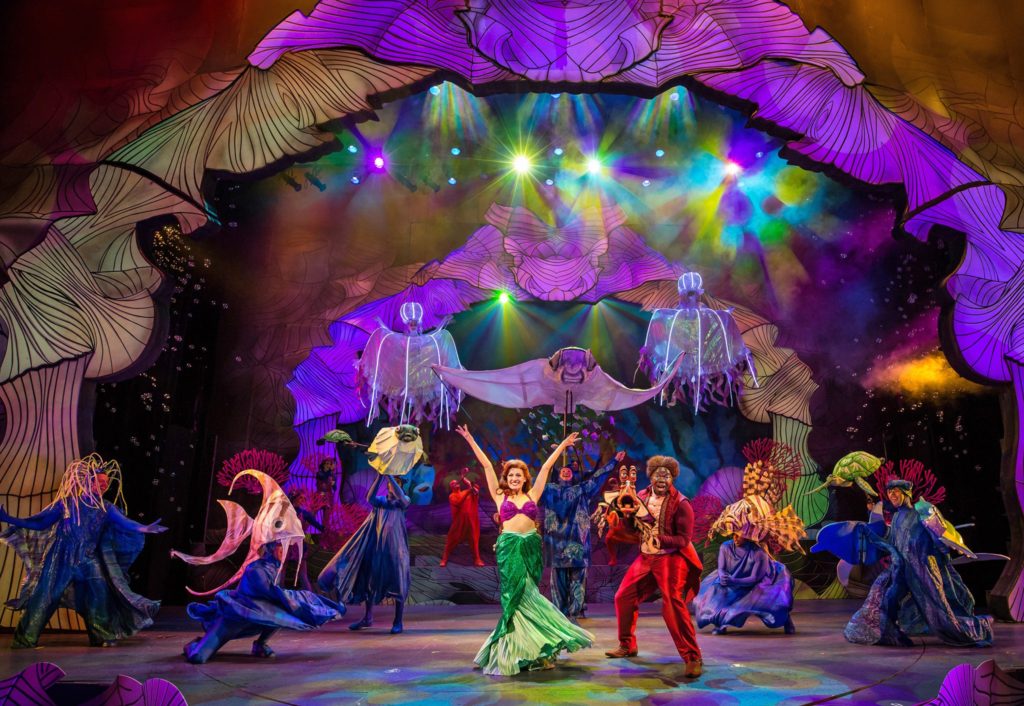 Director and choreographer Amber Mak made this show vibrant and fun.  Her creative team (Jeffrey D. Kmiec-scenic, Theresa Ham-costume, Jesse Klug-lighting, Mike Tutaj-projections, Adam Rosenthal-sound, Katie Cordts-wig/hair/make-up, Jesse Mooney Bullock-puppets, Amanda Relaford- properties) continually rolled out colorful extravaganzas.  Although all the musical numbers were dynamic, the "Under the Sea" number was a spectacular showstopper. The outstanding Jonathan Butler-Duplessis introduced us to the beautiful, bountiful sea life.  Jellyfish dangled from the rafters.  Starfish cartwheeled across the stage.  All kinds of sea life danced and harmonized about the watery oasis.  It was unforgettable.
I'm sorry to be the bearer of bad news.  You missed out on an exceptional show.  DISNEY'S LITTLE MERMAID has swam away. Up next at Paramount Theater, SWEENEY TODD starts February 8th.  Make your plans to get to Aurora's theatre of grandeur. Based on my inaugural experience, Paramount's meat pies production is going to be wickedly delectable.