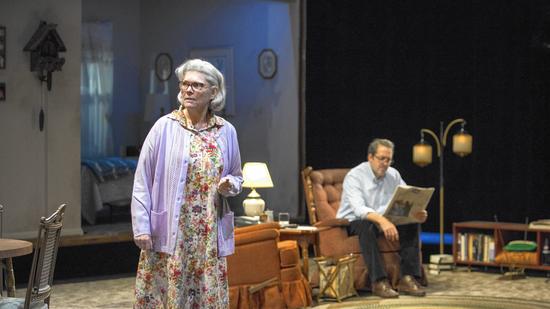 Steppenwolf Theatre presents the World Premiere of VISITING EDNA.
Sally Murphy starts the show.  Clad in black, she explains that she'll be playing a television.  The oddity of the pronouncement is confirmed by her clarification that she's not quite sure how to do this or why it's being done.  Tim Hopper strolls on stage.  He is also in black.  Unemotionally, he introduces himself as cancer.  He describes his presence in Edna's home. He indicates that Edna's son, Andrew, is visiting. He remarks dryly that he regrets that Andrew has given up smoking.  Murphy and Hopper's roles add an interesting dynamic into the show.  The perky Murphy continues to try to distract Edna and Andrew with an ongoing litany of programming.  And Hopper looms on the fringe like the creepy uninvited and intrusive house guest.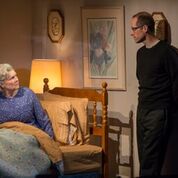 Playwright David Rabe's uses the television and cancer as interesting wrinkles in the story of an aging parent and an adult son.  Debra Monk (Edna) and Ian Barford (Andrew) deliver the believable loving angst of role reversal that comes with time.  The mother-child dynamic has changed.  Mom is now dependent on son for financial, emotional and even physical support.  Act 1 sets up the new relationship. Both Monk and Barford want to deny the relationship shift.  Monk wants to take care of her son by feeding him and setting up play dates with his old chums.  And Barford avoids meaningful conversations. He welcomes the distraction of a television to dealing with cancer.  As an adult child with aging parents, Act 1 tethered me to Monk and Barford.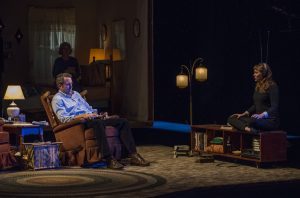 Although there is a natural and comfortable rhythm as the pair fall into their routine, this turns problematic in Act 2.  The routine turns tedious. They don't talk about anything of consequence. They let the television distract them from conversations that need to happen.  This lack of escalating tension lengthens the story without purpose.  Late in Act 2, meaty issues of the past get casually introduced. Why is this the first we're hearing of these nuggets? The abrupt intimacy feels like a last minute attempt to add depth. The honest revelations could have been poignant conversations. Now, they are fleeting reflections to the couch potato audience.  Television watching has not only distracted the characters but also us.  The emotional engagement has withered. Barford even has a tearful soliloquy that falls flat.  It's too late. We've disconnected from the lives of these characters during all the television programming.  
Rabe's clever idea to illustrate disconnection and distraction with a television works to its detriment.  VISITING EDNA needs to be a shorter, tighter visit.  Although Monk and Barford are likable, the show itself isn't memorable.  The only life takeaway for me is not to watch TV when I visit my mom. 
 Running:  Two hours and forty includes an intermission
At Steppenwolf Theatre, 1650 N. Halsted
Written by David Rabe
Directed by Anna D. Shapiro
Tuesdays, Wednesdays, Thursdays, Fridays at 7:30pm
Saturdays at 3pm and 7pm
Sundays at 3pm
Additional performances at 7:30pm on Oct 2nd, 9th, 16th
Additional performances at 2pm on Oct 19th, 26th and Nov 11th
Additional performance at 1:30pm on Oct 30th
Thru November 6th 
Buy Tickets at www.steppenwolf.org
Production photos courtesy of Michael Brosilow
For more information and reviews on Chicago theatre, visit Theater in Chicago.