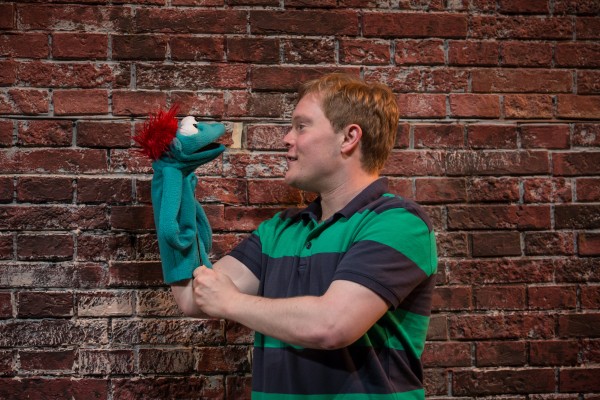 Victory Gardens presents the Chicago Premiere of HAND TO GOD.
Don't let the puppet promo picture fool you.  This isn't a play for children.  It's a dark, dark, dark adult comedy.  Playwright Robert Askins conjured up a doozy with this tale.  His story takes place in a church where the Christian Puppet Ministry is working on a show for the congregation. A frustrated Margery (played by Janelle Snow) is trying to inspire her trio of youth. Jessica (played by Nina Ganet) is still working on her puppet.  Bad boy Timothy (played by Curtis Edward Jackson) doesn't even have a puppet.  As Snow plays referee to a hostile Jackson badgering Ganet, a docile Jason (played by the outstanding Alex Weisman) is fully engaged and sweetly sing "Onward Christian Soldiers" with his puppet. When Jackson attacks Weisman, we witness a distinct personality shift as Tyrone comes to Jason's defense. Weisman plays dual roles.  As Jason, he is the devout Christian mama's boy. As Tyrone, he is a bad-ass, tough-talking, foul-mouthed puppet.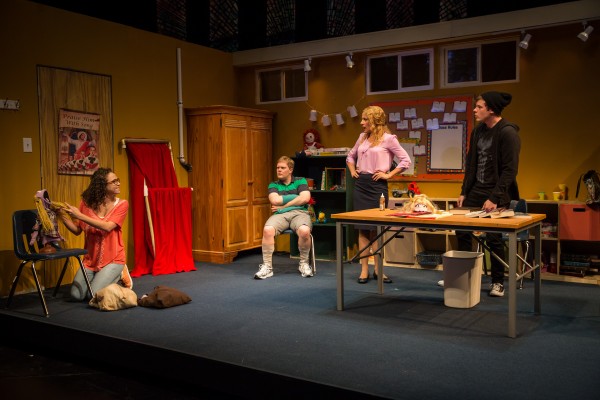 Director Gary Griffin skillfully paces Askins' story.  The action and the jokes are rapid-fire.  Before I can fully digest the humor or the insinuation, the show has swiftly moved into the next chortle or gasp-worthy moment. The unpredictability is equally hilarious and unsettling.   Griffin effectively uses Scenic Designer Joe Schermoly's revolving set to smoothly transition from classroom to bedroom to pastor's office.  One of the transitions is particularly startling for the dramatic room makeover.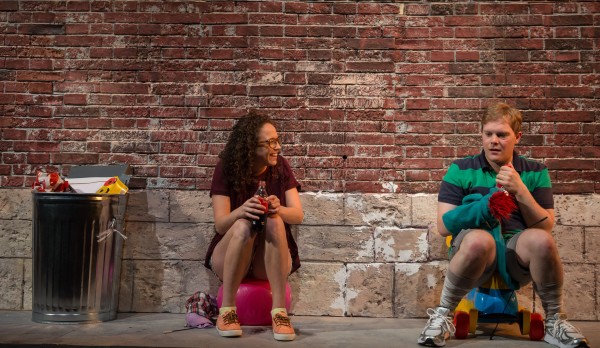 This cast is terrific at lampooning the funny within some offensive sexual behavior including some intense puppet-on-puppet action.  The wicked tryst is made believable because Weisman does such an impressive job of making us believe Tyrone is real. In one particular scene, Jason is asleep and Tyrone wakes him up to talk.  Weisman is literally having a conversation with himself but Tyrone is so aggressive and contrasting to Jason, I see them as two distinct entities.  At one point, Jason looks away and Tyrone reaches across Weisman's face pulls it back so they are looking at each other.  It's surreal.  Weisman creates this f#cking crazy illusion.  Weisman is extraordinary in both these roles.
Snow, Jackson, Ganet, Weisman and Eric Slater (Pastor Greg) find the humanity under the puppets and the religious fervor.  We care about each of them and what is/will happen to them.  HAND OF GOD is a gripping tale of redemption.  Each of the characters wrestles with his/her/it's own demons.  It's a thought-provoking circus which will leave you nauseous, breathless and amazed.  I highly recommend HAND OF GOD.          
Running Time:  Ninety minutes includes an intermission
At Victory Gardens Theatre, 2433 N. Lincoln
Written by Robert Askins
Directed by Gary Griffin
Tuesdays, Wednesdays, Thursdays, Fridays at 7:30pm
Saturdays at 3pm and 7pm
Sundays at 3pm
Additional performance October 5th at 2pm
Thru October 23rd   
Buy Tickets at www.victorygardens.org
For more information and reviews on Chicago theatre, visit Theater in Chicago.