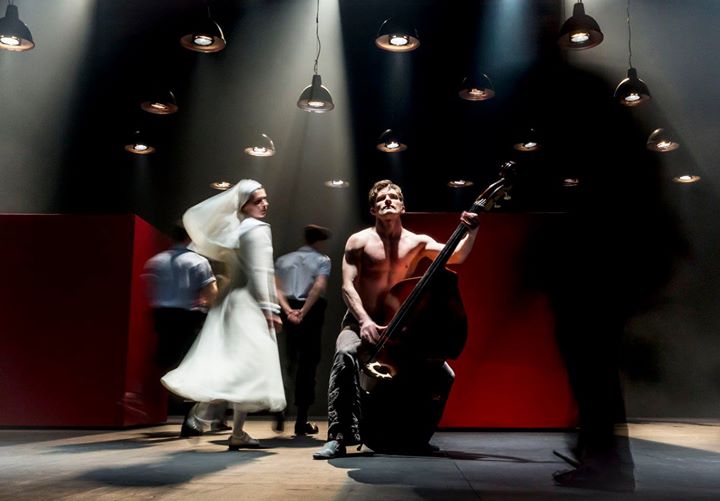 Chicago Shakespeare Theater presents the inaugural production of Shakespeare 400 Chicago.  For a limited engagement from January 27th through January 31st, Cheek by Jowl and Pushkin Theatre, Moscow present MEASURE FOR MEASURE.
This Shakespearean play has traditionally been labeled a comedy.  Despite having the Bard's typical folly of characters in disguise and unrequited love, it also has a harsh darkness. Vienna is a lusty mess.  Legislation has been passed to punish fornicators.  When a woman becomes pregnant, her baby's daddy is sentenced to be beheaded.  Isabella (played by Anna Khalilulina), the convicted's sister and a nun, pleads for her brother's life. Angelo (played by Andrei Kuzichev), the man in charge, becomes obsessed with the young nun.  He agrees to free Claudio (played by Petr Rykov) in exchange for Isabella's virginity. Threats of death and rape make this dramedy taut for nervous laughter.
Designer Nick Ormerod and Director Declan Donnellan create evocative performance art.  The very idea of measure for measure is this visual waltz. Movement continually ripples through the story.  At first, the ensemble moves as a group.  When the duke (played by Alexander Arsentyev) leaves, he steps away and faces the rest. His gestures are amusingly mirrored by the others.  Throughout the show, the dancing increases as the tension escalates. The raw sensuality is intertwined with a virtuous frigidity.  At one point, lust is literally given a cold shower.  It's the hot-cold feelings of an unsatisfying flirtation. The contrasting emotions engage us in the morality warfare.  A palpable exchange between Khalilulina and Rykov blur the lines between virtue and vice. Khalilulina is tightly wrapped in her white fervor. She unforgettably contrasts a bare-chested, desperate Rykov as he clutches a cello.      
There are many captivating moments like this one. Ormerod and Donnellan's moving imagery is artistic storytelling.  Oversize red boxes onstage spin around to reveal various acts happening.  One box stuns with an occupied electric chair.  Another box twirls to show two people f#cking in the brothel. Meanwhile, Arsentyev cradles a drunken prisoner to coerce him to give up his life for another. The action appears tender.  The request is not.  Kuzichev teasingly removes Khalilulina's stocking. The action seems tender.  The request is not. The visuals continually reinforce the corruption of authority and morality, right and wrong, sin and bigger sin.
The show is performed in Russian with projected English titles. The helpful translation is a bit of a hindrance.  The performers speak quicker than I can read.  The first half of the show sets up the conflict with more dialogue, less movement. Even though I'm reading as fast I can, I'm still missing some of the action.  At some point, I decided to let the reading go.  For non-Russian speakers,  MEASURE FOR MEASURE can't be enjoyed word for word.  It needs to be experienced visual for visual.The second half was much more enjoyable when I allowed the experience to awash over me.   I focused not so much on what the performers were saying but how they were saying it. I stopped being the reading wallflower and joined the dance.      
Running Time: Two hours with no intermission
At Chicago Shakespeare Theater on Navy Pier, 800 E. Grand
Written by William Shakespeare
Designed by Nick Ormerod
Directed by Declan Donnellan
January 28th, 29th at 7:30pm
January 30th at 3pm and 8pm
January 31st at 2pm
Buy tickets at www.chicagoshakes.com
For more information and reviews on Chicago theatre, visit Theater in Chicago.