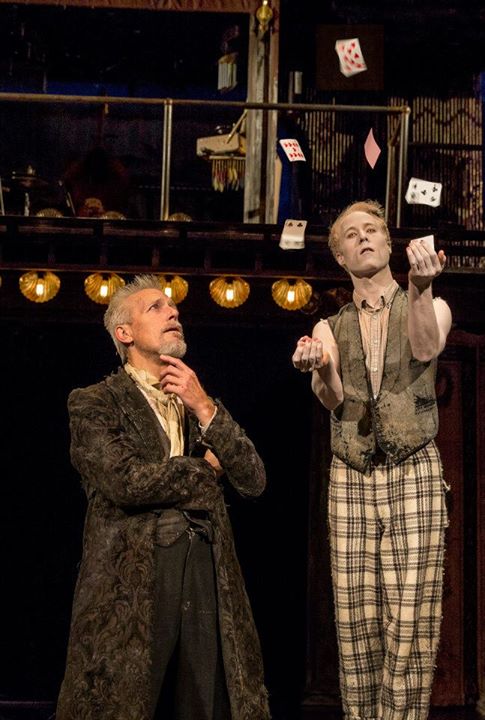 We believe conjuring and poetry are complementary.  Poetry is magic, spoken.  Magic is poetry acted out.  Marrying them illuminates both. – Teller   
Chicago Shakespeare Theater presents THE TEMPEST.
I've often experienced Chicago Shakes producing magic in their productions.  In THE TEMPEST, it's literally true:  card tricks, a levitating lady, disappearing people. In less skillful hands, these illusionary feats could be a schmaltzy distraction from the story.   But here's the real enchantment, Co-adapters and directors Aaron Posner and Teller (of Penn and Teller fame) masterfully weave magical influences throughout their reinvention. Teller's contemporary sorcery nestles nicely into Shakespeare's story of a sorcerer.  It actually amplifies the storytelling.  We aren't just hearing about this mysterious island from a narrative explanation.  We are seeing and not seeing marveling moments defining Prospero's mystical kingdom.  The experience is completely spellbinding for the shortest 2.5 hours in production history.  Are these the bewitching hours?  I think so.
The show starts with Nate Dendy (Ariel) engaging an audience member in a card trick. Dendy is every bit the supernatural spirit, he personifies.  Not only are his tricks mystifying, his aura of wonder makes him this sweet enigma.  Whether he's conducting magic centerstage or peering out from the curtain, Dendy is transfixing.
Following Dendy's amusing one-on-one encounter, Posner and Teller shift the show from a casual stroll to a panting sprint.  Larry Yando (Prospero) arrives on stage to conjure up a shipwrecking tempest.  The next ten minutes are an epic spectacle of fire, thunder, lightening and an upside-down Luigi Sottile (Fernando) descending from the ceiling.  The surround sounds and visuals make focusing difficult.  I finally zeroed in on Sottile only to uncomfortably observe him drown at the hands of Dendy.  This very graphic drowning is maybe the most unsettling stunt in the show. 
This TEMPEST is all about the pageantry.  And Posner and Teller have more than magic up their sleeves.  Award-winning songwriter Tom Waites and his longtime collaborator and wife, Kathleen Brennan bring a folksy soul to the tale.  Under the music direction of Ethan Deppe and Liz Filios, the various melodies are unexpected, pop-up  elements of passionate artistry.  The music is both moving and playful. Rough Magic, a spirit band, are visibly perched above the action.  Filios and Bethany Thomas captivate in breathtaking, poignant solos.  Their otherworldly sound is toe-curling.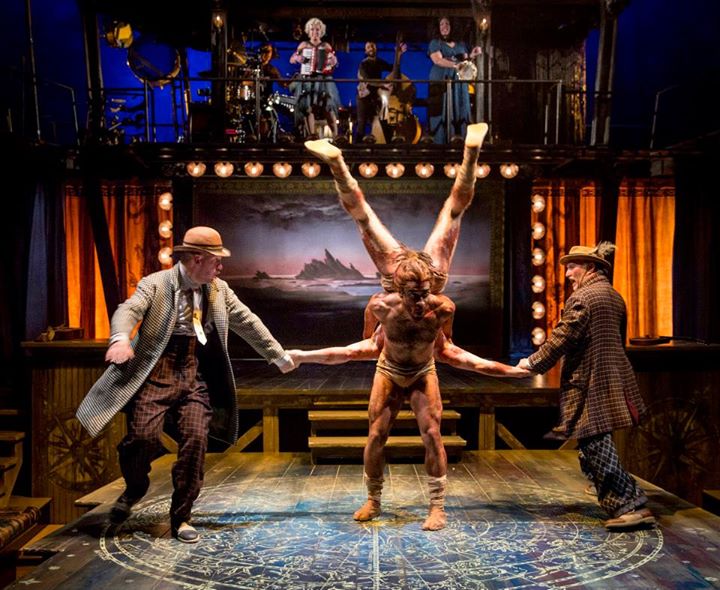 On the ground level, Ron E. Rains (Stephano) and Adam Wesley Brown (Trinculo) make merry music as tipsy minstrels.  The hilarious buffoons are mistaken for gods by Caliban, Prospero's monster slave.  Caliban is one of the reasons to see this show.  Caliban is played by Manelich Minniefee and Zach Eisebstat with choreography by Matt Kent and Pilobolus.  In a dazzling feat of physicality, the two guys continually move together.  They act as a human slinky, toppling over each other to move across the stage.  Or side by side, they take turns lifting each other in a fluid three legged race.  Or they continually climb on top of each other as if they are this singular organism that has limbs and parts in constant motion.  And they do all this while delivering their Shakespearean lines in unison.  They are synced to perfection.  And I gawked at them every time, they were on stage. 
There are so many amazing moments in this TEMPEST!  And even if we stripped it down to just the verse, this show would still entertain.  Eva Louise Balistrieri (Miranda) and Sottile make winsome romantic lovers.  They quickly and beautifully fall in love with each other.  And we are instantly smitten with the charming simplicity of their devotion.  The innocence of this young love melts the hearts of the audience and softens the crusty Yando.
In this Shakespearean dramedy, Prospero is the evil sorcerer hell-bent on destroying the people who destroyed his life. Yet, by the end, he must find redemption in forgiveness.  Who better to go the emotional range from cruel to kind than Larry Yando?  Yando shows us plenty of rage in conniving his revenge.  And later, we see him start to melt under the warmth of Balistrieri and Sottile's affection.  As he muses about life with his sidekick Dendy, we hear, see, feel his transformation.  He goes from shipwrecker at the beginning to cruise director at the curtain.  In between, Yando shows us his magical style that makes him a Chicago theatre treasure.                                                          
I've seen many seasons of Chicago Shakespeare Theater productions.  I have my favorites.  This THE TEMPEST is my absolute favorite of my favorites. It brings Shakespeare's poetic prose to life with magic, music and contortionists. It probably has spoiled me for my next Shakespearean performance and definitely for any future production of THE TEMPEST.  I give this show my highest recommendation.  This kind of magic won't last forever get your tickets NOW!
Running Time: Two hours and thirty minutes with one intermission
At Chicago Shakespeare Theater on Navy Pier, 800 E. Grand
Written by William Shakespeare
Adapted and directed by Aaron Posner and Teller
Music by Tom Waites and Kathleen Brennan
Music direction by Ethan Deppe and Liz Filios
Choreography by Matt Ken and Pilobolus 
Tuesdays, Wednesdays, Thursday, Fridays at 7:30pm
Saturdays at 3pm and 8pm
Sundays at 2pm
Additional 1pm performances on October 7th, 14th, Nov 4th
Additional 6:30pm performances on October 25th, November 1st and 8th
Thru November 8th
Tickets at www.chicagoshakes.com
Production photos by Liz Lauren
For more reviews and information on Chicago theatre, visit Theatre in Chicago.