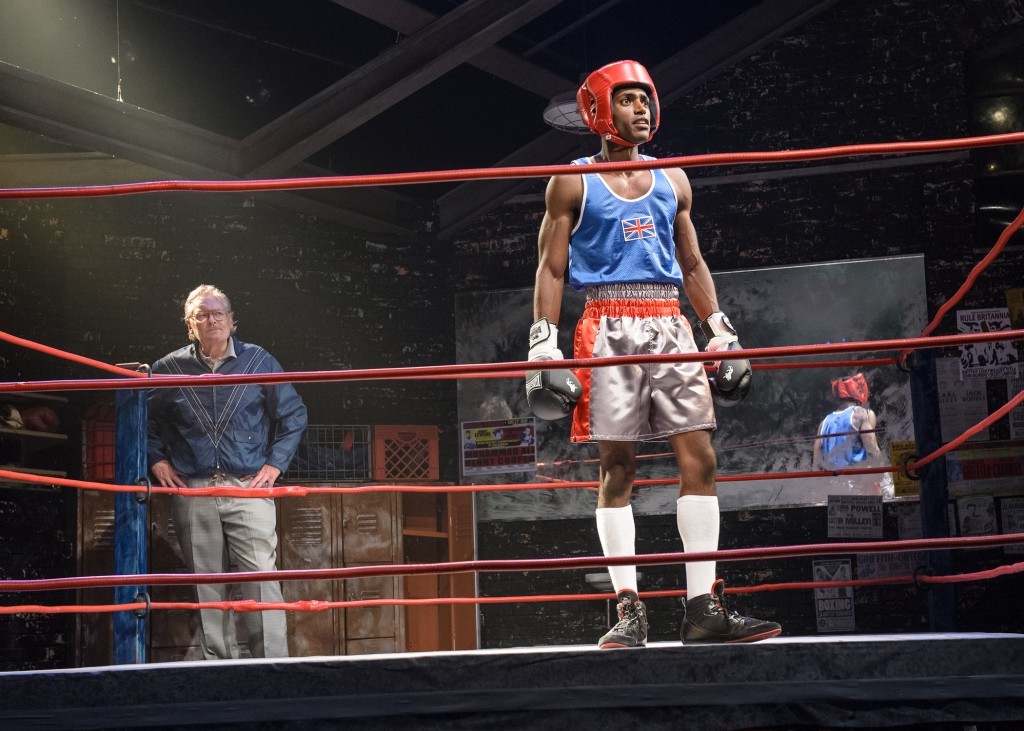 Reviewed by Tom Lawler
Set the scene: In its sumptuous performance space in the former Biograph Theater, Victory Gardens combines top-line production values with stellar directing and performances, typically loaded with professional Actors' Equity casts. For Sucker Punch, Victory Gardens has paired one of its most accomplished directors, Dexter Bullard (Circle Mirror Transformation), with the Midwest premiere of a script by British playwright Roy Williams.     
What's it all about: The 1981 Brixton Riots (a huge, violent confrontation between the African-Caribbean residents of a South London community and the police triggered by a "stop-and-frisk" campaign) serves as backdrop for a Clifford Odets inspired tragedy about a young boxer attempting to climb out of these surroundings. (The Sucker Punch team has also assembled a terrific Tumblr page with loads of background information on this '80 setting and the production of this play. 
Stand-out performance: As Leon, the lead of Sucker Punch, newcomer Maurice Demus is transcendent as the young fighter who quickly realizes his potential and makes the climb from challenger to champion. His ascent is complicated from balancing the demands of his often patronizing and bigoted trainer/manager, Charlie (a gruff performance by John Judd that leaves his motivations mysterious) his friend from the neighborhood, Troy (an engaging Denzel Love), and even an ill-advised love affair with Charlie's daughter (Taylor Blim). As a boxer he absolutely convinces us of his athleticism – at one point he delivers an extended monologue while performing jump rope. As an actor, he shows us the pain he endures from sacrificing everything he has for a shot at the championship belt. 
Also, check out: From Dexter Bullard's assured direction to a gorgeous honey-toned set from Tom Burch featuring a full-scale boxing ring that blends perfectly with Tif Bullard's costumes (lots of browns and oranges with splashes of blue), Sucker Punch is a stunning, technical knockout. Not only does this warm, live-in set drip atmosphere (the window looking into the gym's back office looks greasy as if from years of fish and chips take-out), but it also absolutely grounds Sucker Punch in its specific time and place.
More of this, please: The boxing sequences themselves (staged by Boxing Coach Ruben Gonzalez) are staged as intricately choreographed dance routines and smartly rationed out throughout the play so they don't lose their dazzling effect. Also, as Leon's street hustler of a father, Squid, Kenn E. Head provides heaps of energy and comic relief to the proceedings, undoubtedly bolstered by his hilarious West-Indian accent and wardrobe (think late '70s Nigerian discotheque).
However: As the play ends, it seems clear that everything Leon fought for is lost – he gets flattened with the titular sucker punch he somehow never sees coming. What we in the audience are also missing though is a better sense of the world that exists outside of what we see on stage. Namely, we need a better understanding of what he's gained and how's he been changed from his short stint as champion. Also, as bleak as the ending is, the playwright Roy Williams still injects some bittersweet notes in Sucker Punch's closing minutes as Charlie inexplicably tells his fallen boxer, he'll "be back" and we're sent out to the happy strains of Eddie Grant's '80s classic, "Electric Avenue." (Yes, I know this song refers to the Brixton Riots, but it still feels like the creative team is straining not to send us out on a bummer of an ending.)
Do this first: Caribbean restaurants are scarce in Lincoln Park, so instead how about trying a different type of island fare nearby at Rickshaw Republic, a bustling, affordable BYOB option known for its tasty Indonesian street food? Also, since Sucker Punch runs without an intermission, you'll be smart to order drinks at the Victory Gardens concession stand and bring them into the theater with you.
Do this after: Post-drink discussions in a classic British pub to reflect on the Thatcher era? Head across the street to the recently renovated Red Lion Pub and be sure visit their restrooms whether you need to use them or not.
Running Time: 100 minutes (no intermission)
At Victory Gardens Biograph Theater, 2433  N. Lincoln Ave
Written by Roy Williams
Directed by Dexter Bullard
Tuesday-Friday at 7:30pm
Saturdays at 3:00pm and 7:30pm
Sundays at 3:00pm
Thru October 18
Buy Tickets at VictoryGardens.org or call 773.871.3000.
Photo by: Michael Courier.