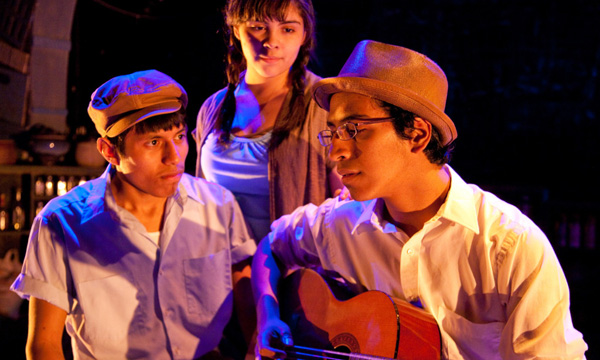 Albany Park Theatre Project (APTP), in partnership with Goodman Theatre, presents a revival of its 2010 hit play FEAST.
The 25-member youth theatre ensemble works with a team of adult theatre artists for a bounty of imaginative storytelling.  FEAST is devised from dozens of interviews of the local residents in Albany Park. The multi-cultural ensemble share individual stories mixed with familial pride and contemporary struggles over generations.  The common ingredient is food. Ancestral recipes and techniques are showcased in this poignant and often joyful smorgasbord.
The show starts playfully with a young boy trying to sneak candy.  He is joined on stage by a young gal hoarding her own snacks. They have an innocence about them as they meet for the first time.  Their initial shyness is overcome by a mutual fondness for candy.  When their sweet interaction is interrupted by a parent calling from offstage, they scurry away but not without a heartfelt wave to each other. And this delightful duo continue to pop up throughout the play. The light-hearted encounter sets the tone for the show.  The combo of kids and candy brings a universal nostalgia of youthfulness and simplicity.
Next, the theatre in the round is filled with the APTP ensemble, all 25 of them.  They are laughing and chattering.  It feels like an unrehearsed recess.  But then they collectively go into a rhythmic movement.  Perfectly in-sync, they stomp and beat their chests creating a unified melody.  The chaos turns graceful.  The movement has an old-world feel, a secret passed down over the centuries. It's understanding all we need to come together in harmony, we already have; feet and hands.
FEAST is a multi-faceted banquet.  In one tale, four performers narrate a young boy's childhood memories of his cow.  They chronicle the tale by combining the old-fashioned radio foley artistry with contemporary hip-hip.  In another story, a guitar-strumming grandfather returns from the dead to sing about how he fed and raised his family.  The trio (pictured here) sing beautifully in this soulful stirring love song.  It's only by reading the translation on the monitors that I realize the grandpa made his living selling moonshine.  The haunting melody belies the funny reality of the translation.  FEAST continuously slips easily from Non-English to English and back again.  Whichever language isn't being sung or spoken appears on monitors unobtrusively mounted on the stage's sides.
In my favorite showcase, all of the females are dressed as dolls.  Costume Designer Izumi Inaba mixes vintage and contemporary along with multiple cultural looks for this dazzling dolls-on-parade fashion show.  The ladies sing about sugar and spice in their affected doll voices.  They indicate how a women's self-worth is tied up within the cultural norms of the past and present.  It's clever and colorful and gut-punching and sad.    
In another imaginative peek into cultural past and present contrasts, three gals narrate their experiences on food stamps.  One impressively uses a shopping cart to express her delight in shopping at Aldie's at the beginning of the month with their $700 allowance.  Another young girl is completing the application for food stamps.  She animately goes to the dictionary to define words like 'citizen.'  It becomes apparent the ten year old is the only bilingual person in the household.  And the last girl tells of her hatred of 'being born into food stamps.'  She feels judged and insists her mom shop at Jewel.  The three very separate stories show poverty from three very different and personal angles.  And that is the essences of great storytelling!
APTP takes gritty reality and blends it with whimsy for a palpable pleaser.  FEAST is a hearty portion of community life to be sampled.  There are only two more weeks… GO!           
At the curtain call, Artistic Director David Feiner introduced the ensemble and the concept behind Albany Park Theatre Project.  Fein indicated APTP has a 70% college graduation rate of youth participants.  This is compared to CPS' 14% college graduation rate of students.  Chicago needs more pioneering projects like APTP to stimulate our youth to success.  Visit www.APTPChicago.org for more information about Albany Park Theatre Project and to make a donation.
Running Time:  Ninety minutes with no intermission
At Goodman Theatre, 170 N. Dearborn
Directed by David Feiner, Mikhail Fiksel, Halena Kays, Stephanie Paul, Maggie Popadiak and Rosanna Rodriguez Sanchez
Thursdays at 7:30pm
Fridays and Saturdays at 8pm
Sundays at 2pm
Thru August 16th
Buy Tickets at www.goodmantheatre.org/Feast
For more reviews and information on Chicago theatre, visit Theatre in Chicago.