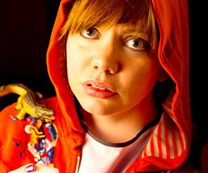 Reviewed by Tom Lawler
Set the scene: Dream Theatre Company always keeps thinks edgy and interesting in its Lincoln Square storefront space.
What's it all about: Troubled girl, Velvet (Anna Menekseoglu) keeps having nightmares about someone from her past and alligators. Will kindly ex-con Ben (Eric Barton) rescue her from these demons or from her scary brother, Lone (Jeremy Menekseoglu) and his gymnast girlfriend, Cricket (Candace Kitchens) who are trying to "help" her by relocating to a mental hospital?
Stand-out performance: Anytime Jeremy Menekesoglu's menacing Lone cracks to life and begins screaming orders to his sister or girlfriend, we get a glimpse into the unsettling, darkly comic Lynchian work Alligator could be. What we mainly get though is an unsteady mix of a Coen Brother's heist movie (featuring not just one, but two Olympic athletes) mixed with some standard Southern gothic touches.
Also, check out: Eric Barton as the good-hearted, soft-headed felon who meets Anna Menekseoglu's, Velvet, cute in a mom-and-pop grocery store. In a work that often veers into the absurd, Barton helps keep us grounded by playing it straight with his seemingly effortless, naturalistic acting.
More of this, please: The Alligator set team (Anna Menekseoglu and Amanda Lynn Meyer) makes clever use of some basic furniture pieces and props to suggest multiple locations – namely through the use of evocative videos projected on a flat screen monitor. Also, anytime the cast directly acknowledges the audience, you can't help but sit up and wonder where Dream Theatre is taking this strange tale. 
However: These bells and whistles don't disguise a script that features too many short scenes that don't propel the story forward and a semi-love story that's hindered by us not really understanding what Velvet wants. Furthermore, the dark secret of Alligator that's slowly teased out through the course of the play should come as a surprise to few.
Do this first: Eat and drink at I. Monelli, a BYOB, authentic trattoria with terrific pizzas and homemade pastas located just a block from the Dream Theatre space.
Do this after: Post-show drinks? OK, this time try the Atlantic Bar and Grill, a relaxed Irish bar just one block north on Lincoln.
Running Time: 100 minutes (including 10-min intermission)
At Dream Laboratory, 5026  N. Lincoln Ave
Written by Jeremy Menekseoglu
Fridays, Saturdays and Sundays at 8
Thru August 9
Buy Tickets at http://www.dreamtheatrecompany.com  or call  (773) 552-8616.
For more reviews and information on Chicago theatre, visit Theatre in Chicago.