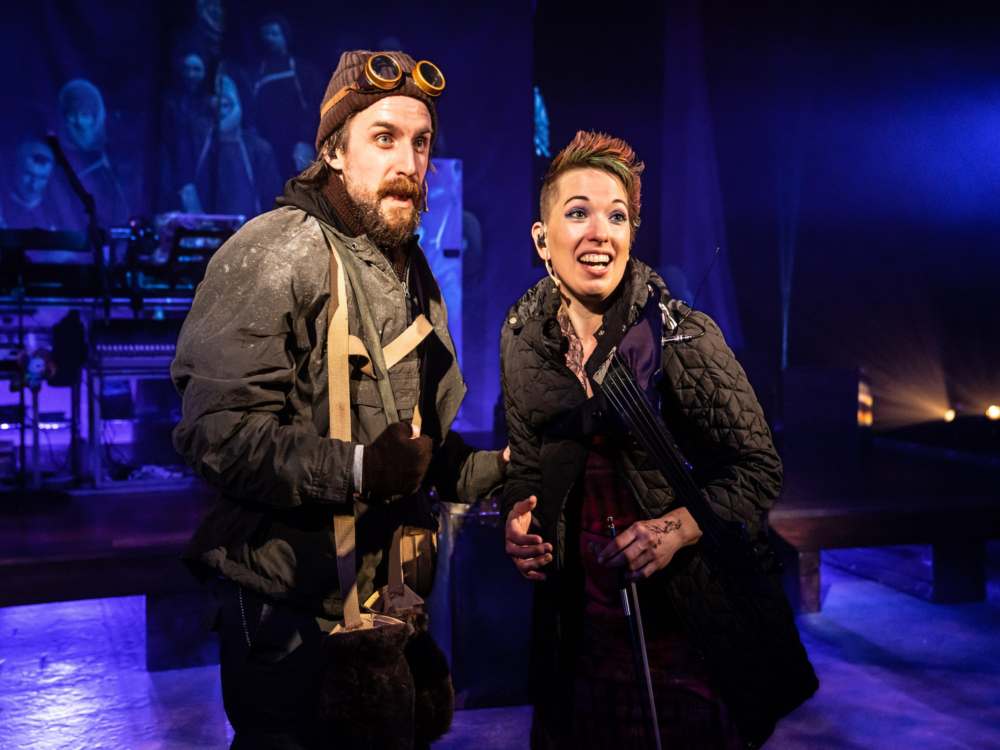 Porchlight Music Theatre presents the Chicago Premiere of ERNEST SHACKLETON LOVES ME.  
Kat (played by Elisa Carlson)is having an existential crisis. She is 45, a new mother, an unhappy girlfriend and a wannabe gaming composer. When she puts herself 'out there', the online ethereal rewards her with suitors from the past, not her past, THE past. One smitten fellow is famed 20th century explorer Ernest Shackleton (played by Andrew Mueller). He unexpectedly appears in Kat's kitchen to woo her. As they bond over her music, Kat asks Ernest for life advice. And he asks her to help rescue 22 men in the Antarctic.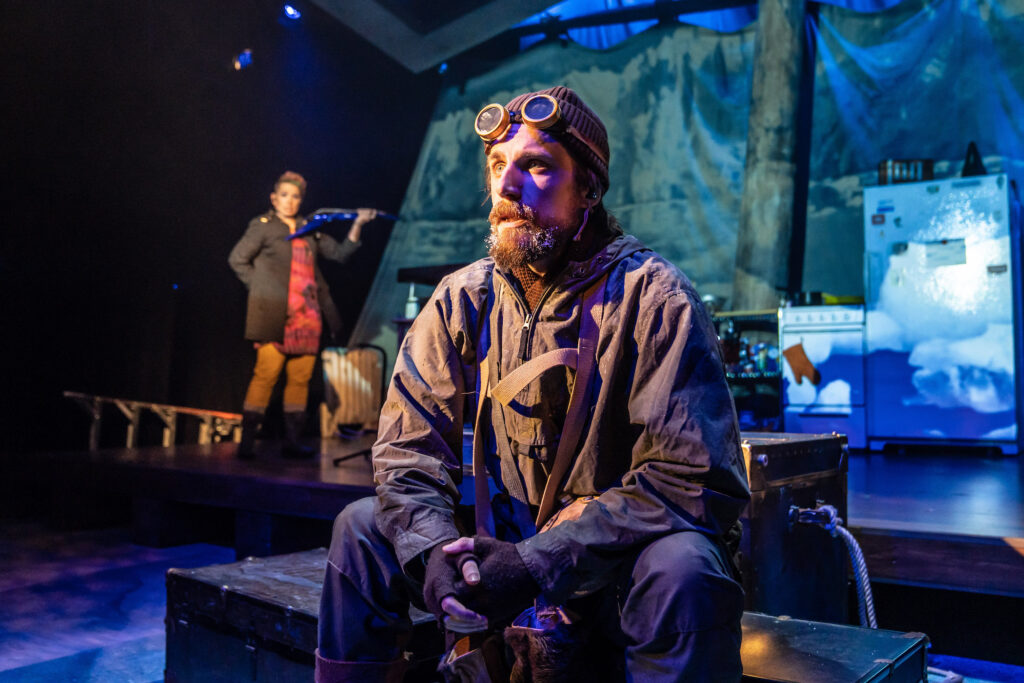 The creative team (Joe DiPietro – book, Brendan Milburn – music, Val Vigoda – lyrics) cleverly conjure up this fantastical romance. DiPietro and Vigoda weave the real-life Shackleton's Antarctic expedition into a story of a woman looking for love. They take two very different people from two vastly contrasting time periods and allow Milburn's music to be the catalyst of connection. Carlson and Mueller have a playful chemistry. She jams on an electric violin. He strums on the banjo. And they duet with winsome harmonies. The score steers the story. Carlson sings a lighthearted "Stop/Rewind/Play/Record" as she develops an online dating profile. Later, Mueller's soulful singing describes the voyage's dire conditions. Under the musical direction of Eric Svejar, the tempo matches the movement. The rhythmic storytelling adds to the fun!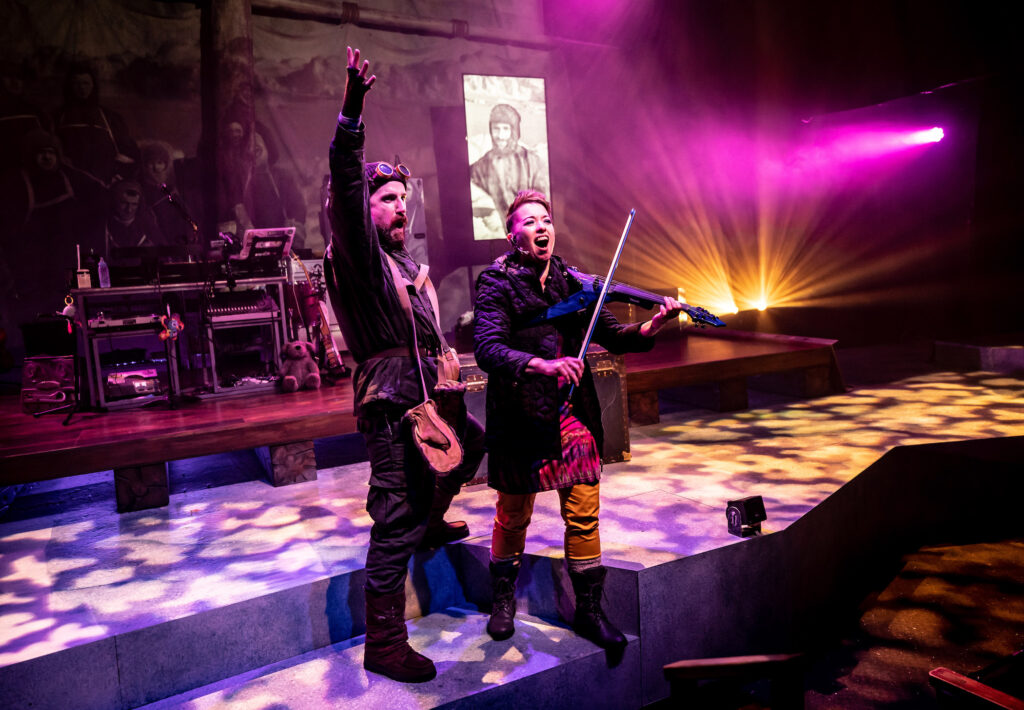 Director Michael Unger paces this tight with whimsy. His creative design team (Scott Davis – scenic, Gregory Graham – costume, G. Max Maxim IV – lighting, Matthew R. Chase – sound, Smooch Medina – projections) add plenty of special effects. Trunks stack up to become mountains. The refrigerator serves as a gateway. Carlson facetimes with multiple men (all hilariously played by Mueller). The exchanges are visible on screen. Later, Shackleton's actual film footage and photos are also projected along the flowing curtain backdrop. The historic recollection is captivating and a bit astonishing.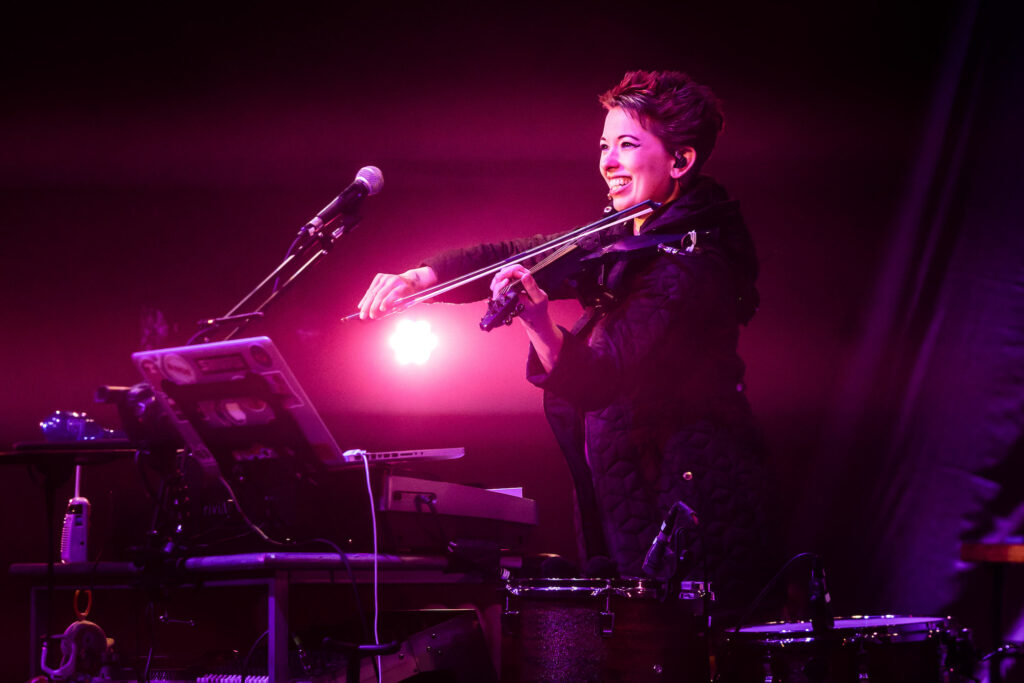 ERNEST SHACKLETON LOVES ME is a swirl of contemporary and history. Shackleton's adventure is introduced in such an engaging way that I googled to learn more. Although I found the history aspect more intriguing then the love story, ERNEST is imaginative storytelling.         
Personal Note: I have been disappointed by the lead female characters in multiple new plays. The playwrights utilize simplistic cliches of women who want/need to be rescued by a man. Their women's voices are weak and frankly unrecognizable from the women I know. I'd like to see plays -especially new plays- more representative of today's fierce women navigating their own complicated lives.       
Running Time: Ninety minutes with no intermission
At Ruth Page Center for the Arts, 1016 N. Dearborn 
Book by Joe DiPetro 
Music by Brendan Mill-run
Lyrics by Val Vigoda 
Music directed by Eric Svejar
Directed by Michael Unger 
Performances are:
Thursdays at 7:30pm 
Fridays at 8pm 
Saturdays at 3:30pm and 8pm 
Sundays at 2pm
Thru June 1st
For more information or tickets
Production photos by Liz Lauren 
For more Chicago theatre information and reviews, please visit Theatre in Chicago