Goodman Theatre presents SWING STATE.
Playwright Rebecca Gillman pens an intriguing tale of pandemic wreckage. Gillman sets her story in rural Wisconsin in 2021. The show opens in palpable silence as Mary Beth Fisher (Peg) cracks eggs into a bowl. She methodically beats in the flour. The ordinariness of her actions are momentarily interrupted by the flick of a knife. The unexpected gesture nudges the audience alert. What is going on?
Gilman treats her latest social commentary like a mystery. She skillfully dabbles in hot button topics like masks, climate change, mental health, opioid addiction, police brutality, and even contaminated water. On top of these divisive issues, she layers in humanity. Gillman gives us flawed characters dealing and not dealing with survival. The show is about the messiness of life and the relational entanglements holding it together.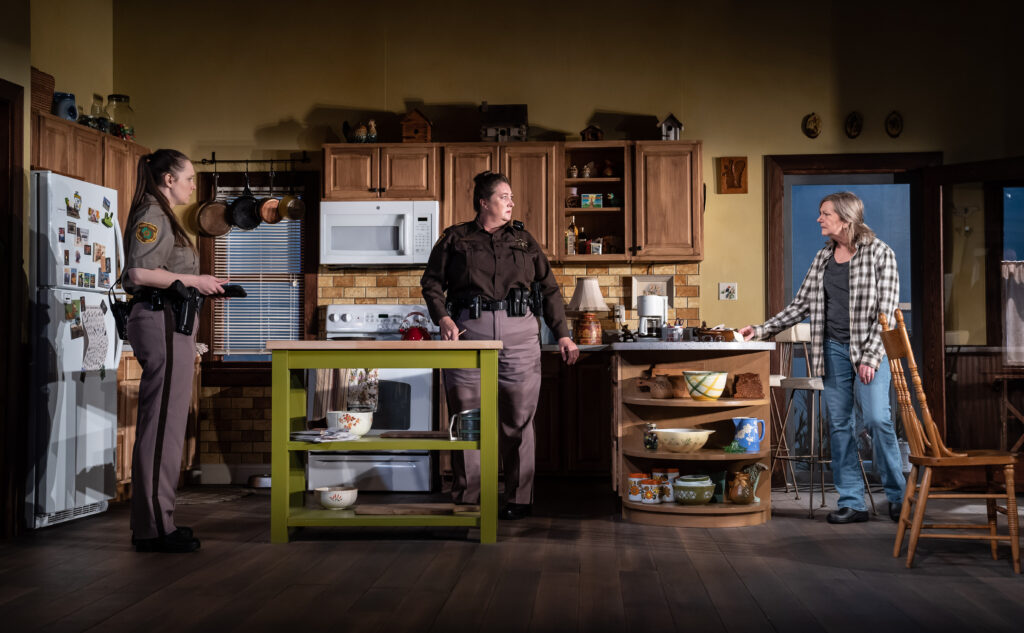 Director Robert Falls masterfully facilitates the telling of Gillman's story. Falls' ensemble, Fisher, Kirsten Fitzgerald, Anne E. Thompson, and Bubba Weiler, is authentically exceptional. Their interactions feel organic. Some of the dialogue is so abrupt, it seems unscripted. Gillman, Falls and the ensemble deliver human imperfection perfectly.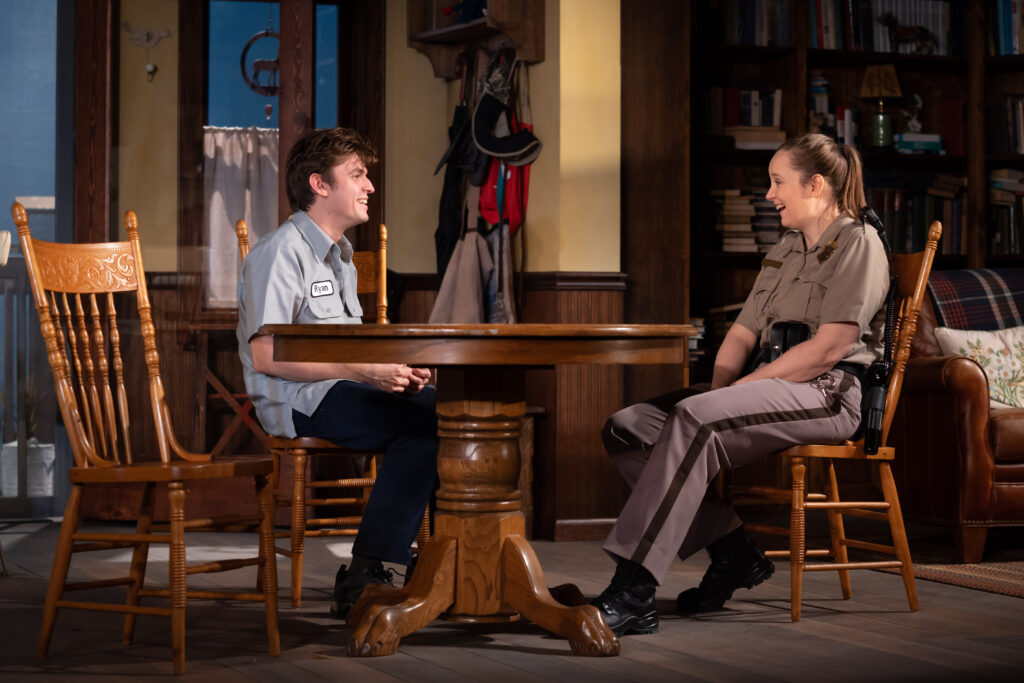 The question of 'What is going on?' lingers in the forefront of everyone's mind. Gillman subtly sprinkles clues to stimulate curiosity. When Fisher and Weiler interact with shortcut familiarity, questions percolate about their connection. Who are they to each other? Their banter is riddled with outbursts and apologies. Is this a loving or a toxic relationship?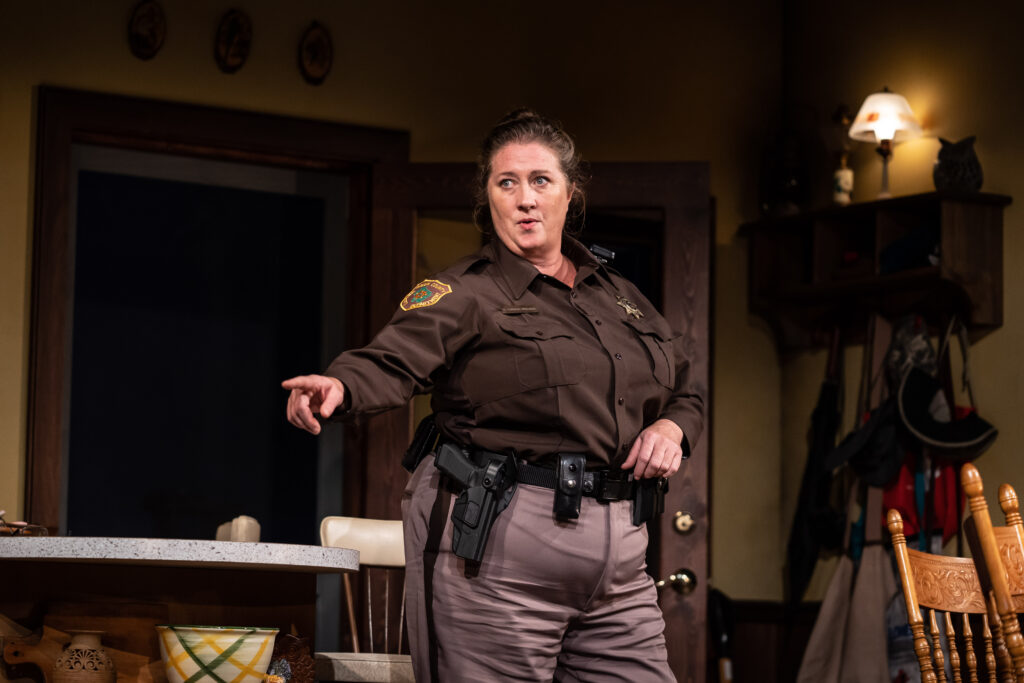 The mystery deepens when items are stolen out of Peg's barn. A forceful Fitzgerald arrives to investigate with Thompson, her steadfast deputy sidekick. Fitzgerald berates Thompson with the anti-mask standard, 'I can't understand you with that thing on. Take it off.' A commanding Fitzgerald is relentless in spewing her beliefs. Without any solid proof, she is ready to make an arrest. Fitzgerald clashes head-on with a resigned Fisher. And Fisher immediately regrets reporting the theft. If she knew how Fitzgerald would react, why did she call the police? What is going on?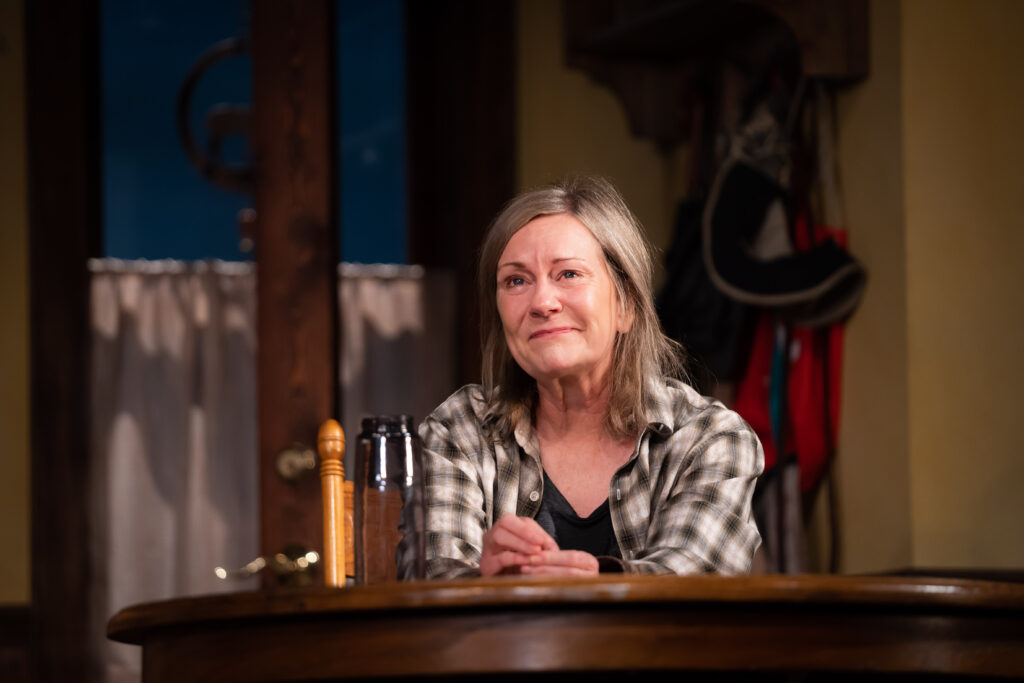 SWING STATE thoroughly convinces the audience of the truth and then flips it … again and again. The writing, directing and acting tests the audience's beliefs. This highly recommended show engages and entertains.        
Running Time: One hour and forty-five minutes with no intermission
Goodman Theatre, 170 N. Dearborn
Written by Rebecca Gilman
Directed by Robert Falls
Wednesdays, Thursdays, Sundays at 7:30pm 
Fridays and Saturdays at 8pm
Thursdays, Saturdays, Sundays at 2pm
Thru November 13th
For more information or tickets
Photography by Liz Lauren
For more Chicago theatre information and reviews, please visit Theatre in Chicago