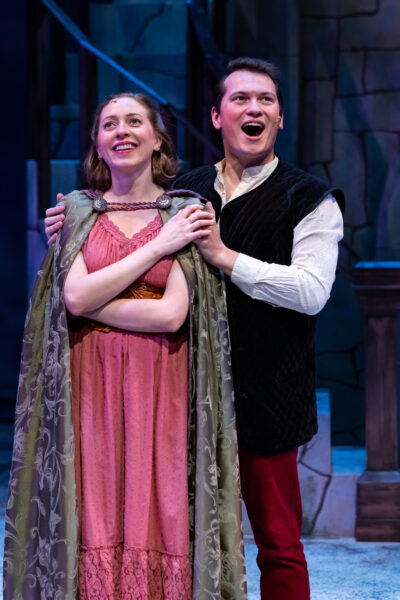 Music Theater Works presents Lerner and Lowe's musical CAMELOT.
CAMELOT is the 1960s award-winning Broadway musical and film. The love triangle story of King Arthur-Guenevere-Lancelot boasts a searing score by Alan Jay Lerner (lyrics and book) and Frederick Loewe (music). The fantasy musical imagines King Arthur's very human struggle to lead by civility or jealousy.  
From his arrival on stage, Michael Metcalf (Arthur) rules! He absolutely is King Charming as he muses about his pending nuptials. The animated Metcalf enchants both Christine Mayland Perkins (Guenevere) and the entire audience when he sings "Camelot" (and later "How to Handle a Woman"). The effervescent Perkins is the perfect match for Metcalf. She balances strength and playfulness as she cajoles Metcalf and the knights to do her bidding. She follows up her spirited rendition of "The Lusty Month of May" with the plucky "Take Me to the Fair." And her "I Loved You Once in Silence" is gorgeously marring.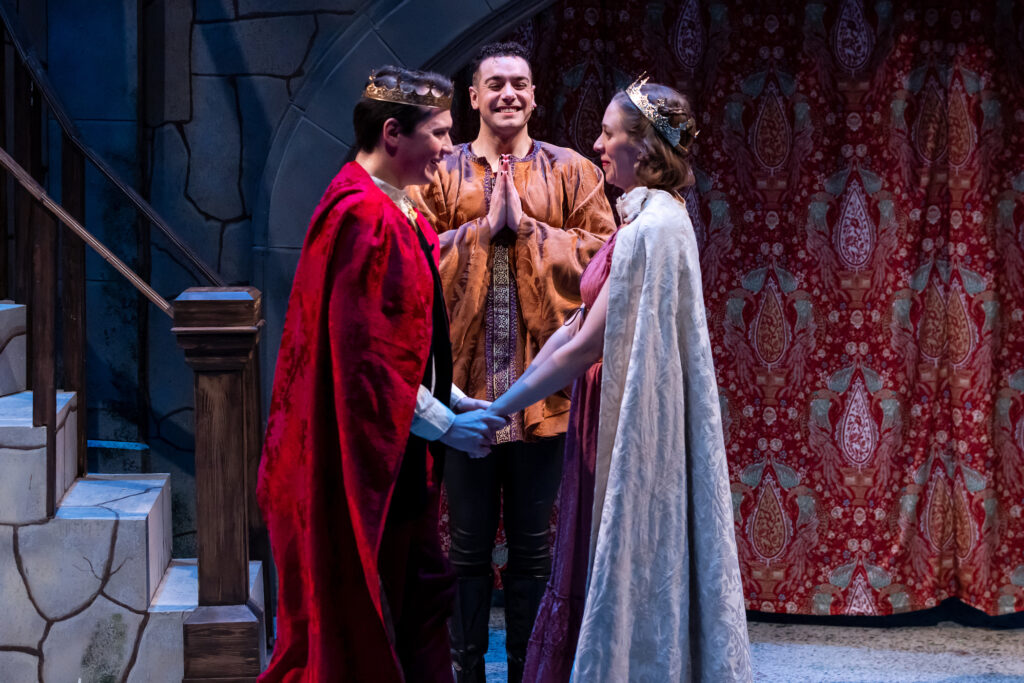 The chemistry between Metcalf and Perkins is palpable. Although their only duet, "What Do the Simple Folk Do?", is a sweet diddie, unspoken love and anguish lingers beneath the merriment. Their relationship feels both finished and unfinished. In their final scene together, Metcalf and Perkins' exchange is so emotional, I'm reduced to tears.            
It's their deep connection that becomes problematic for a love triangle. It doesn't seem plausible for a reserved Nathe Rowbotham (Lancelot) to penetrate this union. A faulty microphone made Rowbotham's courtship efforts even more difficult. Rowbotham, however, did deliver a solid "If Ever I Would Leave You." Under the music direction of Linda Madonia, all the numbers are sung with delightful mirth. And nod out to the deliciously smarmy Parker Guidry (Mordred) for his wicked "The Seven Deadly Virtues."   
Director Brianna Borger stages this with multiple interesting aspects. The joust scene is off stage. The knights and villagers are gender-fluid. And she bookends the story as a story with the ensemble providing ongoing narration. She cleverly emphasizes the Camelot myth being passed down over centuries. Borger uses her chorus to show the translation going from voice to book to stage. And makes the legend real as an audience member receives a program.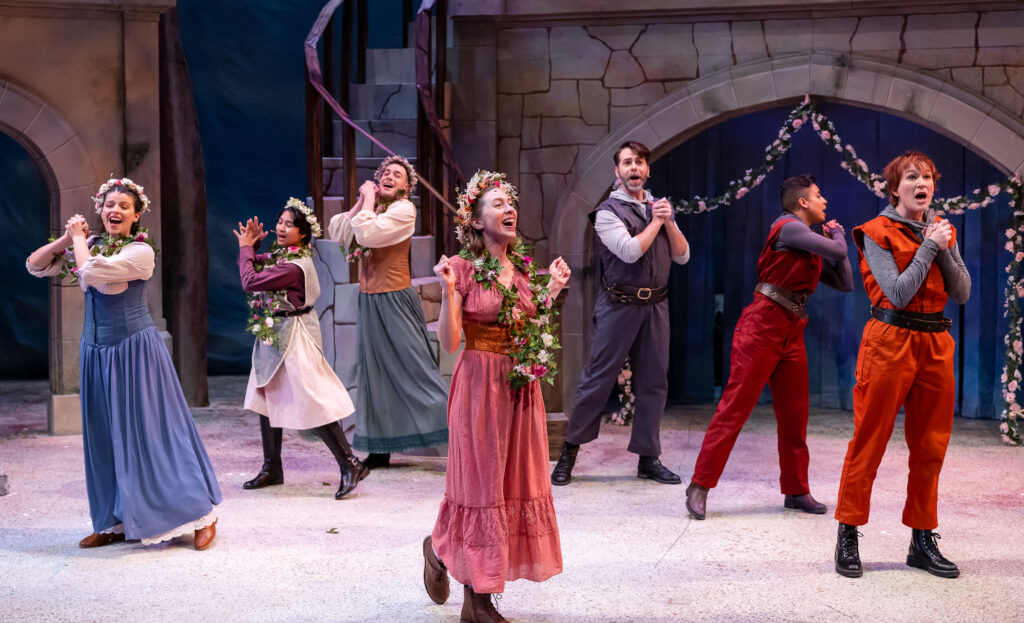 Although I was rooting for Metcalf and Perkins to stay together, I really enjoyed this production of CAMELOT. In fact, I'm still humming the score two days later.    
Running Time: Two hours includes an intermission
North Shore Center for the Performing Arts in Skokie, 9501 Skokie Blvd. 
Based on "The Once and Future King" by T.H. White
Book and Lyrics by Alan Jay Lerner
Music by Frederick Loewe
Directed by Brianna Borger
Music direction by Linda Madonia 
Choreographed by Ariel Etana Triunfo 
Wednesdays at 1pm 
Fridays at 8pm 
Saturdays at 2pm and 8pm
Sundays at 2pm 
Thru November 13th 
For more information or tickets
Photography by Brett Beiner 
For more Chicago theatre information and reviews, please visit Theatre in Chicago