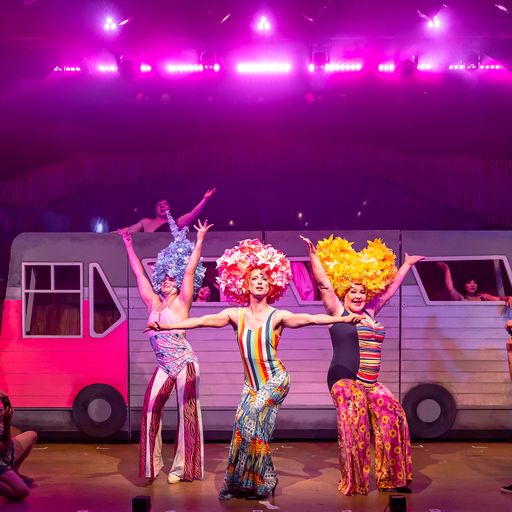 Mercury Theatre presents PRISCILLA, QUEEN OF THE DESERT the musical. 
For those looking for a rocking, fun road trip without hefty gas prices, climb aboard PRISCILLA for a spectacle-inspired jaunt across the Outback. The 1994 film by Stephan Elliot has been reincarnated as a juke box musical. The creative team of Elliot and Allan Scott (book), along with musical arrangements and orchestrations by Stephen 'Spud' Murphy, tell the tale of three Australian drag queens struggling with their identities and each other on a desert journey. The story, predating RuPaul's Drag Race, loses some of its provocative angst from the 90s movie debut. That heaviness gives way to make room for more high-energy merriment, powerhouse singing and a dazzling, ongoing fashion show (costumes by Bob Kuhn).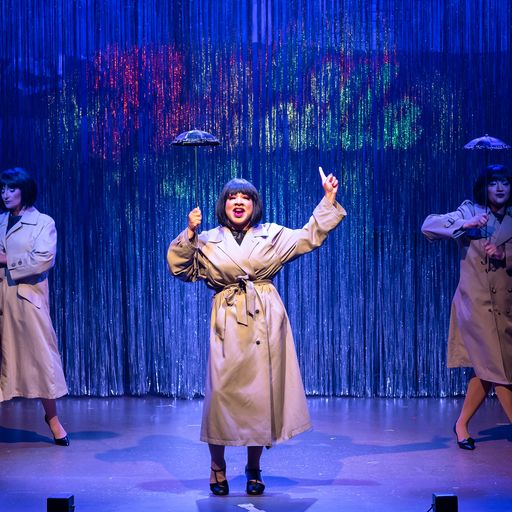 PRISCILLA captivates immediately. The three divas (Heather J. Beck, Lydia Burke, Jessica Brooke Seals) kick-off  the show with a rip-roaring "It's Raining Men." This amazing trio are the singing muses and often voices for the lip-syncing drag queens. They are ever-present clad in a myriad of costumes from 60s shimmery girl group to 90s dive barflies to a group of camping tourists. In the beginning, the talented Darren Patin (ensemble) acts as the Mistress of Ceremonies at the show-within-a-show. Patin owns the stage as the beautiful Miss Understanding equally cajoling and lambasting the audience with flourish. During her musical numbers, she even cartwheels mid song. I'm completely transfixed and want to see the rest of their nightclub act.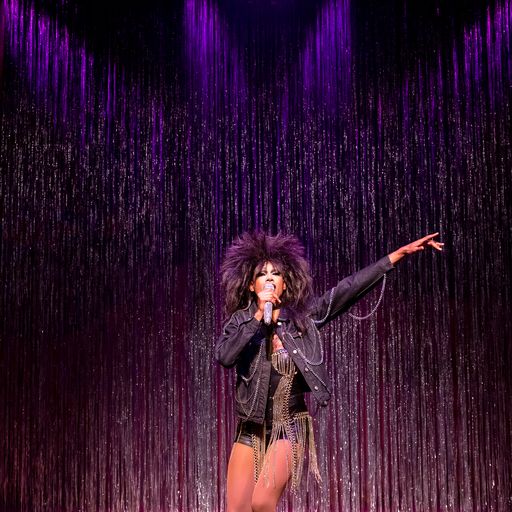 Still, the real story isn't in the nightclub, it's on the road as Tick (played by an impressive Josh Houghton) journeys to meet his son (played by adorable Gabriel Solis). The long-legged Houghton confronts conflicting feelings and dueling friends in an RV christened "Priscilla." Houghton easily transforms from morose traveler to sparkling headliner by donning high heels and a flashy array of wigs, headpieces, and outfits. Bringing the friendship and fabulousness, Bernadette (played by Chicago legend Honey West) and Adam/Felicia (play by the irresistible Shaun White) support Tick on this heart-felt trek. Although each of the threesome have moments of sincere reflection, they primarily engage with hard-core snark, nonstop glamour and undeniable star quality! And nod out to showstopper Ayana Strutz (Cynthia, Ensemble) for her fierce "Pop Muzik". Splits, cartwheels, ping pong balls… her physicality is unforgettable! 
Director and choreographer Christopher Chase Carter creates an Aussie extravaganza that provokes the audience in to laughter, head-bopping and shoulder shimmying. Carter emphasizes 'Girls just want to have fun' by filling the stage with showbiz joy, a talented cast and even an RV. With the assistance of Jonathan Berg-Einhorn (scenic and props designer) and Kuhn's dynamic wardrobe, Carter cleverly recreates Felicia's iconic film scene when White, in flowing glitter, bedazzles the desert. And later, Houghton is excited to discover a cake has been left out in the rain. He charmingly leads my favorite number "MacArthur Park." The inventive swirling cake dance is a hoot. It took great restraint on my part not to sing along.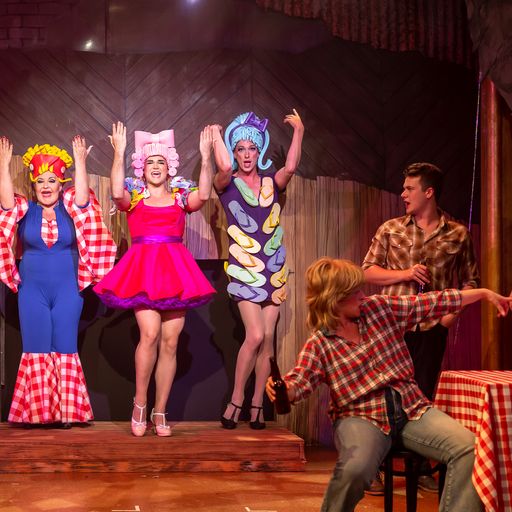 PRISCILLA QUEEN OF THE DESERT the musical is the perfect escape from Chicago's hot summer and travel to the sizzling, frolicking Outback. The score of beloved upbeat tunes gives the audience plenty of reasons to smile, hum and fight the urge to sing out. This entertaining show is a guaranteed good time!   
Running Time: Two hours and thirty minutes includes an intermission
Mercury Theatre, 3745 N. Southport 
Based on the film "The Adventures of Priscilla, Queen of the Desert" by Stephan Elliot
Book by Stephan Elliot and Allan Scott 
Musical arrangements and orchestrations by Stephen 'Spud' Murphy
Directed and Choreography by Christopher Chase Carter
Music Directed by Eugene Dizon
Wednesdays: 7:30 p.m.
Thursdays: 7:30 p.m.
Fridays: 7:30 p.m.
Saturdays: 2 p.m. and 7:30 p.m.
Sundays: 2 p.m.
Thru September 11th
For more information or tickets
Photos by Brett Beiner
For more Chicago theatre information and reviews, please visit Theatre in Chicago