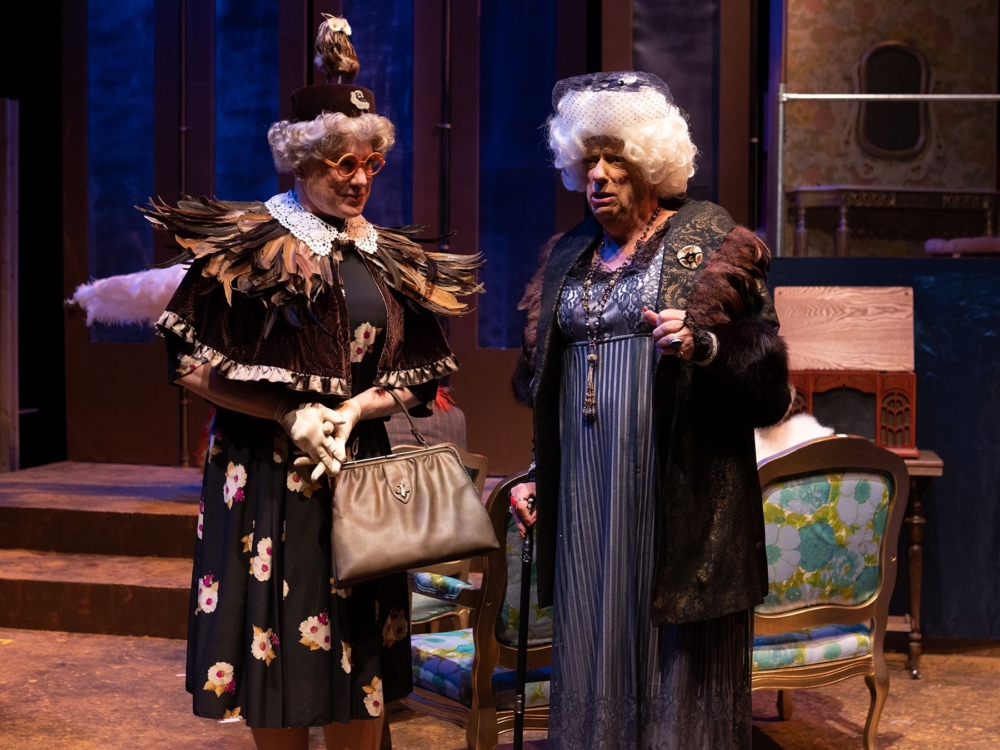 Hell in a Handbag Productions presents the World Premiere A FINE FEATHERED MURDER: A MISS MARBLED MYSTERY.
As a long-standing fan of Hell in a Handbag, I enjoyed seeing Artistic Director and Playwright David Cerda's latest creation in the location I experienced my first Handbag encounter. Many, many years (decades?) ago, I saw Cerda's clever and unforgettable POSEIDON! An Upside-down Musical at Chopin Theatre. I can still conjure up images and giggles remembering Handbag staple Ed Jone's hilariously obtuse portrayal of Nonnie. Since that initial introduction into Cerda's imagination, I have laughed through his extensive parody portfolio that includes "Birds" and "Rudolph the Red-hosed Reindeer."  And I have marveled over Handbag's zestful dominance as THE camp destination for Chicago theatre.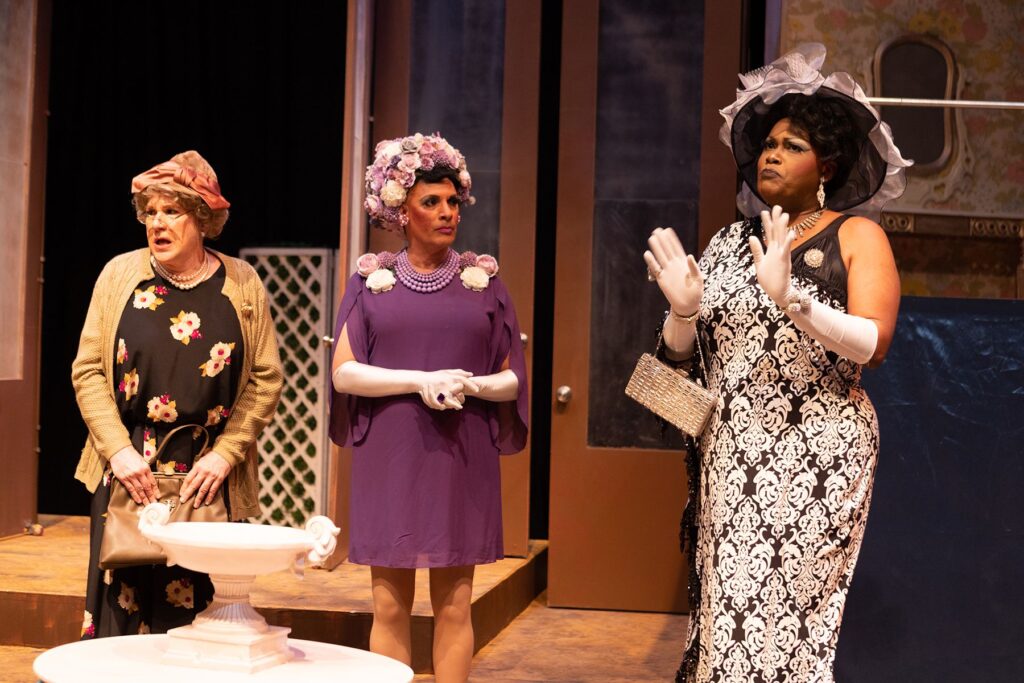 Cerda's newest offering is a spoof on the Agatha Christie's Miss Marple's detective series (the original and British version of Angela Landsbury's "Murder She Wrote" American knockoff). Playing Lady Violetta Fowler in his signature Joan Crawford flourish, Cerda ensures the audience understands it's 'Marbled' not 'Marple'. A Handbag tradition, Cerda and his Handbaggers often break the fourth wall. They amusingly utter a comment or give a side glance momentarily dropping the formality of theatre to let the audience in on the joke. It's this feeling of being an 'insider' that endears and builds Handbag's solid fan base.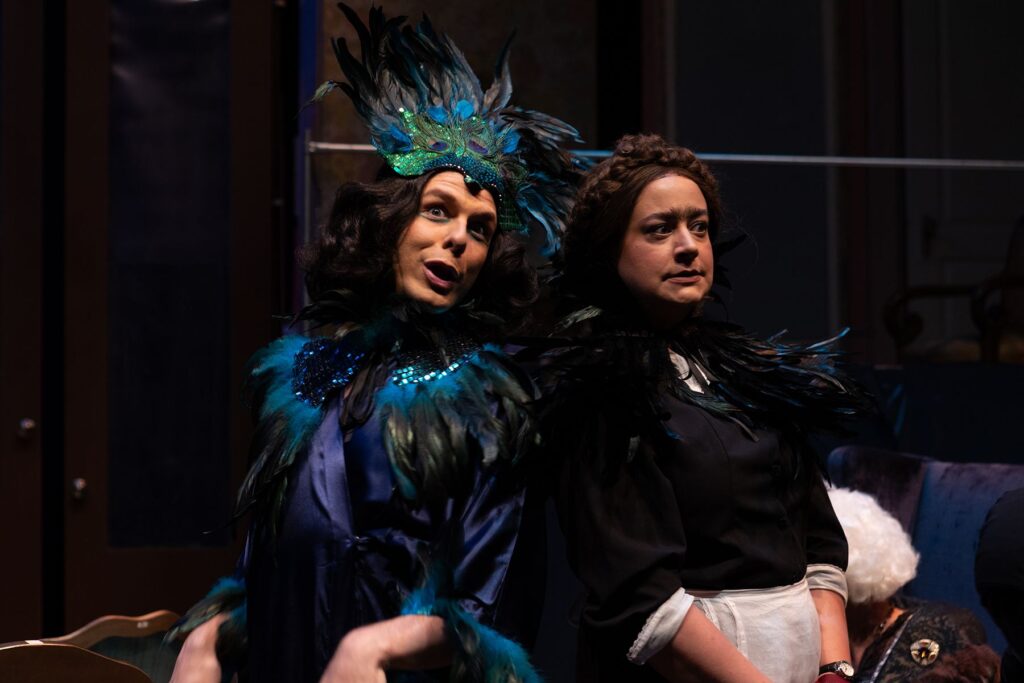 Director Cheryl Snodgrass orchestrates Cerda's cheeky mystery set at the Fowler English estate. The fine-feathered shenanigans center around a murder at the annual Fowler ball. As luck would have it, Miss Marbled (played by an understated Ed Jones) is a houseguest. Contrasting Jones' no-nonsense persona, the animated Caitlin Jackson is the infamous sleuth's sidekick and niece. The delightful Jackson is equally excited by a murder to solve or a boy to date. Her sights are set on Charles Fowler (played by scene-stealing, stand-out Tyler Anthony Smith). At one point, pivotal party conversations are missed because of the audience's riotous laughter over Smith's interpretative dance of a chick being born. In other scenes, Cerda's droll delivery is interrupted by Smith's ear-piercing 'mommy pay attention to me' demand. I absolutely love the coupling of Cerda and Smith as mother and son.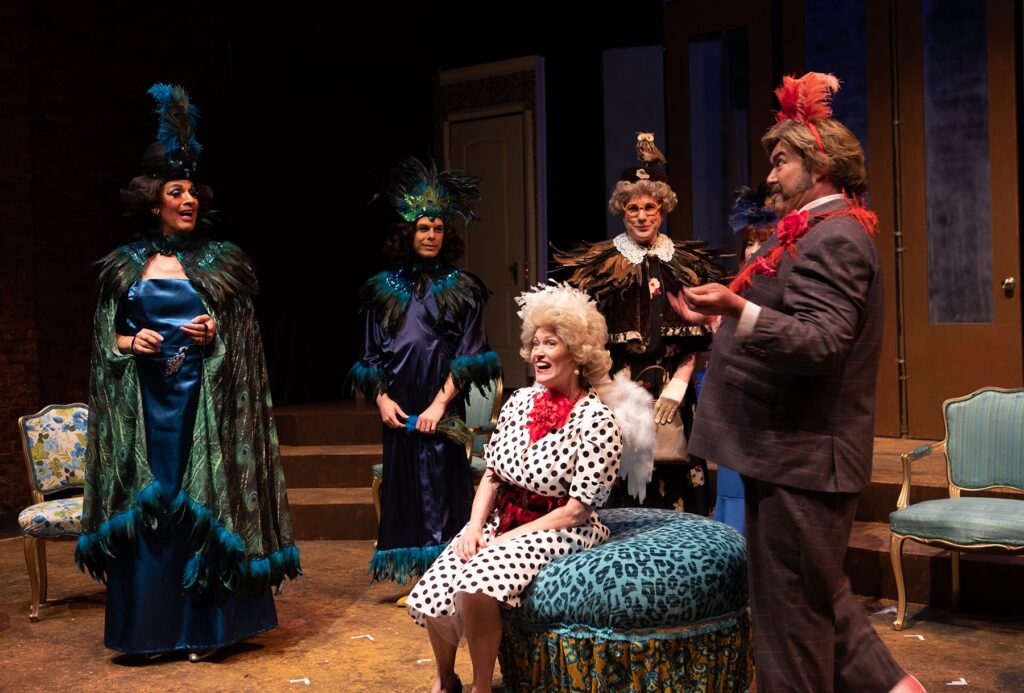 There are juicy roles too for Handbag regulars, Sydney Genco (Gerta) and Danne W. Taylor (Dowager Countess). Genco, with German-accented perfection, is the salty and all-knowing servant. And Taylor channels his-best-Maggie-Smith as the grand dame. Another show-stopping moment is the entrance of the effervescent Coco Sho-nell (Treasure Abundance) and her amazing black cock, courtesy of Jabberwocky Marionettes. And nod out to Bill Morey and Beth Laske-Miller for their colorful, fashion-forward tribute to all things birds, especially Jones' priceless hat and Cerda's stunning cape.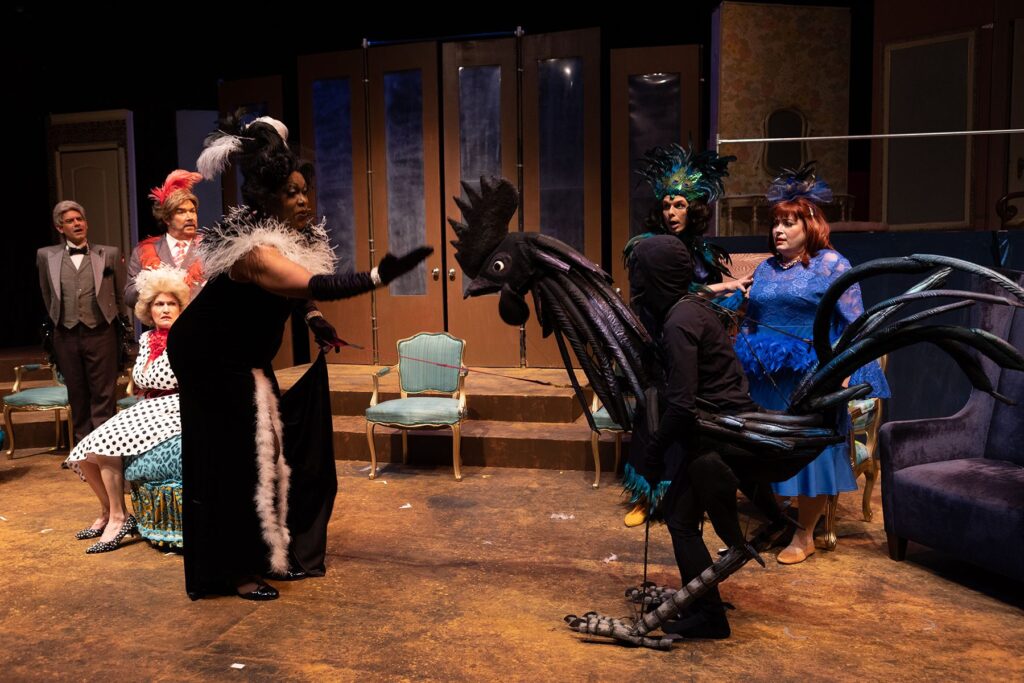 The energetic ensemble is 16 strong. Although it's nice to see the familiar Handbaggers mingled in with some newbie faces, the extended cast adds length and not necessarily depth. One of the final scenes is a semi-circle of the entire cast with Jones looking ready to interrogate the masses – literally. He doesn't -thankfully! The pre-show announcement indicates they think the running time is two hours. It's not! My performance was about 2 1/2 hours. Trimming a few feathers off this birdfest would tighten the show and help focus on the comedy and the crow. Still, Handbag again delivers some mother flocking fun!             
Running Time: Two and a half hours with one intermission
The Chopin Upstairs Theatre, 1543 W. Division St., Chicago
Written by David Cerda
Directed by Cheryl Snodgrass
Thursdays, Fridays, Saturdays at 7:30 p.m. 
Sundays at 3:00 p.m. 
Thru July 31st
For more information or tickets
Photos by Rick Aguilar Studios
For more Chicago theatre information and reviews, please visit Theatre in Chicago