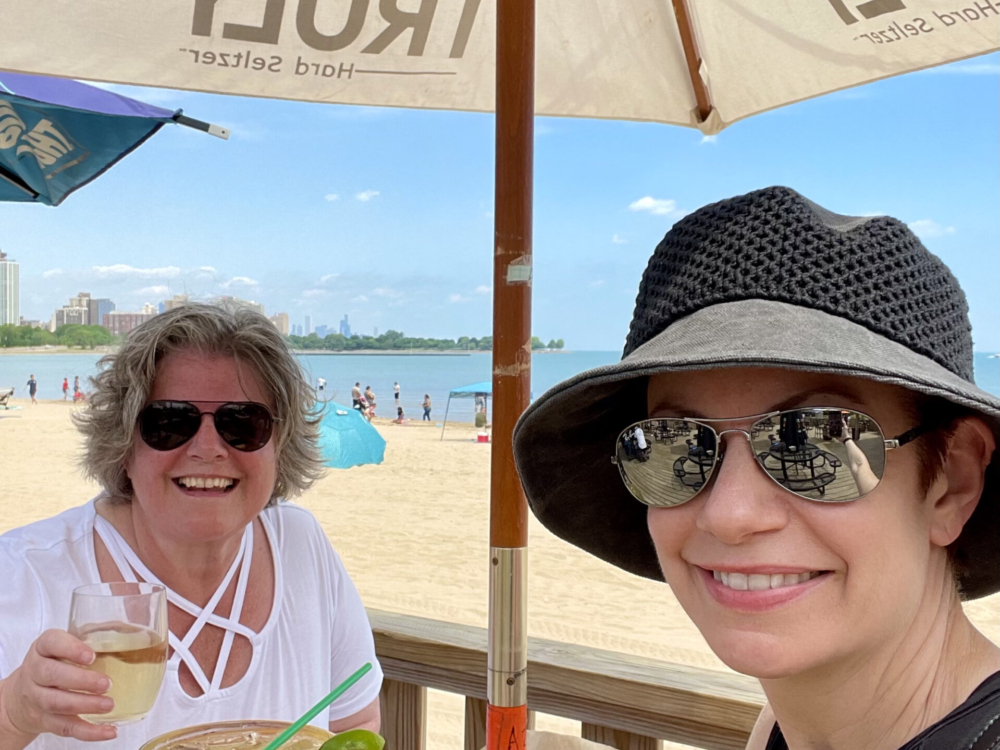 July 3, 2021
Happy Independence Day! 
Our freedom celebration is particularly relevant this year, especially to us vaccinated folk! After a year and half of self isolation, I'm back out in the world. Chicago opened up officially in early June. Restaurants are welcoming people back at full capacity. Masks are optional for the vaccinated. My condo restrictions have lifted on the elevators, in the laundry room and around the fitness center.   
I feel like I'm getting my life back, a new, unique version of it. Although Chicago is officially open, most individuals I know are still working remote. People seem to prefer to eat outside on a patio. Mask wearing is still a thing. It's enforced at some businesses. Sometimes, people are choosing to wear one in other locales. And theatre is primarily streaming online with the occasional, random outside event. I'm mostly avoiding public transportation. I'm either driving or hoofing it. COVID-19 and its variants are dangerous… especially with only 66.8% of USA vaccinated. I'm cautious!
My favorite part of June was my friends visiting from New York, Palm Springs and Dallas. It was the opposite of social distancing as we gathered to celebrate our reunification. This picture is my NYC bestie Jen. She and I ate, drank and were merry… a lot! We had a work lunch, a riverfront dinner (with Bill), and a hike and nosh. Then, I threw an impromptu rooftop soiree for her, Maryam, Bilger, Ellen and James. It was fabulous! 
The next weekend I went to a BBQ to celebrate my Palm Springs gents, Steve and Mike. Bilger hosted a lovely dinner for them, James, Ellen and me. Four days later, Rich arrived from Dallas. We celebrated his birthday over two nights. First, we had drinks on Marty's patio with Bilger, Bobby G, James, Kathy, Kim, Bill & Joe, Dr. Joe and Patty. The next night, Ellen served a vegan feast for Rich, Bilger, James, Bobby G and me. 
In June, I also drove to Wisconsin, Michigan and Indiana. I had brunch with my friend Karen and her mom at her parent's home in Lake Geneva. I went to Jenny's Michigan lake house for Father's Day weekend. I spent time with Jenny, mom & dad, Joey & Kylie & Palmer, Karlie, and Nate & Amy 2. I drove to Kokomo, Indiana to have lunch with my parents, sister Cindy and her kids: Sammie Q, Sabrina and Noah. I then drove to Elkhart where mom & dad, Jenny and I went to see Grace in a Broadway revue. I celebrated Grace's success over dinner with her & Megan & Carson and mom & dad. 
Plus, I dined out with Ellen and her gals on her birthday. I had lunches with Bill (2) and Rick. I had dinners with Collin and Bill (2). It's been a people abundant month and a bit exhausting! Yet, it was so good to see people in real life! And I'm happy to report that I've seen ALL of my immediate family sans one brother-in-law post pandemic. 🙂    
Besides the epic socializing, I also was productive too.
Work! I now look forward to my Thursdays at the office. It almost feels like I'm 'playing office.' Although I'm usually solo on the fifth floor, this past Thursday we had a record 10 staff people in the building. It was almost too distracting to get my work done.
Working Out! Even though the fitness center is open, Josh and I opt for the rooftop, twice a week. Nothing beats a workout with a view!! And I've been sporadic about my stepping. I've gotten in 10-12K probably 66% of the month. I justify this slacking off with the physicality of entertaining all my people, all month long!

 

My television watching is definitely dissipating. I'm not chained to my home anymore.

 

I did watch some great shows like "Bo Burnham Inside" and "Mare of Easttown." I also watched an okay Netflix's "Good on Paper" and the awful Prime's "Queen Bee."

 

I hit level 5318 on Candy Crush and maintained mindful yet VERY social wine drinking. I passed both my mammogram and emissions test. I had a mani-pedi. My previous manicure hadn't been since early 2020. And I donated blood! Whenever I donate blood, I take iron the week before. Even with that practice, I don't always pass the hemoglobin test. My score has been frequently under 12.5. This time, my score was 18!! The Red Cross attendant told me to 'keep doing what you're doing.' I'm certain it's my daily spinach-infused smoothies.

     
I'm continuing to adhere to my new habits based on James Cleary's Atomic Habits. My morning ritual is to first read for 30 minutes to an hour. In June, I read 4 1/2 books.   
After I loved the Taylor Jenkins Reid book Jen gave me, I ordered Reid's The Seven Husbands of Evelyn Hugo. A Hollywood movie star reflects on the phases of her life as an actress and wife. The glamorous story starts at the Golden Age of film and moves into present day. It was both an edgy and easy read. Reid is a colorful storyteller.

 

Abby recommended Casey Wilson's The Wreckage of My Presence. It's a series of essays by Wilson. Since I loved the comedic actor in "Happy Endings," I listened to the audio version of her book. Her familiar voice made the experience even more fun. She makes her life seem like it parallels the hot mess, Penny, character she played. Her insight into life is unique. Her self-deprecating humor is endearing. I miss her and the entire crew from "Happy Endings."
Bill suggested Mobituaries by Mo Rocca for my parents. Bill had listened to Rocca's podcast. I sent my parents the book during the pandemic. They both read it and passed it on to me. Rocca writes obituaries for obsolete things, forgotten history and relevant nuggets turned irrelevant. It was educational and entertaining. I passed it on to Bill.
Tom lent me the book The Brief Wondrous Life of Oscar Wao by Junot Diaz, 10-15 years ago. In my new reading ritual, I'm getting through my discarded pile of books-to-read. Diaz tells the multi-generational tale of a Dominican Republic family during the evil reign of Rafael Trujillo. It's a cultural shocker as Diaz weaves tragedy and perseverance through the reflection of one family. It's riveting. Diaz's strong narration provides DR's history in an active, personal voice. Powerful! I now need to finally return it to Tom. I'm glad it's not a library book.

 

Currently, I'm reading The Corrections by Jonathan Frazen. It was on the pile. I purchased it after reading Frazen's Freedom. I really enjoy Frazen's storytelling. His attention to detail really tethers you to the moment, the character, the event. This book is a dissection of a midwestern family: grown adult children, aging parents and serious family dysfunction. Frazen's style is epic. Each page is equivalent to 1-3 James Patterson's chapters. I'm trudging through it.

     

 

 
My other new habit is having a smoothie with spinach, fruit, protein powder, cottage cheese/greek yogurt, milk. I'm calculating 50+ grams of protein in each drink. As a mixologist, I've conjured up different flavors, including; date-avocado, chocolate-coffee, peanut butter-chocolate, chocolate cherry, and strawberry. I'm enjoying the healthy variety.  
*My third habit is ending the day with a cup of decaf coffee for its calming effects. I paired it a few times with an almond biscotti. Since I've been out-and-about and toasting family and friendships with wine, I'm not always sipping decaf at the end of the day. Still, it's there if I want it.  
June was a memorable month riddled with laughs and hugs! I'm so grateful to be vaccinated and able to embrace my people without a daunting fear of exposing them to danger. I thoroughly enjoyed myself this past month. I cherished all these good times that pre-pandemic I probably would have taken for granted. I'm not the same woman who sheltered in place last winter. I hope I'm wiser and kinder. And I practice remembering to be thankful for each new day, new experience and also cherish the old ways, the familiar and all the wondrous people in my life.      
Happy Birthday, America! Everybody take care of each other by getting vaccinated and help squash this plague. Also, stay safe, mask up for others' comfort when necessary, and be kind to everyone!