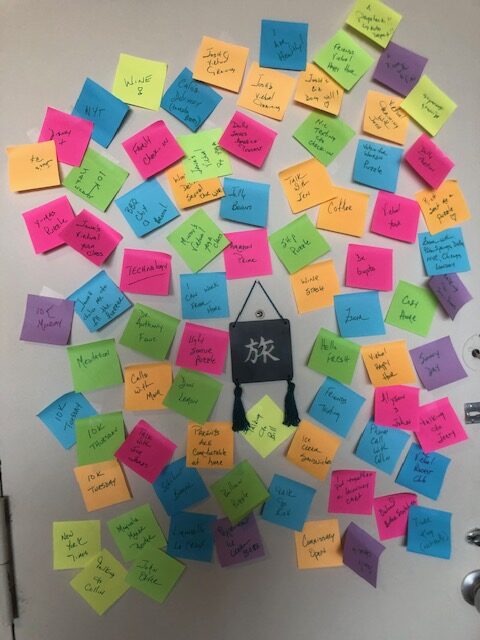 My monthly check-in!? It's only been a month? It feels more like a year since February 28th.
In this moment, on this day, I'm grateful to report:
*I'm healthy.
*My family is healthy.
*My friends are healthy.
In this moment, on this day, that is amazing! And I am truly grateful!!
This pandemic is kicking the world's ass. It's scary! It's redefining how we live, love and laugh.
COVID-19 is a beast! It hits indiscriminately, all races and ages. It causes unimaginable suffering. And it kills people with weakened immune systems. The health crisis is bad enough but we are also facing an economic crisis. Sure, I'm concerned about the stock market, my 401(K), and my retirement. The future absolutely looks bleak. Yet, the real economic crisis is happening in real time. People can't work. People can't pay their bills. People can't buy food and necessities. Some people are suffering whether they are sick or not. This invisible beast is not only preying on humans physically. It's trying to devour us emotionally and financially. It's gnawing at our spirit.    
Okay! I had to get that out of the way. I believe in living optimistically with a full understanding of reality. My intention in this monthly check-in is to share a little comfort and joy along with handy tips to endure and thrive in your pandemic experience. I feel my job search from June 2018 through October 2019 prepared me for this extraordinary moment in history. During that time, I learned to live with uncertainty, manage stress, and continue to learn from many different outlets.
KATY'S PANDEMIC TIPS:
1). Stay home: I started working from home on March 14th. (Truly grateful for a job that allows me to work remotely). I had my last dinner out with Bill that night. We had pizza at his place and watched "Farewell." It was my last friend contact…farewell indeed. I went home and stayed there. Until last Wednesday (3/25), I took daily walks on the lakefront. Although Chicago's Mayor closed the lakefront officially on Thursday (3/36), I saw on Wednesday- a particularly nice Spring day – from my window a ton of people not social distancing so I didn't go out. I've gone to the big store twice for produce and wine. And I'm fortunate to have a commissary in my building where I get my many Amazon Prime orders and sundries like La Croix Limoncello water (so good), butterscotch chips (oatmeal scotchies can be considered breakfast because of the oatmeal, that's just science) and wine (when the stash run outs). Other then seeing Ellen and Roger in 3-D for a quick puzzle and coffee pot exchange, I haven't spent time with family or friends in person since March 14th. It's weird but doable!   
2). Make your prison cell homier: My home is a studio condo. I rehabbed it to my specifications 10 years ago. It's truly lovely! Yet, it still is 450? 550? or some tiny amount of square feet? I can never remember how big it is. (Ask Bill! He's also my real estate agent). My point is it's small. And now my one living space serves as my  home office, fitness center, bedroom, media center, dining room… let's be real, prison cell! Since I know no one is coming over to my place for a month or more, I've set it up in a weird way. Not so much feng shui as ergonomic. My yoga mat is laid out next to my foot stool where I put my laptop for virtual yoga (more later). A barstool with yoga blocks serves as a laptop perch in front of my best camera backdrop. Anyone coming into my place would think it was odd. But no one is coming in for awhile so I'm going to make my space work for me!   
3). Spend (virtual) time with family and friends: I bought a Zoom subscription. Anyone can download it for free. I got the $14.99/monthly subscription so I could host meet-ups of up to 100 people.
My friends in Chicago, New York, London, Dallas, Palm Springs have had weekly happy hours. After setting up the first one in the evening which was 1am for our London pals (Crid and Derek), we are trying for an earlier time for UK mates that is also socially acceptable to start drinking. Post happy hour, Jen and I were chatting on the phone wondering why we hadn't done these meet-ups over the years. The ironic reality is because we are all busy and never home at the same time. No excuse now!
My family in Chicago, Elkhart, Granger, Indianapolis, Fishers and Los Angeles have a weekly check-in. This schedule is based on schedules. My niece Megan is a nurse. My other niece Erin works in a group home. Since these ladies are taking care of the vulnerable, we try to adjust the time for their attendance. I should also mention my nephew Sammie Q is working outside the home at Papa John's. We haven't seen him pop-in yet on Zoom but realize he's doing God's work. 🙂
Last week, I started a Wood Happy Hour with my old crew. Although these war buddies may be home and not working, they are harder to wrangle. I don't have their email addresses. Last week, we started with 8. This week, I texted the code and password to more people. Hopefully, we will see more faces. It makes such a difference to see people. The visual reinforcement that people are okay is everything.
When my office went remote, the leadership put into place protocols to feel connected. This included after hour gatherings. Currently, we have a virtual podcast club listening to "Dolly Saves America." It's an excellent listen about the incredible life of Dolly Parton. The woman is a creative genius! At last night's meeting, we made plans to go to Dollywood! We also have a Thursday Happy Hour. Next week, there is a virtual crockpot lunch to showcase culinary talents. Being a newbie employee, four and half months, these opportunities are helping me connect with my colleagues on a personal level.
4). Take care of your mind, body, spirit! Here's what I'm doing…
Mind:
*Limit my CNN obsession: Here's the thing, it's going to get worse before it gets better. Initially, I had CNN on at least 10/7 even in the background. I now watch "New Day" in the morning and Don Lemon at night. I occasionally tune in for a quick update but I've really cut back.
*Puzzling:  I've lost track of my puzzles in winter-pandemic 2020. I believe I'm at 12 completed! I love a good puzzle! I puzzled through impeachment trials, democratic debates and now a pandemic. It gives me comfort to put together the picture. Although unlike baking bread, painting rocks or needlepointing, I don't have a useful product at the the end. It does give me a moment of pride and completion. I take a picture of the finished project, send it to my dad, the master puzzler and then destroy it. There is a sense of complete control in this activity.
*Learning: I'm having trouble reading right now. My mind wanders. I'm currently listening to "The Overdue Life of Amy Byler" by Kelly Harms. It's a fun 'read' about a woman contemplating completely changing her life… I can dig it! I watched Taylor Swift's and "Tiger King" documentaries on Netflix. I liked Taylor's much better. I signed up for a 2 day online workshop on storytelling. And of course, I spend my work days sponging up any information I can find on funding opportunities, nonprofit strategies and the healthcare industry.
Body:
*Training: The gyms are closed in Chicago including the one in my building (although I would argue it is used by maybe 10 people, I understand the closure. I have always been critical of my neighbors for not wiping off equipment and mats). Fortunately, Josh is offering virtual training sessions. He has figured out how to use items in my home as exercise equipment. The back of my couch, a tray, a bench… he finagles a workout.  Yesterday, he had me lifting a bottle of champs to the side and over my head. We continue to workout on Tuesdays and Thursdays at 7am. Not only is the exercise making me stronger and healthier, seeing his face and hearing his voice gives me such solace in the chaotic uncertainty.        
*Yoga: I'm actually taking more yoga classes right now. Three a week! My studio, https://www.ganeshayogachicago.com/, is offering a $60/monthly membership for unlimited virtual yoga classes. Although all the instructors are great, the owners, Mindy and Jane, are my fave. They focus on breathing, gentle movement and listening to your body. Maybe the best benefit of virtual yoga, I'm doing it braless and in my pajamas. The camera is on the instructor only.
*Walking: I'm working to get 10K/daily. Between crappy weather and the lakefront closing, I know I can get 10K by walking in my tiny home. It's killing my knees but it can be done. I can also take neighborhood walks which is nice and eery at the same time. I've also taken to walking on the roof, in the garden or the hallway to mix it up.               
Spirit:
*Meditate: Finding stillness and peace in the noise is essential. Even quieting your mind for a few minutes is comforting. Music, prayer, chanting, silence are all great meditation vehicles. Also, I highly recommend the Insight app (free) to get started.     
*Pamper: I'm taking plenty of bubble baths with face masks. I'm coming out of the quarantine with minimal blemishes, limited wrinkles and Casper-white skin. I also subscribed to Disney+. I'm getting in touch with my inner child. "Toy Story 4" had me crying in a good way. Oh, Gaby Gaby! The channel also has the comfortable oldies like "Three Men and a Baby" and "Three Men and a Lady", which are nostalgic but not timeless. 
*Be grateful: During my 16 month job search, I kept a gratitude door. Every day, I'd write down something I was grateful for. I'd put the moment of gratitude on my door. The door was the gateway to the outside world. It served as a physical reminder of all the wonderful things happening/happened in my life even in the uncertainty. The night before I started my job, I took my post-its down and re-read all these moments. I entered my new era with a blank slate or actually blank door. In the wake of the pandemic, I brought back the door. I'm remembering to be grateful for small and large wonders in the uncertainty of a pandemic.
So….
This month is going to be super hard. I wish that was an April Fool's joke! It's not.
Stay home. Stay safe. Be kind to yourself!