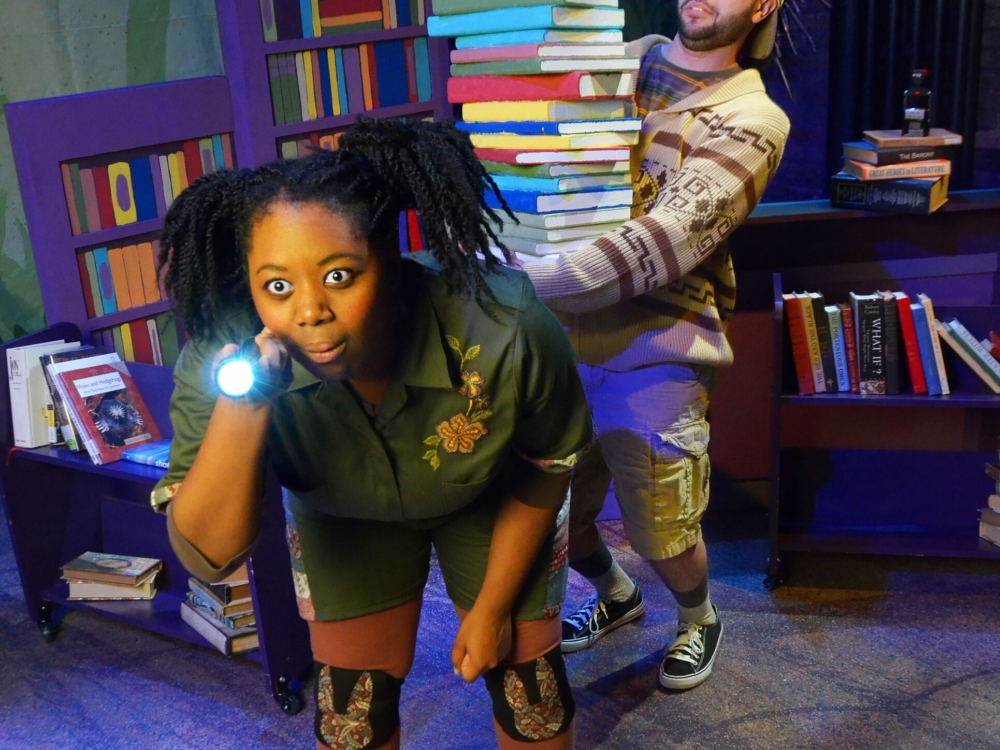 Lifeline Theatre's KidSeries presents BUNNY'S BOOK CLUB, based on the children's book by Annie Silvestro; illustrated by Tatjana Mai-Wyss.
Adapter Aly Renee Amidei skillfully translates Silvestro's learn-to-love-reading story. A bunny (played by u/s LaRose Washington at my performance) is encouraged by her woodland creature friends to find a hobby. They (Tyra Bullock -Mole, Jose M. Cervantes – Porcupine, & Matt Patrick -Bear) nudge her to leave her comfortable burrow and see the world. During her first adventurous outing, Washington meets the wise-cracking and well-read raccoon (Dakota Hughes).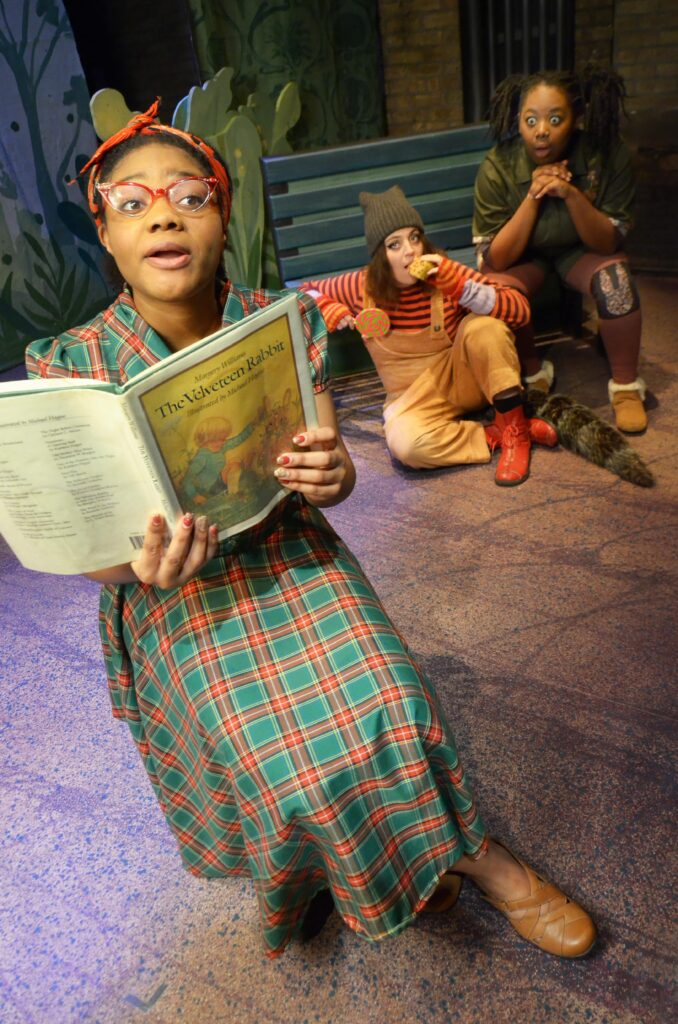 The show engages with heart and humor. Amidei also serves as the costume design. She transforms the ensemble into animals with clever simplicity. The mole gets sunglasses. The bunny has pigtails for ears. The porcupine has a row of quills on his baseball cap and sweater. Not only is the animal immediately recognizable, the character also connects to the audience in a meaningful way… sans masks. Director Anthony Kayer uses that simpleness to transition scenes and characters. The terrific Bullock goes from reserved mole to effervescent librarian swiftly and distinctly.
Kayer keeps the pace quick and tight. Aided by his design team (Amidei, Caitlin McLeod-scenic, Jenny Pinson- props, Jessica Neill- lighting, Sarah Espinoza- sound), the audience easily goes from burrow to library. Stacks of colorful books accumulate in both places. The enthusiastic ensemble are a playful commercial for literacy. They each promote a variety of special interest subjects. Hughes even gives reading an edgy, cool vibe. And Bullock embodies the most open-minded, kind librarian ever.
This is the perfect reason for the family to leave their comfortable burrow this winter and see a show that stimulates curiosity. My six year old nephew and thirteen year old niece both enjoyed this touching tale on the benefits of reading.
Running Time: Sixty minutes with no intermission
Lifeline Theatre, 6912 N. Glenwood
Based on the book by Annie Silvestro and illustrated by Tatjana Mai-Wyss
Adapted by Aly Renee Amidei
Directed by Anthony Kayer
Saturdays and Sundays at 11am and 1pm
Thru February 16th
All Photos by Suzanne Plunkett
For more Chicago theatre information and reviews, please visit Theatre in Chicago