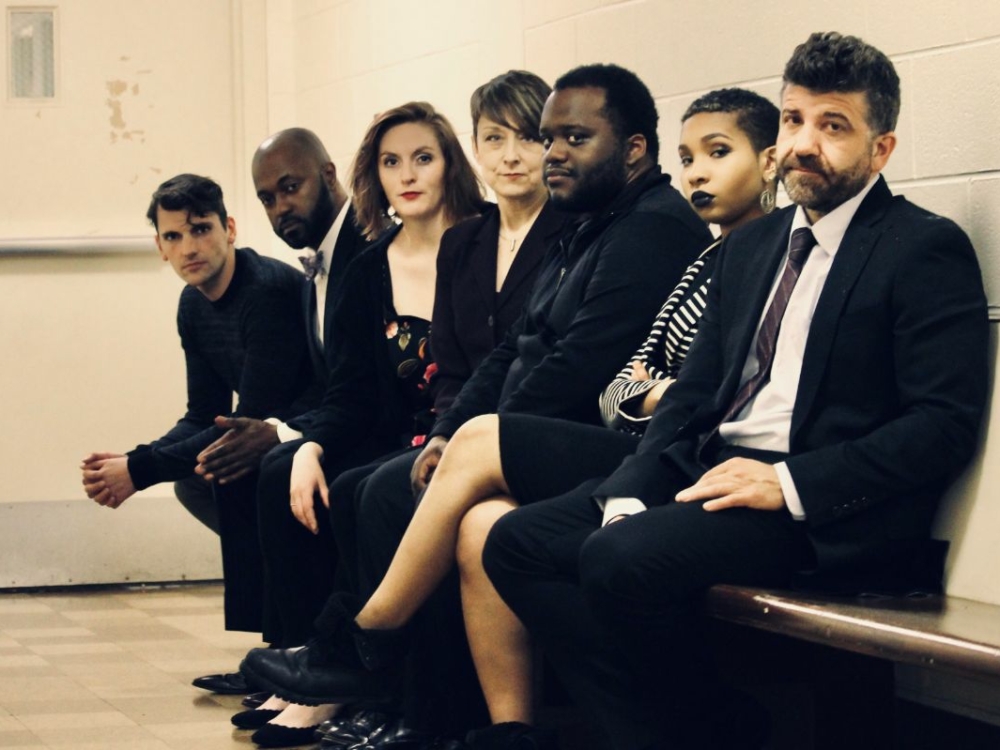 The Comrades present the world premiere of ROAST.
Playwright Harry Wood tells the tale of a comedian who committed suicide. His death wish is that his memorial be conducted like a roast. He wants his family and fellow comedians to make him the target of jokes as a final remembrance. Although the premise is clever and promising, Wood's script waters down the tension and the comedy.
The awkwardness of comedians made to lampoon the tragic and unexpected death of a friend is ripe with possibilities. Wood provides a motley crew of characters (played with distinction by Mike Newquist, Roy Pugh, Alison Plott, Kelli Walker, Reginald Hemphill, Kyra Jones, John Miraglia) He even creates a creepy funeral director (Pugh) trying to act as an amusing master of ceremonies. The stage is full of unresolved relationship issues between the deceased and the mourners, the mourners and the mourners and comedians and the booker (Walker). Again, the set-up and ensemble is ideal for a dark comedy.
Yet, instead of keeping the focus on a series of imploding monologues, Wood regularly breaks the tension. He inserts pre-funeral-behind-the-scenes scenes. Although Director Derek Bertelsen skillfully navigates these repeated transitions, the back and forth lets the comedians, the mourners and the audience off the hook. The squirming comedians aren't building up the discomfort, vulnerability and laughs under the spotlight. They are yucking it up and hashing it out in the break room. This eventually leads to a final confrontation losing its emotional punch.   
Although the ensemble does a fine job in character portrayals, the ROAST script doesn't have the meat to sustain the sizzle.     
Running Time: Ninety minutes with no intermission
At Greenhouse Theater Center, 2257 N. Lincoln
Written by Harry Wood
Directed by Derek Bertelsen
Thursdays, Fridays, Saturdays at 8pm
Sundays at 3pm
Thru August 15th 
Photo by Derek Bertelsen
For more Chicago theatre information and reviews, please visit Theatre in Chicago