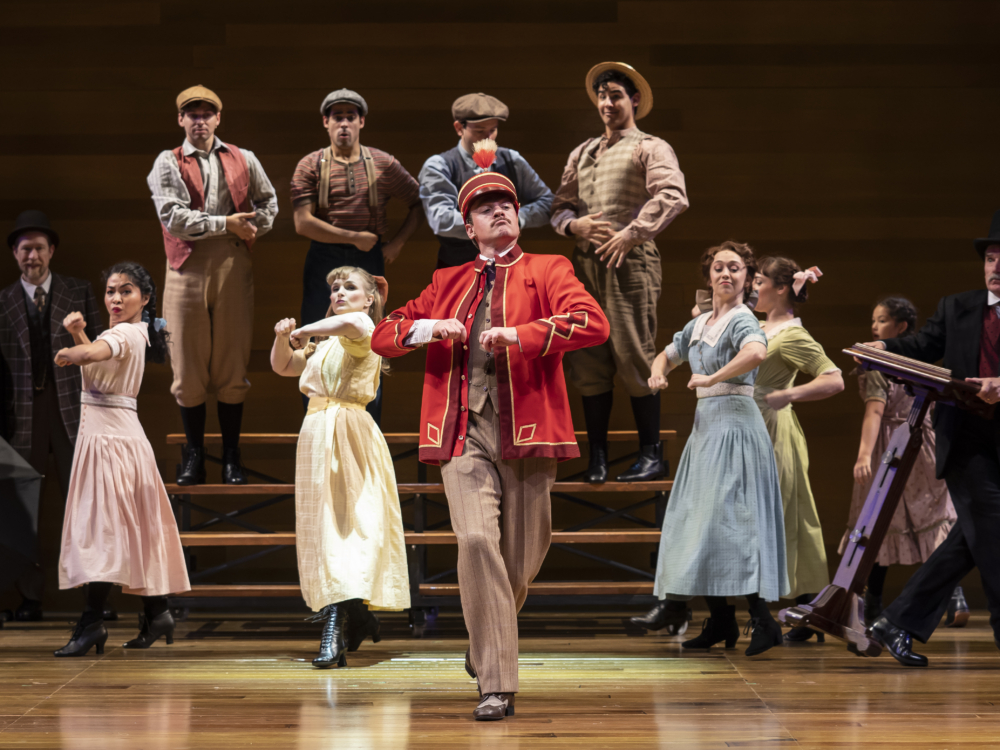 Goodman Theatre presents THE MUSIC MAN.
I was giddy about this one. I grew up watching the screen version of this musical starring Robert Preston and Shirley Jones. I know all the songs by heart! Meredith Wilson's score is distinct and infectious. The iconic "(Ya got) Trouble" and "Seventy-Six Trombones" mingle along with heart-felt ballads, plucky tunes and barbershop quartet pop-ups. THE MUSIC MAN is all about the music! Wilson's songs will have your shoulders swaying, feet tapping, fingers drumming and mouth smiling… broadly.       
Wilson and Franklin Lacey tell the tale about a traveling salesman scamming a town into buying band instruments and uniforms. There is a love storyline that has the con artist wooing the local piano teacher. Yet, the main story is really about the quirky citizens of River City, Iowa. The feuding city council. The gossiping ladies group. The headstrong mayor. The rebellious kids. The Paroo clan. The close-knit, wacky townsfolk are the backbone and the funny bone of this small town dissection. Wilson even introduces the chip-on-the-shoulder community with the no-nonsense, matter-of-fact song, "Iowa Stubborn."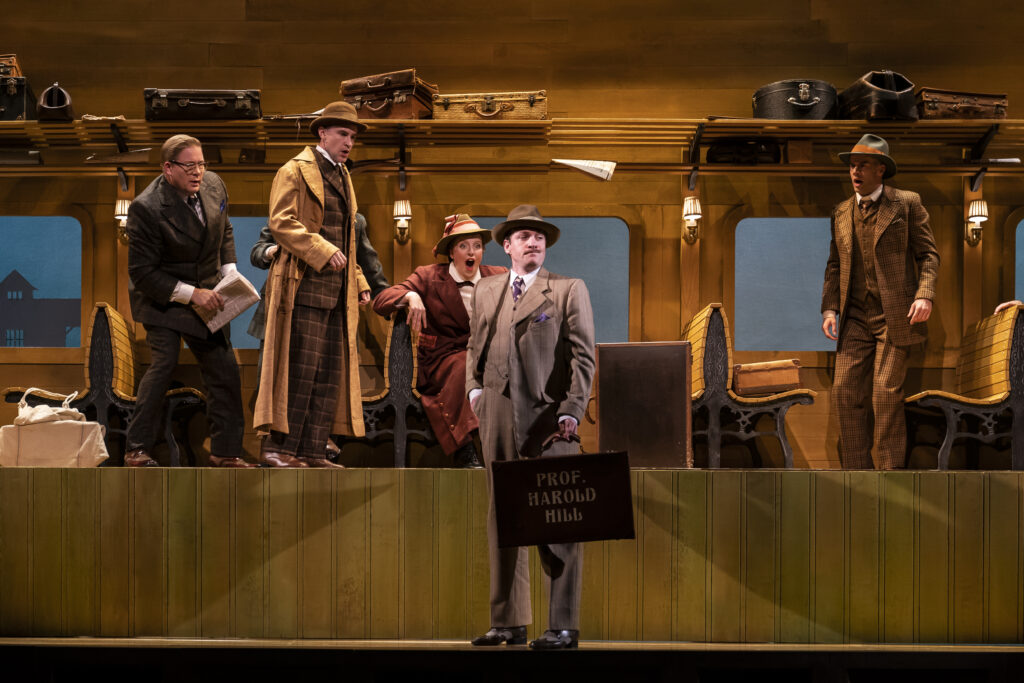 Director Mary Zimmerman masterfully navigates this traditional musical by exploiting the offbeat humor. The show starts with a cut-out backdrop simulating a train car (Scenic Designer Daniel Ostling). A crew of salespeople lament their concerns about Professor Hill in  "Rock Island." The a cappella song is a mixture of words and train sounds. The ensemble definitely 'know the territory' because they nail the lampoon. Then, Ostling's backdrop breaks open, Professor Hill (played by the impressive Geoff Packard) climbs down, and the train glides off.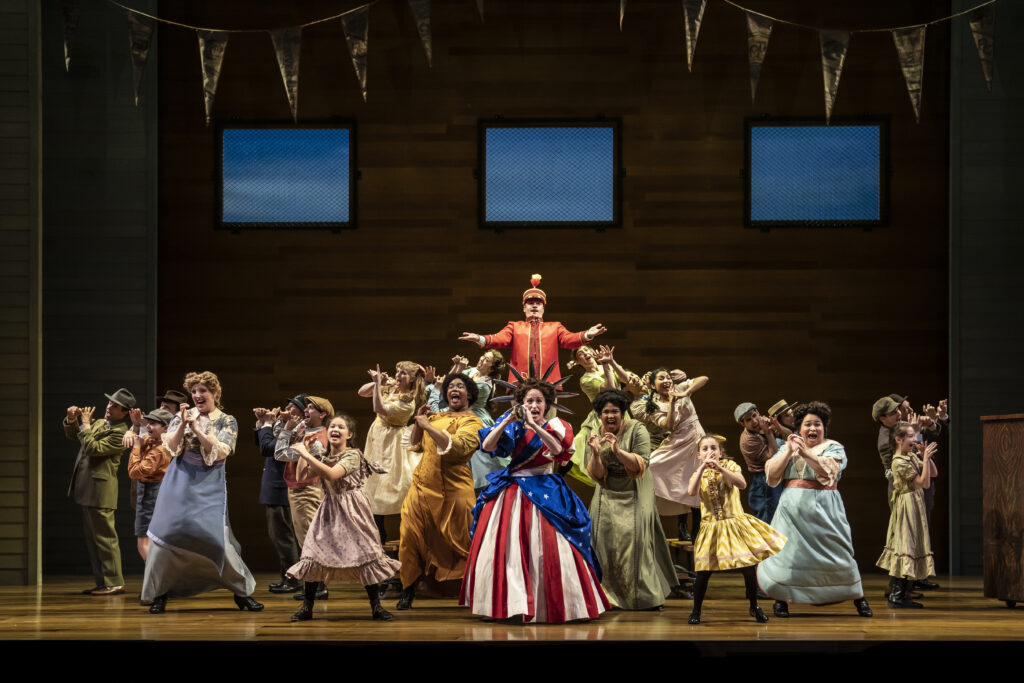 To quote the mayor (played with deadpan perfection by Ron E. Rains), the wily Packard is indeed 'spellbinding'. He nimbly coerces the resistant town into a musical transformation. The quick-talking Packard hilariously drives the buffoonery. He has plenty of songs to showcase his vocal talents but my favorite is "Marian the Librarian." Packard unabashedly flirts with Marian (played by the noteworthy Monica West) in the library. It's a hoot!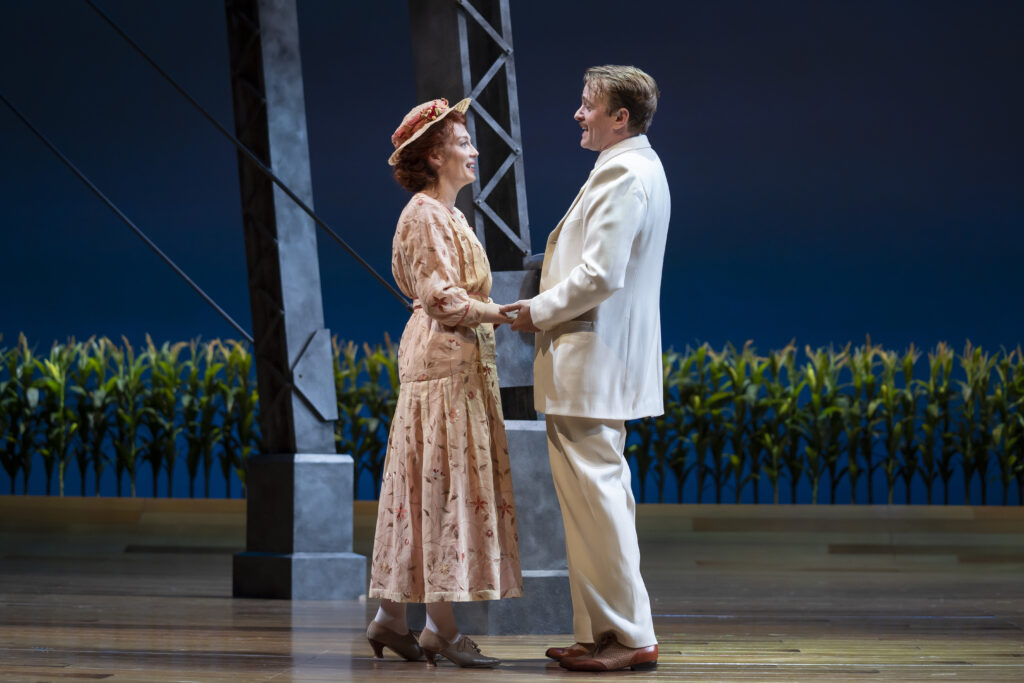 So much to love in Wilson's ode to Iowa! And Musical Director Jermaine Hill superbly orchestrates the range of Wilson's songs. From Packard and West's tender ballad "Til there was you" to the plucky-harmonious mash-ups, the real 'Professor Hill' is rocking this musical from the pit. Big nod out to the ladies squad (Lillian Castillo, Danielle Davis, Nicole Michelle Haskins, Heidi Kettenring, Bri Sudia) for making me laugh hard. The ladies are hysterical either singing "Pick-a-little, Talk-a-little" or dramatizing being Grecian urns.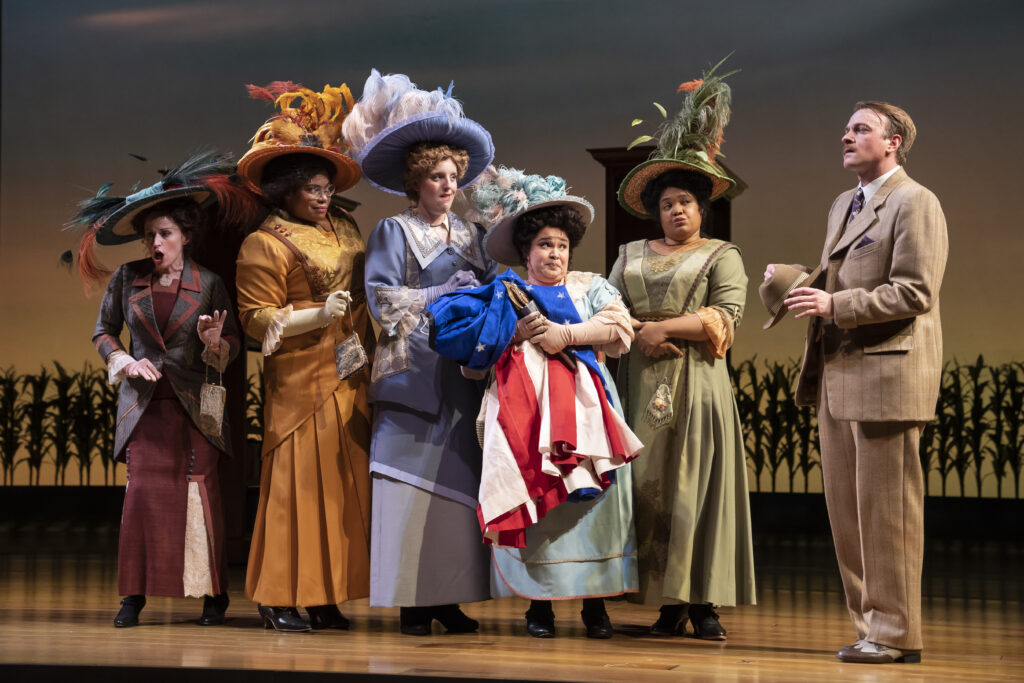 THE MUSIC MAN is in one word, FUN! It's a playful escape from an intense summer. Wilson's high-spirited melodies will be on repeat in your head long after the curtain       
Running Time: Two and half hours includes an intermission
At Goodman Theatre, 170 N. Dearborn
Based on a story by Meredith Wilson and Franklin Lacey
Book, music and lyrics by Meredith Wilson
Directed by Mary Zimmerman
Music direction by Jermaine Hill
Tuesdays, Wednesdays, Thursdays at 7:30pm
Fridays at 8pm
Saturdays at 2pm and 8pm
Sundays at 2pm and 7:30pm
EXTENDED Thru August 18th 
Photos by Liz Lauren
For more Chicago theatre information and reviews, please visit Theatre in Chicago