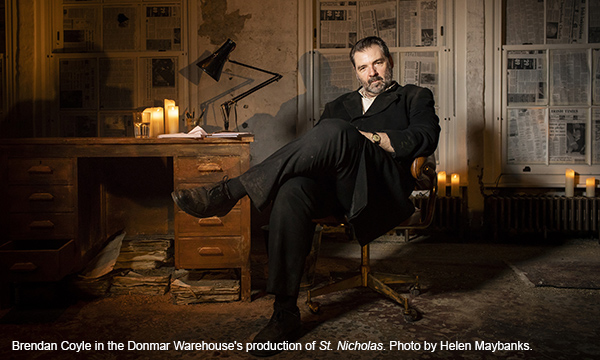 Goodman Theatre presents SAINT NICHOLAS.
Playwright Conor McPherson takes us on a journey of self-discovery. The monologue play is a theatre critic reflecting on his life. The critic starts out by describing his disdain for theatre. He lets us know he hates most of what he sees. He brags about making a lot of money from his successful career. He loves the power and influence he has over theatre folk and audience members. The critic even reveals he sometimes writes his reviews before seeing a show.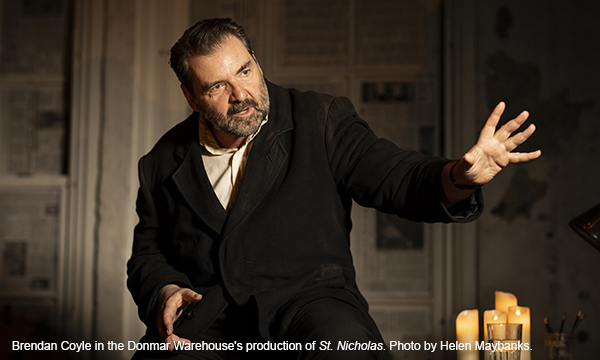 When the critic's infatuation with an actress turns obsession, he goes on a soul-crushing bender. His drinking plummets him into the world of vampires. The man begins to critique a vampire's true nature. The audience grapples with the similarities between a bloodsucker with no conscience and a critic with no scruples. McPherson's dark story is sometimes funny, sometimes shocking and always intriguing.        
Under the masterful direction of Simon Evans, Brendan Coyle owns this one man show. He is superb! Coyle engages with the intimacy of his narration. He puts us right in the room where he is drunkenly gushing over a play. He is blustering to and celebrating with the delighted cast and crew. He promises the play will be a huge hit. And then Coyle pauses, looks directly into the audience and confesses to us that he was lying to them. His unflattering review in the newspaper will reveal his deception the next morning.     
Coyle doesn't try to make us like him. He shares his spiraling-into-madness with almost sophisticated restraint. In one particular marring sequence, he describes throwing up hard whiskey, getting the runs and becoming so aroused by porn that he contemplates sexual assault. Between McPherson's script and Coyle's delivery, the play has unforgettable substance.     
SAINT NICHOLAS is a trifecta! The writing, directing and acting combine for storytelling perfection. It blurs all the lines between reality, fantasy and delirium. 
Running Time: Two hours with one intermission
At Goodman Theatre, 170 N. Dearborn
Written by Conor McPherson
Directed by Simon Evans
Production photos by Helen Maybanks
For more Chicago theatre information and reviews, please visit Theatre in Chicago