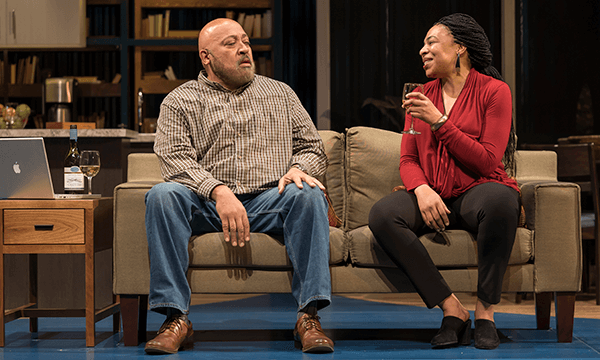 Goodman Theatre presents the World Premiere of HOW TO CATCH CREATION. 
This CREATION captivates upon arrival and enthralls through the ending!
Set Designer Todd Rosenthal masterfully uses not one but two revolving platforms to provide multiple locations. Each room, on the spinning stages, is distinctly designed to reflect the different personalities. A stylish condo. An art professor's office. A writer's library. A seamstress' shop. Not only does the detail compliment the character development, the actual rotating movement emphasizes the cyclical nature of life.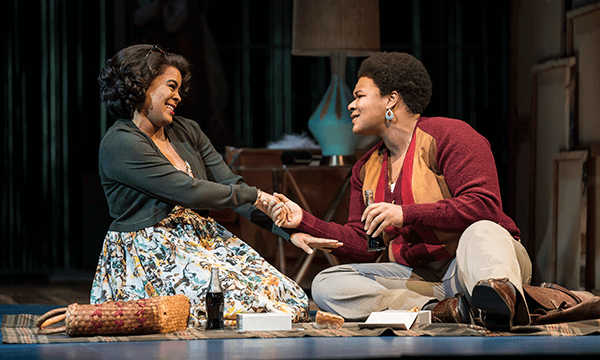 Playwright Christina Anderson has created a beautiful story with many moving arts. All her  characters want to create something… a painting, a novel, a baby. Each person struggles to be true to his/her passion. Anderson uses the synergy between an eclectic group of people to provide depth and color to her storytelling. They connect us to their individual and collective stories. They make us care about what happens next.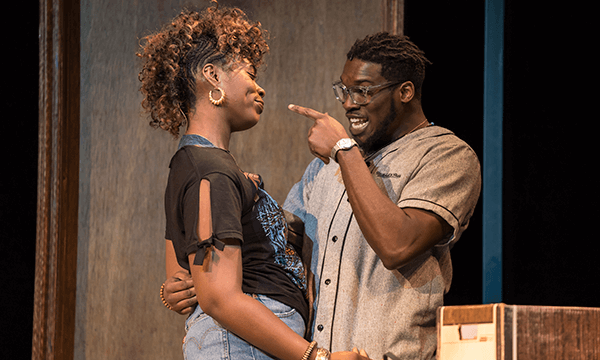 Niegel Smith skillfully directs his terrific ensemble: Karen Aldridge (Tami), Ayanna Bria Bakari (Natalie), Jasmine Bracey (G.K. Marche), Bernard Gilbert (Stokes), Maya Vinice Prentiss (Riley), and Keith Randolph Smith (Griffin). The show is bookended by Aldridge and Keith Randolph Smith giggling on the couch like war buddies. Their relationship has endured decades of heartache. That's most apparent in their harsh, yet loving, criticism targeted at the other. Each is searching for that creation that will make life complete.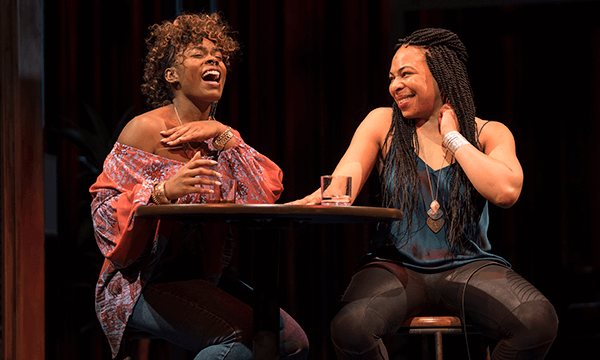 The influence of life on art and art on life is the underlying theme of Anderson's CREATION. A writer from the 60s (Bracey) inspires Griffin (KR Smith) to lecture and Stokes (Gilbert) to write a novel. Riley (Prentiss) becomes Tami's (Aldridge) impetus to paint again. Unexpected connections continually change life plans throughout the show. And art and life is weaved together in a vibrant tapestry of love and passion.
I enjoyed Anderson's loving and uplifting CREATION! It shows us how closely and beautifully life is threaded together.      
Running Time: 2 hours and fifteen minutes includes an intermission
At Goodman Theatre, 170 N. Dearborn
Written by Christina Anderson 
Directed by Niegel Smith
Wednesdays 7:30pm 
Thursdays at 2pm and 7:30pm
Fridays at 8pm
Saturdays at 2pm and 8pm
Sundays at 2pm and 7:30pm
Thru February 24th
For more Chicago theatre information and reviews, please visit Theatre in Chicago