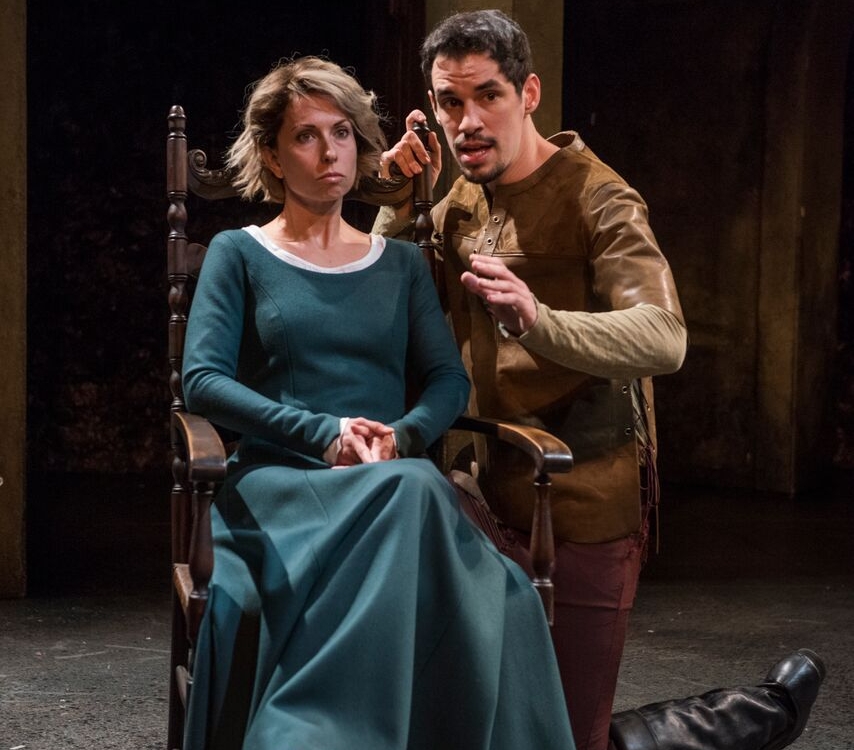 Writers Theatre presents the World Premiere of WITCH.
Playwright Jen Silverman weaves an intriguing tale of one witch, one devil, and four poor souls. The play immediately engages in the very first three scenes. Silverman has a frustrated Elizabeth (played by a solid Audrey Francis) lamenting about the villagers' treatment of her. They believe she's a witch. Francis nails a humor riddled soliloquy by ranting about when the crops or the weather is bad, the town blames her. She describes the women at the well recoiling at her 'curse' when she merely muttered 'move your bucket.' A hardened Francis seems resigned to being shunned and living in solitary confinement.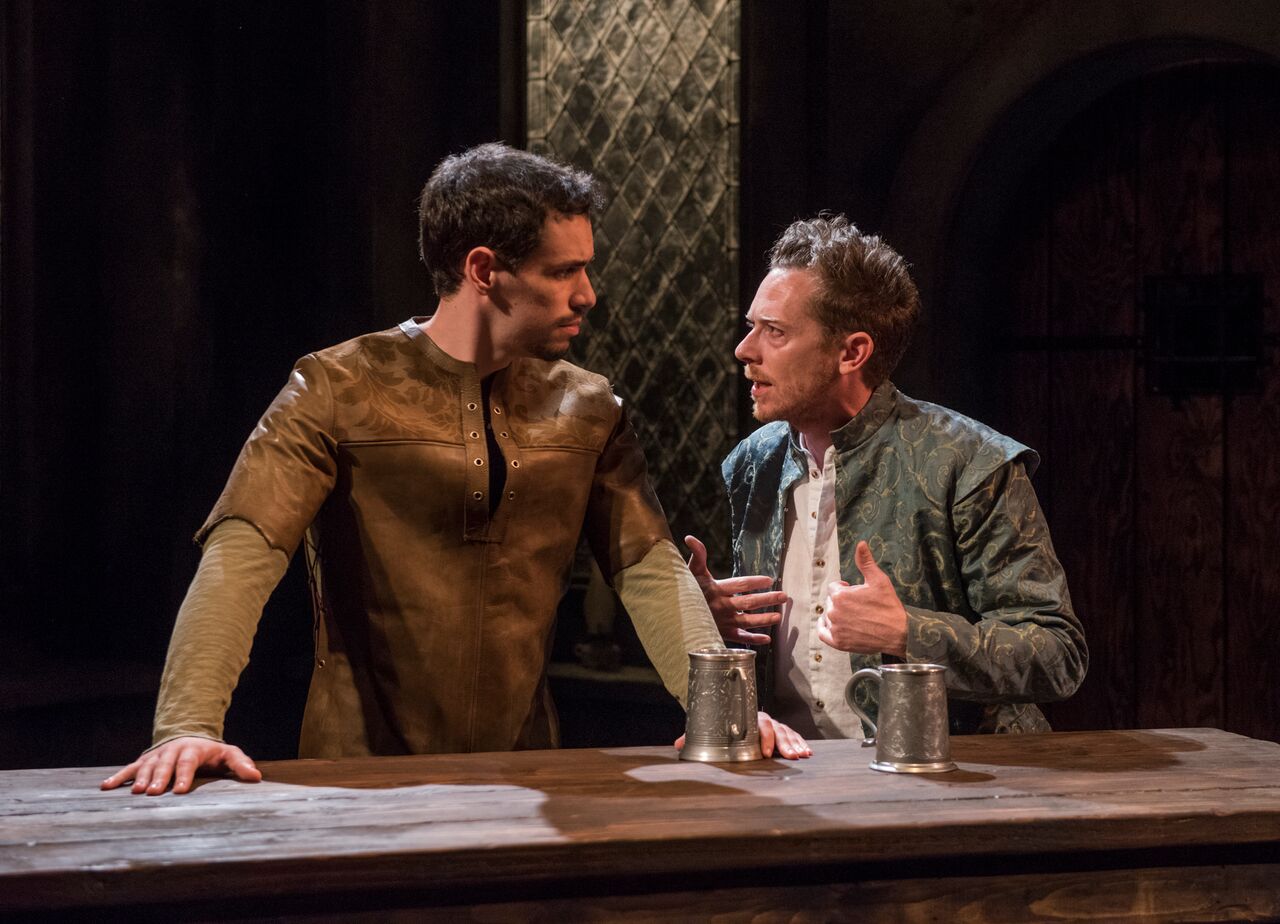 The next two scenes take place in a bar as the devil (played by a smooth-talking Ryan Hallahan) is bartering for souls. He initially hits up Cuddy (played by an endearing Steve Haggard). Silverman cleverly provides Cuddy's backstory as the devil's witty life observation. Cuddy's father (played by David Alan Anderson) is fonder of his surrogate son (played by a swaggering Jon Hudson Odom) than his real one. We see how desperate Haggard is to secure his father's affection. In the third scene, we find out the other side of the story from the surrogate son as Hallahan seduces Odom in to giving up his soul. A confident Odom appears to not have any aspirations but the devil knows which buttons to push.
Not only does Silverman clearly establish the conflict and the conflicted souls, she layers her 17th century story with contemporary issues. She covers women's rights, poverty, class, homophobia and ultimately grapples with 'what is a soul?' I really enjoyed Silverman's deep-rooted storytelling. In particular, I was fascinated by the ongoing conversations between Francis and Hallahan. Their perspectives on life and the world are riveting.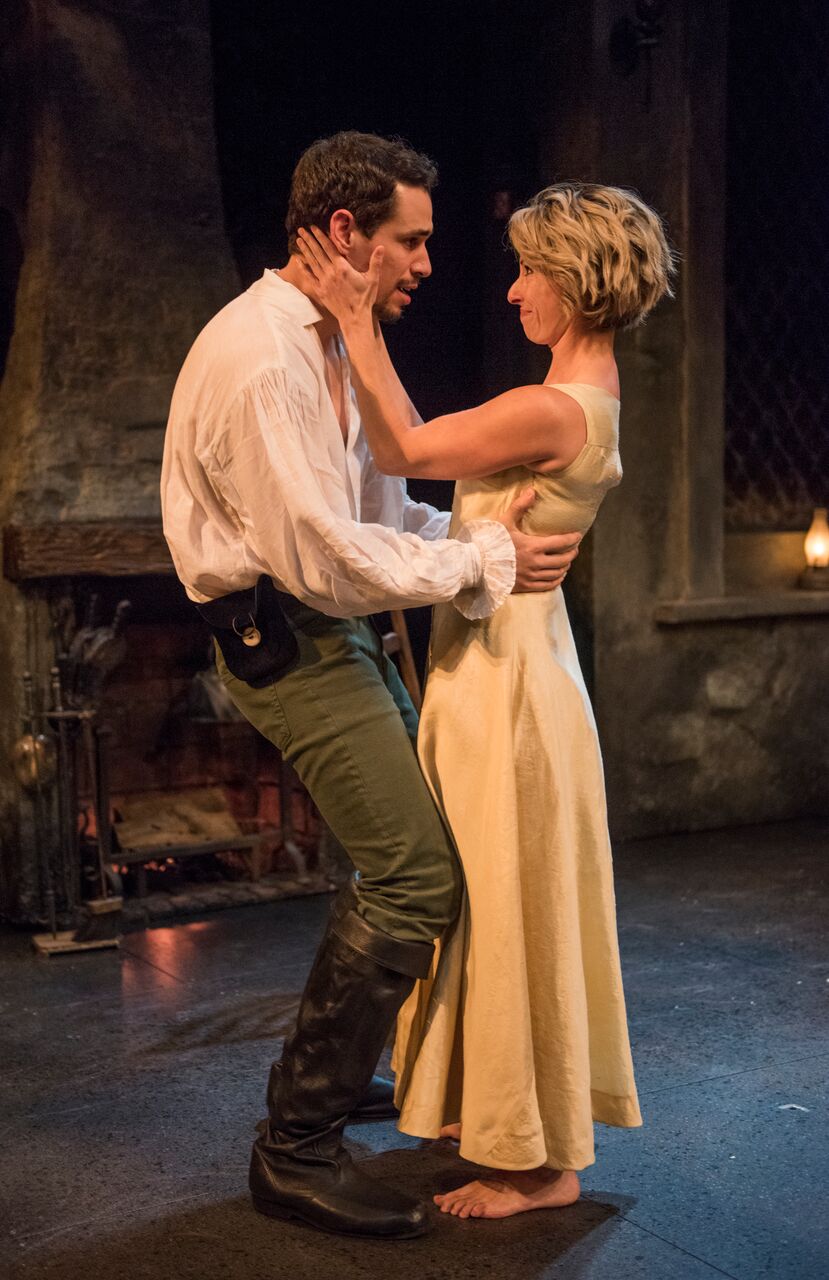 Director Marti Lyons masterfully navigates us through this devil's maze. Her talented ensemble (including Arti Ishak) own these roles. A look, a gesture, a fight feel spontaneous as each person's desire is revealed. Although the pace is even keel, I found the ending a bit sluggish. I thought the play powerfully ended with the blackout after Francis' thunderous declaration. It actual goes on for two more scenes. One is an awkward solo dance by Haggard. The other is a soliloquy by Hallahan. It's funny and clever but ultimately waters down the ending.
Still, I enjoyed this WITCH tale for its thought-provoking and soulful storytelling.
Running Time: One hundred and five minutes with no intermission
At Writers Theatre, 325 Tudor Court, Glencoe
Based on "The Witch of Edmonton" by John Rowley, Thomas Dekker & William Ford
Written by Jen Silverman
Directed by Marti Lyons
Tuesdays, Wednesdays, Thursdays, Fridays, Saturdays at 7:30pm
Saturdays at 3pm
Sundays at 2pm and 6pm
Thru December 16th 
Production photos by Michael Brosilow
For more information and reviews on Chicago theatre, visit Theater in Chicago.